Sulfated-Polysaccharide Fraction from Red Algae Gracilaria caudata Protects Mice Gut Against Ethanol-Induced Damage
1
LAFFEX—Laboratory of Experimental Physiopharmacology, Biotechnology and Biodiversity Center Research (BIOTEC), Federal University of Piauí-CMRV, 64202-020, Parnaíba, PI, Brazil
2
LAFICA—Laboratory of Pharmacology of Inflammation and Cancer, Department of Physiology and Pharmacology, Federal University of Ceará, 60430-270, Fortaleza, CE, Brazil
3
Laboratory of Proteins and Carbohydrates of Marine Algae, Department of Biochemistry and Molecular Biology, Federal University of Ceará, 60455-760, Fortaleza, CE, Brazil
*
Author to whom correspondence should be addressed.
Received: 14 September 2011 / Revised: 17 October 2011 / Accepted: 24 October 2011 / Published: 2 November 2011
Abstract
The aim of the present study was to investigate the gastroprotective activity of a sulfated-polysaccharide (PLS) fraction extracted from the marine red algae
Gracilaria caudata
and the mechanism underlying the gastroprotective activity. Male Swiss mice were treated with PLS (3, 10, 30 and 90 mg·kg
−1
,
p.o.
), and after 30 min, they were administered 50% ethanol (0.5 mL/25 g
−1
,
p.o.
). One hour later, gastric damage was measured using a planimeter. Samples of the stomach tissue were also obtained for histopathological assessment and for assays of glutathione (GSH) and malondialdehyde (MDA). Other groups were pretreated with l-NAME (10 mg·kg
−1
,
i.p.
), dl-propargylglycine (PAG, 50 mg·kg
−1
,
p.o.
) or glibenclamide (5 mg·kg
−1
,
i.p.
). After 1 h, PLS (30 mg·kg
−1
,
p.o.
) was administered. After 30 min, ethanol 50% was administered (0.5 mL/25g
−1
,
p.o.
), followed by sacrifice after 60 min. PLS prevented-ethanol-induced macroscopic and microscopic gastric injury in a dose-dependent manner. However, treatment with l-NAME or glibenclamide reversed this gastroprotective effect. Administration of propargylglycine did not influence the effect of PLS. Our results suggest that PLS
has a protective effect against ethanol-induced gastric damage in mice via activation of the NO/K
ATP
pathway.
View Full-Text
►

▼

Figures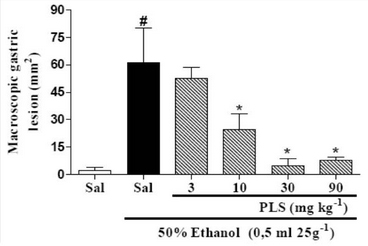 Share & Cite This Article
MDPI and ACS Style
Silva, R.O.; Santos, G.M.P.; Nicolau, L.A.D.; Lucetti, L.T.; Santana, A.P.M.; Chaves, L.S.; Barros, F.C.N.; Freitas, A.L.P.; Souza, M.H.L.P.; Medeiros, J.-V. Sulfated-Polysaccharide Fraction from Red Algae Gracilaria caudata Protects Mice Gut Against Ethanol-Induced Damage. Mar. Drugs 2011, 9, 2188-2200.
Related Articles
Comments
[Return to top]