Inducible ASABF-Type Antimicrobial Peptide from the Sponge Suberites domuncula: Microbicidal and Hemolytic Activity in Vitro and Toxic Effect on Molluscs in Vivo†
1
ERC Advanced Grant Research Group at the Institute for Physiological Chemistry, University Medical Center of the Johannes Gutenberg University Mainz, Duesbergweg 6, Mainz D-55128, Germany
2
Rudjer Boskovic Institute, Center for Marine Research, Giordano Paliaga 5, Rovinj HR-52210, Croatia
†
This contribution is dedicated to Dr. Peter Murphy (Townsville, Australia) in memory of his comprehensive studies in worldwide marine biodiversity.
*
Author to whom correspondence should be addressed.
Received: 28 July 2011 / Revised: 26 September 2011 / Accepted: 8 October 2011 / Published: 19 October 2011
Abstract
Since sponges, as typical filter-feeders, are exposed to a high load of attacking prokaryotic and eukaryotic organisms, they are armed with a wide arsenal of antimicrobial/cytostatic low-molecular-weight, non-proteinaceous bioactive compounds. Here we present the first sponge agent belonging to the group of ASABF-type antimicrobial peptides. The
ASABF
gene was identified and cloned from the demosponge
Suberites domuncula
. The mature peptide, with a length of 64 aa residues has a predicted pI of 9.24, and comprises the characteristic CSαβ structural motif. Consequently, the
S.
domuncula
ASABF shares high similarity with the nematode ASABFs; it is distantly related to the defensins. The recombinant peptide was found to display besides microbicidal activity, anti-fungal activity. In addition, the peptide lyses human erythrocytes. The expression of
ASABF
is upregulated after exposure to the apoptosis-inducing agent 2,2'-dipyridyl. During the process of apoptosis of surface tissue of
S. domuncula
, grazing gastropods (
Bittium
sp.) are attracted by quinolinic acid which is synthesized through the kynurenine pathway by the enzyme 3-hydroxyanthranilate 3,4-dioxygenase (HAD). Finally, the gastropods are repelled from the sponge tissue by the ASABF. It is shown that the effector peptide ASABF is sequentially expressed after the induction of the
HAD
gene and a
caspase
, as a central enzyme executing apoptosis.
View Full-Text
►

▼

Figures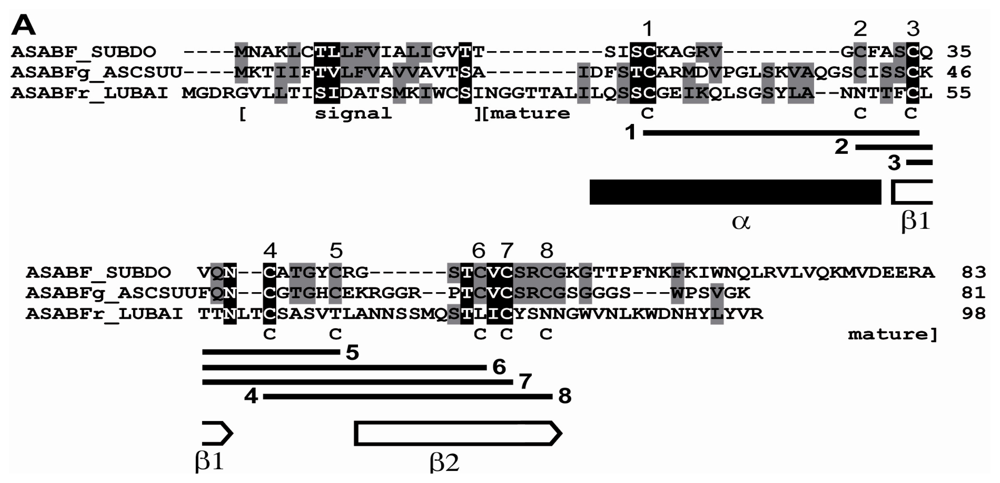 Share & Cite This Article
MDPI and ACS Style
Wiens, M.; Schröder, H.C.; Korzhev, M.; Wang, X.-H.; Batel, R.; Müller, W.E.G. Inducible ASABF-Type Antimicrobial Peptide from the Sponge Suberites domuncula: Microbicidal and Hemolytic Activity in Vitro and Toxic Effect on Molluscs in Vivo. Mar. Drugs 2011, 9, 1969-1994.
Related Articles
Comments
[Return to top]