Heterofucans from the Brown Seaweed Canistrocarpus cervicornis with Anticoagulant and Antioxidant Activities
1
Laboratory of Biotechnology of Natural Polymers (BIOPOL), Department of Biochemistry, Federal University of Rio Grande do Norte (UFRN), Natal-RN, Brazil
2
Federal Institute of Education, Science and Technology of Rio Grande do Norte (IFRN), Santa Cruz-RN, Brazil
†
These authors contributed equally to the work.
*
Author to whom correspondence should be addressed.
Received: 1 December 2010 / Revised: 21 December 2010 / Accepted: 20 January 2011 / Published: 24 January 2011
Abstract
Fucan is a term used to denominate a family of sulfated polysaccharides rich in sulfated L-fucose. We extracted six fucans from
Canistrocarpus cervicornis
by proteolytic digestion followed by sequential acetone precipitation. These heterofucans are composed mainly of fucose, glucuronic acid, galactose and sulfate. No polysaccharide was capable of prolonging prothrombin time (PT) at the concentration assayed. However, all polysaccharides prolonged activated partial thromboplastin time (aPTT). Four sulfated polysaccharides (CC-0.3/CC-0.5/CC-0.7/CC-1.0) doubled aPTT with only 0.1 mg/mL of plasma, only 1.25-fold less than Clexane
®
, a commercial low molecular weight heparin. Heterofucans exhibited total antioxidant capacity, low hydroxyl radical scavenging activity, good superoxide radical scavenging efficiency (except CC-1.0), and excellent ferrous chelating ability (except CC-0.3). These results clearly indicate the beneficial effect of
C.
cervicornis
polysaccharides as anticoagulants and antioxidants. Further purification steps and additional studies on structural features as well as
in vivo
experiments are needed to test the viability of their use as therapeutic agents.
View Full-Text
►

▼

Figures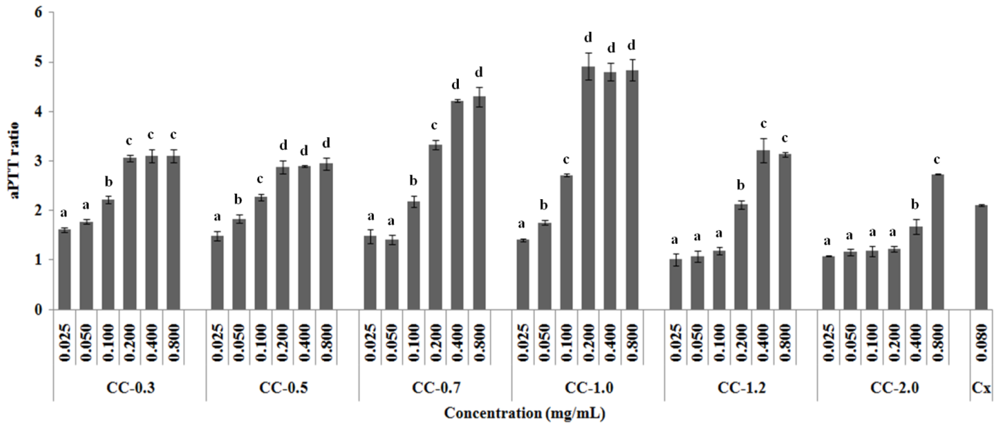 Share & Cite This Article
MDPI and ACS Style
Barros Gomes Camara, R.; Silva Costa, L.; Pereira Fidelis, G.; Duarte Barreto Nobre, L.T.; Dantas-Santos, N.; Lima Cordeiro, S.; Santana Santos Pereira Costa, M.; Guimaraes Alves, L.; Oliveira Rocha, H.A. Heterofucans from the Brown Seaweed Canistrocarpus cervicornis with Anticoagulant and Antioxidant Activities. Mar. Drugs 2011, 9, 124-138.
Related Articles
Comments
[Return to top]