Preclinical Pharmacology of BA-TPQ, a Novel Synthetic Iminoquinone Anticancer Agent
1
Division of Clinical Pharmacology, Department of Pharmacology and Toxicology, University of Alabama at Birmingham, Birmingham, AL 35294, USA
2
Department of Chemistry, University of Alabama at Birmingham, Birmingham, AL 35294, USA
3
Comprehensive Cancer Center, University of Alabama at Birmingham, Birmingham, Al 35294, USA
4
College of Preventive Medicine, The Third Military Medical University, Chongqing 400038, China
*
Author to whom correspondence should be addressed.
Received: 8 May 2010 / Revised: 11 June 2010 / Accepted: 8 July 2010 / Published: 13 July 2010
Abstract
Marine natural products and their synthetic derivatives represent a major source of novel candidate anti-cancer compounds. We have recently tested the anti-cancer activity of more than forty novel compounds based on an iminoquinone makaluvamine scaffold, and have found that many of the compounds exert potent cytotoxic activity against human cancer cell lines. One of the most potent compounds, BA-TPQ [(11,12),7-(benzylamino)-1,3,4,8-tetrahydropyrrolo[4,3,2-de]quinolin-8(1H)-one], was active against a variety of human cancer cell lines, and inhibited the growth of breast and prostate xenograft tumors in mice. However, there was some toxicity noted in the mice following administration of the compound. In order to further the development of BA-TPQ, and in a search for potential sites of accumulation that might underlie the observed toxicity of the compound, we accomplished preclinical pharmacological studies of the compound. We herein report the
in vitro
and
in vivo
pharmacological properties of BA-TPQ, including its stability in plasma, plasma protein binding, metabolism by S9 enzymes, and plasma and tissue distribution. We believe these studies will be useful for further investigations, and may be useful for other investigators examining the use of similar compounds for cancer therapy.
View Full-Text
►

▼

Figures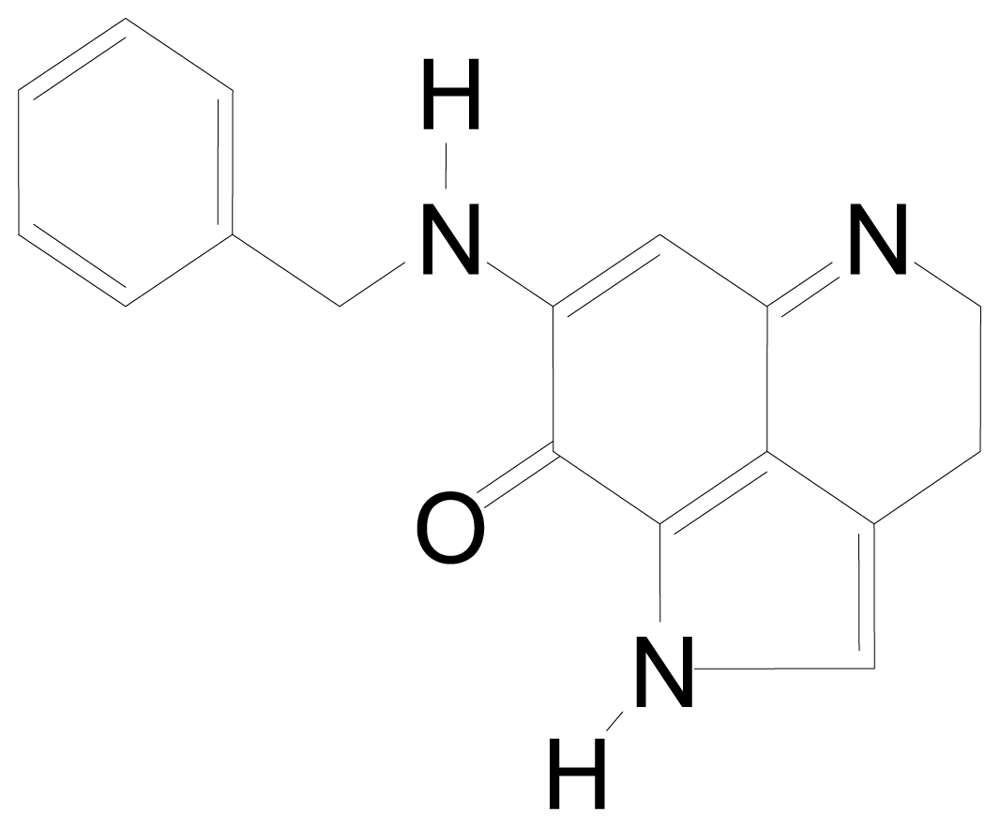 Share & Cite This Article
MDPI and ACS Style
Ezell, S.J.; Li, H.; Xu, H.; Zhang, X.; Gurpinar, E.; Zhang, X.; Rayburn, E.R.; Sommers, C.I.; Yang, X.; Velu, S.E.; Wang, W.; Zhang, R. Preclinical Pharmacology of BA-TPQ, a Novel Synthetic Iminoquinone Anticancer Agent. Mar. Drugs 2010, 8, 2129-2141.
Related Articles
Comments
[Return to top]