Bioactive Dehydrotyrosyl and Dehydrodopyl Compounds of Marine Origin
1
Department of Biology, University of Massachusetts Boston, Boston, MA 02125, USA
2
Environmental, Earth and Ocean Sciences Department, University of Massachusetts Boston, Boston, MA 02125, USA
*
Author to whom correspondence should be addressed.
Received: 19 October 2010 / Revised: 26 November 2010 / Accepted: 1 December 2010 / Published: 6 December 2010
Abstract
The amino acid, tyrosine, and its hydroxylated product, 3,4-dihydroxyphenylalanine (dopa), plays an important role in the biogenesis of a number of potentially important bioactive molecules in marine organisms. Interestingly, several of these tyrosyl and dopa‑containing compounds possess dehydro groups in their side chains. Examples span the range from simple dehydrotyrosine and dehydrodopamines to complex metabolic products, including peptides and polycyclic alkaloids. Based on structural information, these compounds can be subdivided into five categories: (a) Simple dehydrotyrosine and dehydrotyramine containing molecules; (b) simple dehydrodopa derivatives; (c) peptidyl dehydrotyrosine and dehydrodopa derivatives; (d) multiple dehydrodopa containing compounds; and (e) polycyclic condensed dehydrodopa derivatives. These molecules possess a wide range of biological activities that include (but are not limited to) antitumor activity, antibiotic activity, cytotoxicity, antioxidant activity, multidrug resistance reversal, cell division inhibition, immunomodulatory activity, HIV-integrase inhibition, anti-viral, and anti-feeding (or feeding deterrent) activity. This review summarizes the structure, distribution, possible biosynthetic origin, and biological activity, of the five categories of dehydrotyrosine and dehydrodopa containing compounds.
View Full-Text
►

▼

Figures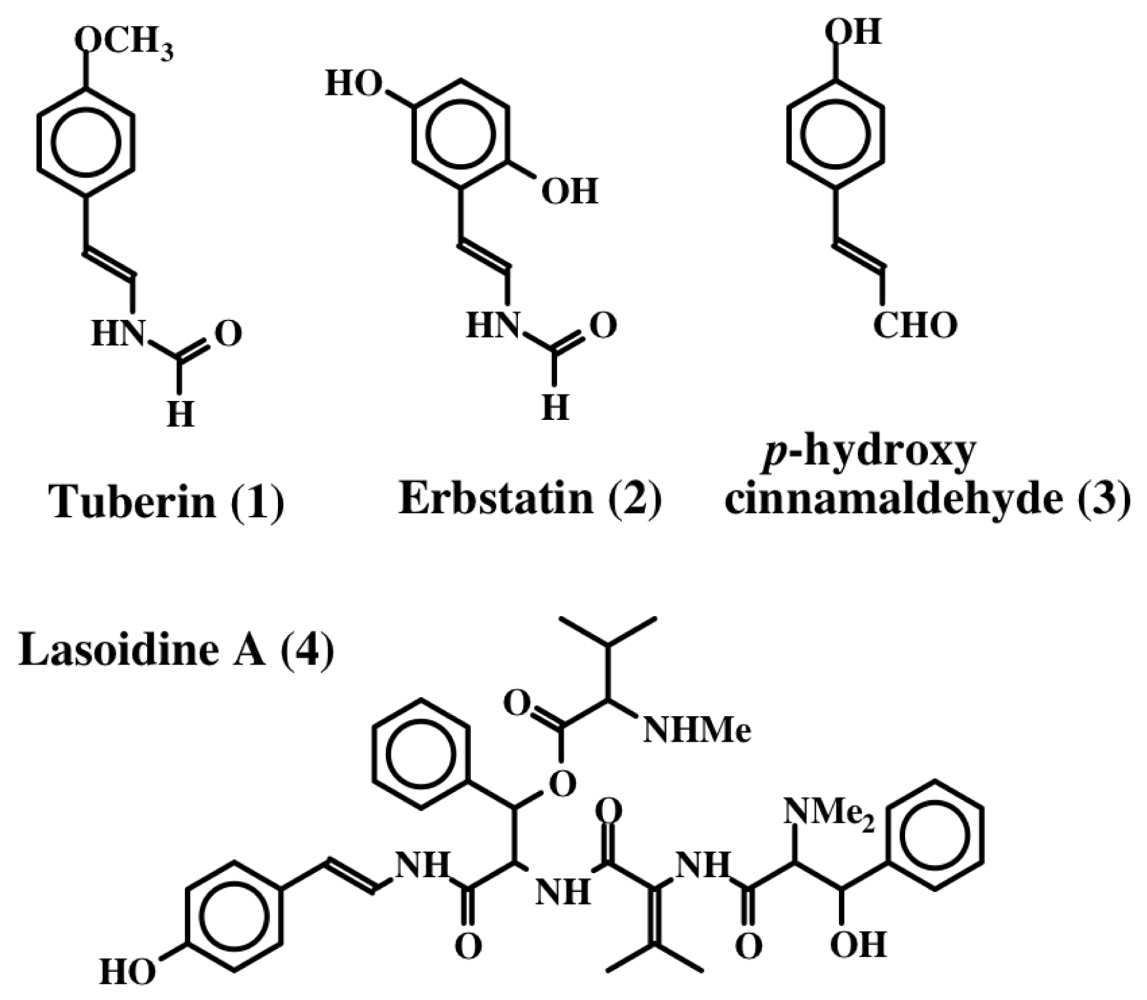 Share & Cite This Article
MDPI and ACS Style
Sugumaran, M.; Robinson, W.E. Bioactive Dehydrotyrosyl and Dehydrodopyl Compounds of Marine Origin. Mar. Drugs 2010, 8, 2906-2935.
Related Articles
Comments
[Return to top]