Phase II Randomized Study of Plitidepsin (Aplidin), Alone or in Association with L-carnitine, in Patients with Unresectable Advanced Renal Cell Carcinoma
1
University Hospital Leuven, Catholic University Leuven, Leuven, Belgium
2
Instituto Valenciano de Oncologia, Valencia, Spain
3
Instituto Catalan de Oncologia, Barcelona, Spain
4
Hospital Universitario Marques de Valdecilla, Santander, Spain
5
Hospital General Vall d'Hebron, Barcelona, Spain
6
Pharma Mar S.A., Madrid, Spain
7
NDDO Oncology, Amsterdam, The Netherlands
8
Hospital Universitario 12 de Octubre, Madrid, Spain
*
Author to whom correspondence should be addressed.
Received: 15 January 2009 / Revised: 17 February 2009 / Accepted: 19 February 2009 / Published: 5 March 2009
Abstract
This randomized phase II study evaluated two schedules of the marine compound Plitidepsin with or without co-administration of L-carnitine in patients with renal cell carcinoma. Patients had adequate performance status and organ function.The primary endpoint was the rate of disease control (no progression) at 12 weeks (RECIST).Other endpoints included the response rate and time dependent efficacy measures.The trial also assessed the efficacy of L-carnitine to prevent Plitidepsin-related toxicity. The two regimes given as 24 hour infusion every two weeks showed hints of antitumoral activity. Disease control at 12 weeks was 15.8% in Arm A (5mg/m2, no L-carnitine) and 11,1% in Arm B (7mg/m2 with L-carnitine). Two partial responses were observed in Arm A (19 patients), none in Arm B (20 patients). Both schedules had the same progression-free interval (2.1 months).The median overall survival was 7.0 and 7.6 months.The safety profile was similar in both arms of the trial and adverse events were mainly mild to moderate (NCI CTC version 2.0). Increasing the dose to 7mg/m2 did not increase the treatment efficacy but the incidence of transaminase and CPK elevations and serious AEs. Coadministration of L-carnitine did not prevent muscular toxicity or CPK-elevation associated with Plitidepsin.
View Full-Text
►

▼

Figures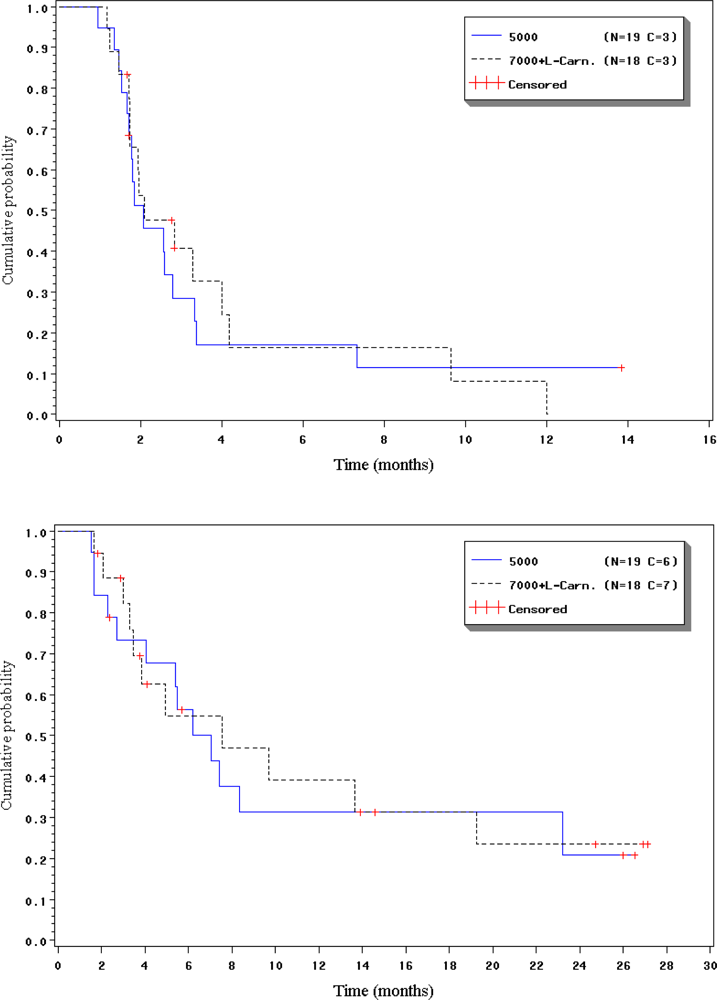 Share & Cite This Article
MDPI and ACS Style
Schöffski, P.; Guillem, V.; Garcia, M.; Rivera, F.; Tabernero, J.; Cullell, M.; Lopez-Martin, J.A.; Pollard, P.; Dumez, H.; Garcia del Muro, X.; Paz-Ares, L. Phase II Randomized Study of Plitidepsin (Aplidin), Alone or in Association with L-carnitine, in Patients with Unresectable Advanced Renal Cell Carcinoma. Mar. Drugs 2009, 7, 57-70.
Related Articles
Comments
[Return to top]