Effects of in vitro Brevetoxin Exposure on Apoptosis and Cellular Metabolism in a Leukemic T Cell Line (Jurkat)
1
Marine Immunology Program, Center for Shark Research, Mote Marine Laboratory, Sarasota, FL 34236, USA
2
Chemical Fate and Effects Program, Center for Ecotoxicology, Mote Marine Laboratory, Sarasota, FL 34236, USA
3
Division of Allergy, Immunology, and Rheumatology, Department of Pediatrics, University of South Florida, All Children's Hospital, St. Petersburg, FL 33701, USA
*
Author to whom correspondence should be addressed.
Received: 3 January 2008 / Revised: 7 May 2008 / Accepted: 4 June 2008 / Published: 10 June 2008
Abstract
Harmful algal blooms (HABs) of the toxic dinoflagellate, Karenia brevis, produce red tide toxins, or brevetoxins. Significant health effects associated with red tide toxin exposure have been reported in sea life and in humans, with brevetoxins documented within immune cells from many species. The objective of this research was to investigate potential immunotoxic effects of brevetoxins using a leukemic T cell line (Jurkat) as an in vitro model system. Viability, cell proliferation, and apoptosis assays were conducted using brevetoxin congeners PbTx-2, PbTx-3, and PbTx-6. The effects of in vitro brevetoxin exposure on cell viability and cellular metabolism or proliferation were determined using trypan blue and MTT (1-(4,5-dimethylthiazol-2-yl)-3,5- diphenylformazan), respectively. Using MTT, cellular metabolic activity was decreased in Jurkat cells exposed to 5 - 10 μg/ml PbTx-2 or PbTx-6. After 3 h, no significant effects on cell viability were observed with any toxin congener in concentrations up to 10 μg/ml. Viability decreased dramatically after 24 h in cells treated with PbTx-2 or -6. Apoptosis, as measured by caspase-3 activity, was significantly increased in cells exposed to PbTx-2 or PbTx-6. In summary, brevetoxin congeners varied in effects on Jurkat cells, with PbTx-2 and PbTx-6 eliciting greater cellular effects compared to PbTx-3.
View Full-Text
►

▼

Figures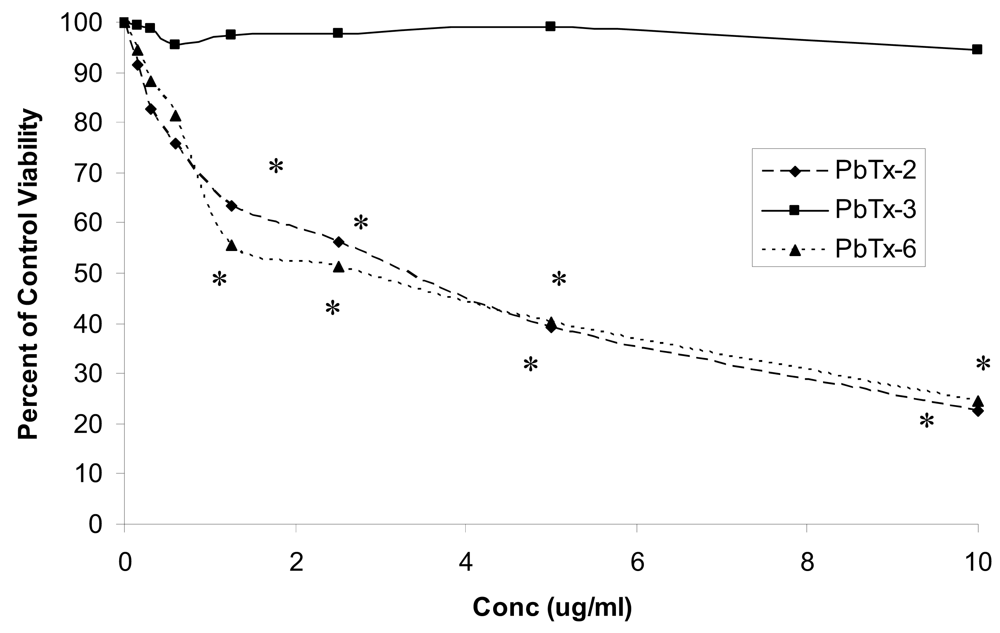 Share & Cite This Article
MDPI and ACS Style
Walsh, C.J.; Leggett, S.R.; Strohbehn, K.; Pierce, R.H.; Sleasman, J.W. Effects of in vitro Brevetoxin Exposure on Apoptosis and Cellular Metabolism in a Leukemic T Cell Line (Jurkat). Mar. Drugs 2008, 6, 291-307.
Related Articles
Comments
[Return to top]