Open Access This article is
freely available
re-usable
Article
Bioactive Alkaloids from the Sea: A Review
1
Department of Material Science, Integrated Center for Science, Ehime University, Bunkyou-chou 2-5, Matsuyama 790-8577, Japan
2
Department of Chemistry, Graduate School of Science, Nagoya University, Chikusa, Nagoya 464-8602, Japan
*
Author to whom correspondence should be addressed; Tel. 081-52-7893654, Fax 081-52-7893654,
Received: 29 October 2003 / Accepted: 31 January 2004 / Published: 25 February 2004
Abstract
:
In our ongoing search for bioactive substances from marine organisms, novel alkaloids have been isolated. Pinnatoxins and pinnamine, potent shellfish poisons, were purified from the Okinawan bivalve
Pinna muricata
. Pinnatoxins activate Ca
2+
channels. Halichlorine was isolated from the marine sponge
Halichondria okadai.
This compound inhibits the induction of VCAM-1. Drugs that block VCAM-1 may be useful for treating coronary artery diseases, angina, and noncardiovascular inflammatory diseases. Pinnaic acids, which are cPLA
2
inhibitors, were also obtained from
P. muricata
. Interestingly, the structures of pinnaic acids are closely related to that of halichlorine. Norzoanthamine hydrochloride, isolated from the colonial zoanthid
Zoanthus
sp., suppresses decreases in bone weight and strength in ovariectomized mice, and could be a good candidate for an osteoporotic drug. Ircinamine, purified from the marine sponge
Ircinia sp.
, has a reactive thioester. Aburatubolactams, inhibitors of superoxide anion generation, were isolated from
Streptomyces
sp. This article covers the bioactive marine alkaloids that have been recently isolated by this research group.
Keywords:
Ca
2+
channel; VCAM-1; cPLA
2
; anti-Osteoporosis; Superoxide anion
Introduction
Alkaloids are nitrogen-containing compounds that occur naturally not only in plants but also in microorganisms, marine organisms, and animals. Although it is not clear why alkaloids show significant biological activity, they are often useful as drugs or biological probes for physiological studies. As new and more complicated diseases are encountered worldwide, the importance of bioactive alkaloids has increased due to their potential application in chemotherapy. As the application of alkaloids has expanded, the definition of alkaloids has become less restricted.
Results and Discussion
Ca2+ Channel-Activating Shellfish Poisons (Pinnatoxins)
An Inhibitor of VCAM-1 (Vascular Cell Adhesion Molecule-1) Induction (Halichlorine)
A recent study suggested that adhesion molecules may some day be used clinically as anti-inflammatory agents and immunosuppressive agents, provided that the function of the adhesive molecules can be controlled [
11
].
A simple model of multistage adhesion between leukocyte and vascular cells is shown in
Fig. 4
. VCAM-1 [
12
] is affected during the phase of Strong Adhesion. Drugs that block the induced expression of VCAM-1 may be useful for treating atherosclerosis, coronary artery diseases, angina, and noncardiovascular inflammatory diseases [
12
].
Halichlorine (
7
) was isolated from the marine sponge
H. okadai
Kadota [
13
]. The gross structure of
7
was elucidated by an analysis of MS, IR and extensive 2D NMR spectra, as shown in
Fig. 5
[
14
,
15
]. Halichlorine consists of a sterically hindered 15-membered lactone, an azabicyclo [4.4.0] ring, and a [5.6]-spiro ring moiety. Oxidative degradation of
7
, as well as asymmetric synthesis of the degradation product, allowed us to determine the absolute stereochemistry of halichlorine [
16
]. The first total synthesis by Danishefsky and co-workers [
17
,
18
] also supported our conclusions regarding the structure of
7
. Halichlorine inhibits the induction of VCAM-1 at IC
50
7 μg/ml. Although VCAM-1 and ICAM belong to the same immunoglobulin superfamily, halichlorine does not affect ICAM (IC
50
> 100 μg/ml) [
10
,
19
]. It is largely unknown why halichlorine affects only VCAM-1. Thus, additional research will be needed to clarify the functions and mechanisms of action of VCAM-1.
cPLA2 Inhibitors (Pinnaic Acids)
A Significant Inhibitor of Osteoporosis (Norzoanthamine)
Other Alkaloids from Marine Organisms (Pinnamine, Ircinamine)
As described above, pinnatoxins, are Ca
2+
channel activators that have been isolated from the Okinawan bivalve
P. muricata
. In a continuation of this work, we isolated pinnamine (
20
), which produced characteristic toxic symptoms, such as scurrying around [
46
]. The gross structure of
20
was clarified by a detailed analysis of NMR and CD spectra (
Fig. 13
) [
47
–
50
]. The absolute stereochemistry of
20
was also supported by a synthetic study [
51
]. Pinnamine exhibited significant acute toxicity against mice, with an LD
99
of 0.5 mg/kg.
Ircinamine (
21
) was isolated from the marine sponge
Ircinia
sp., and its structure was elucidated by spectroscopic analysis and reductive transformation (
Fig. 13
) [
52
]. Ircinamine has a unique structure with an amphibolous pyrroline ring moiety and a reactive thioester unit. Although
21
has only moderate activity toward P388 (LD
50
24.6 μg/ml), marked biological activity is expected based on the reactivity of the thioester moiety [
53
].
These compounds contain unique structural features and may be biosynthesized through unusual biogenetic pathways.
Inhibitors of Superoxide Anion Generation from Marine Microorganisms (Aburatubolactams)
As described above, extremely bioactive, structurally novel compounds have been found in marine organisms. However, their practical use in drugs is considerably limited because of the extraordinarily low amount of physiologically active compounds obtainable from these marine organisms. Therefore, research has necessarily focused on the metabolites of such marine microorganisms, which most likely are the true producers of the active compounds.
Aburatubolactams (
22
,
23
,
24
) [
54
] were isolated from the cultured broth of a
Streptomyces
sp., SCRC-A20, in a study that monitored the inhibition of superoxide anion generation [
55
,
56
]. Superoxide anions are thought to be closely associated with inflammation, cancer, and aging [
57
,
58
]. The structures of these compounds were mainly determined by NMR analysis. Fortunately, a single crystal of aburatubolactam A was obtained from MeOH. The structure of the 20-membered macrocyclic structure is thought to contain diene amide and dienone functionalities. The structures of other aburatubolactams were deduced by a detailed comparison of the NMR spectra with that of aburatubolactam A (
Fig. 14
).
Aburatubolactams (
22
,
23
,
24
) inhibited TPA-induced superoxide anion generation by human neutrophils (IC
50
26, 6.3, 2.7 μg/ml, respectively). The mechanism of action and the
in vivo
behavior of aburatubolactams are currently under investigation.
Aburatubolactams, which possess an acyl tetramine structure, are biogenetically related to ikarugamycin [
59
] from a terrestrial actinomycete, alteramide A [
60
] from a marine bacterium, and cyrindramine [
61
] from a marine sponge. These results suggest that microorganisms may be the true producers of most marine metabolites.
Conclusions
As described above, bioactive alkaloids have been isolated from marine organisms. These structures were clarified by spectroscopic analysis and synthetic methods. The biogenesis of these compounds was proposed based on comparisons with their analogs. Additional biological activities of these compounds
in vivo
are currently under investigation in our laboratories.
Thanks to the development of new analytical instruments and techniques, numerous compounds have been isolated and elucidated from natural resources over the past 30 years. The study of natural resources may lead to the further discovery of novel bioactive compounds.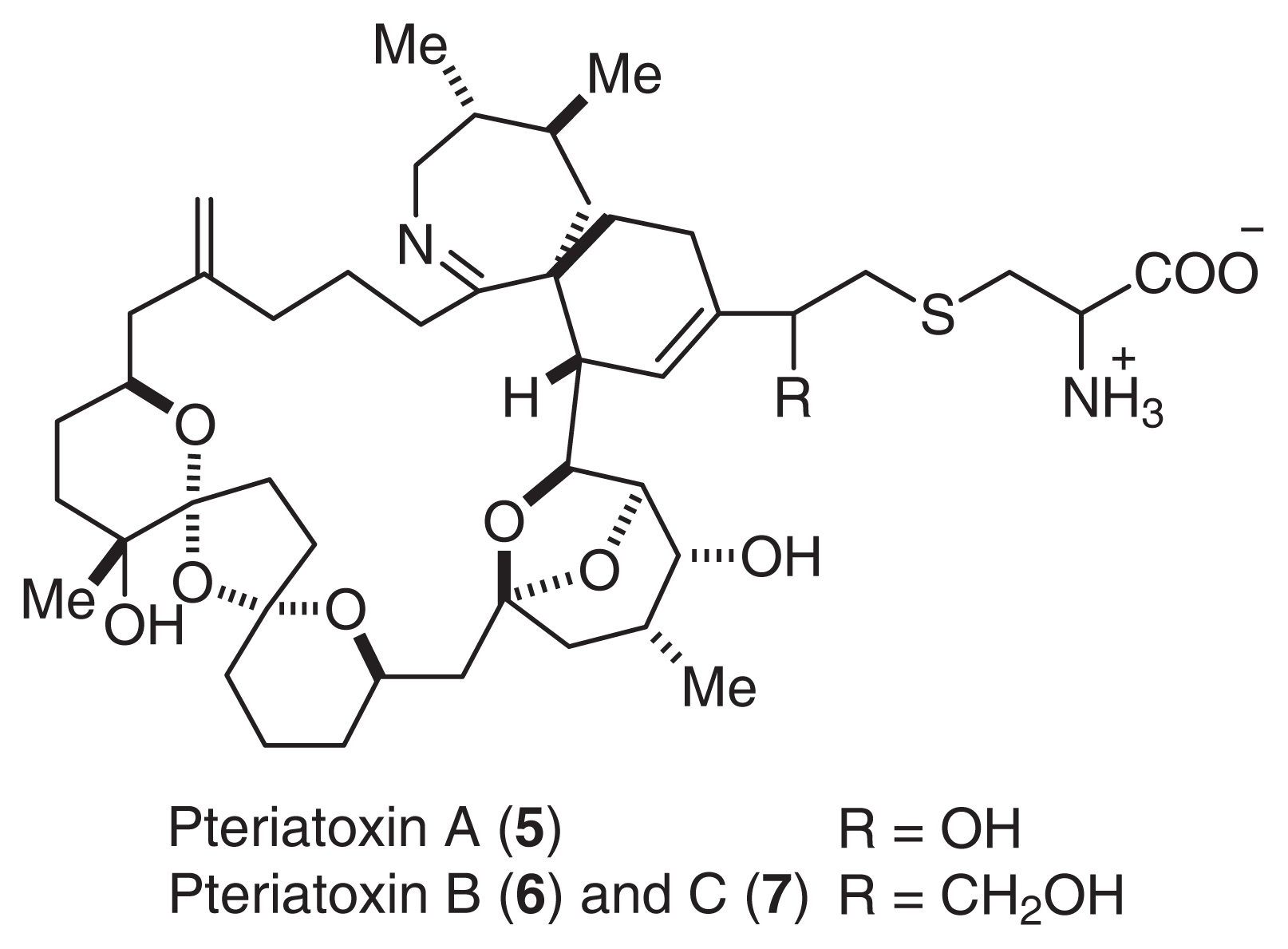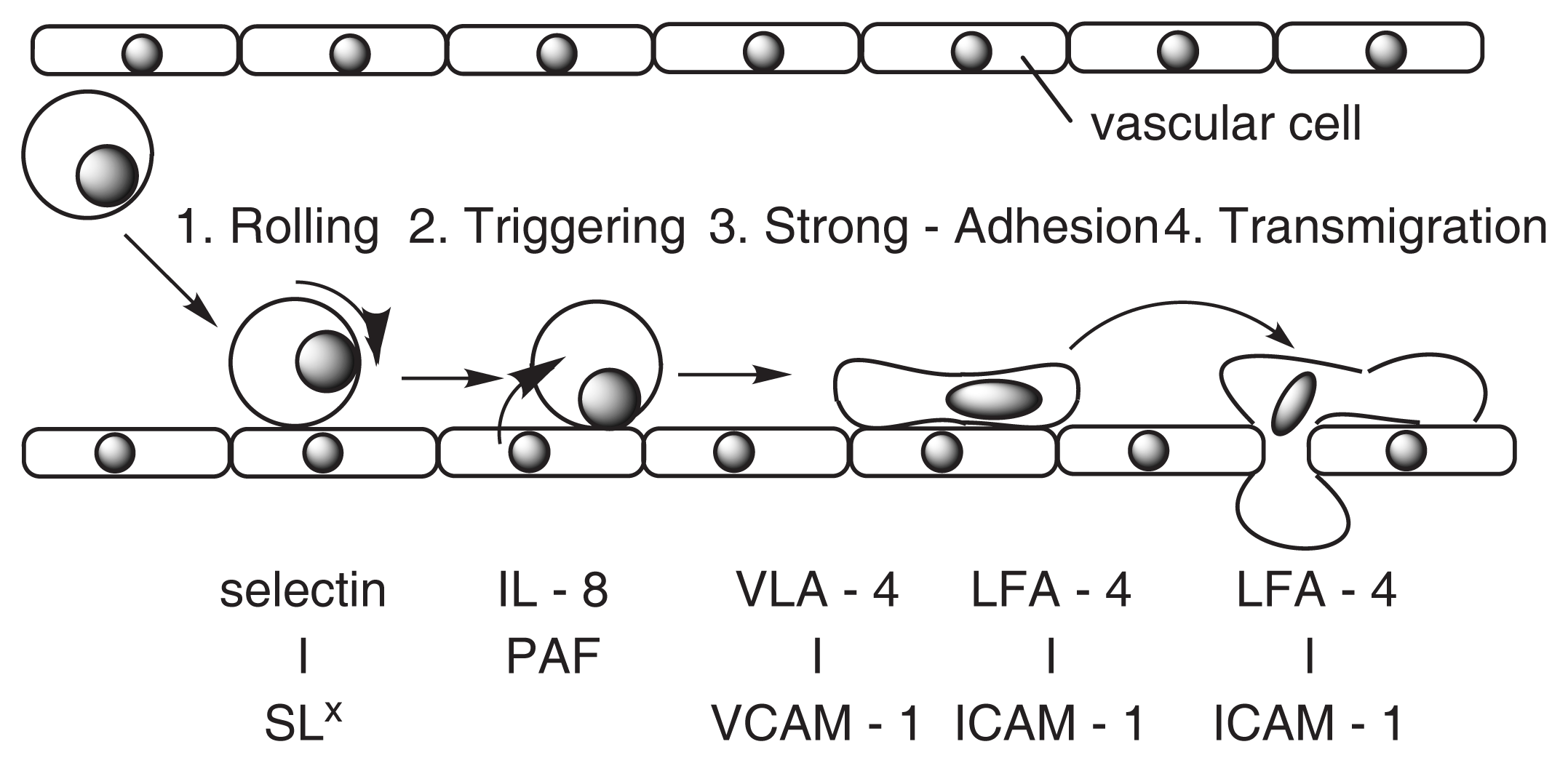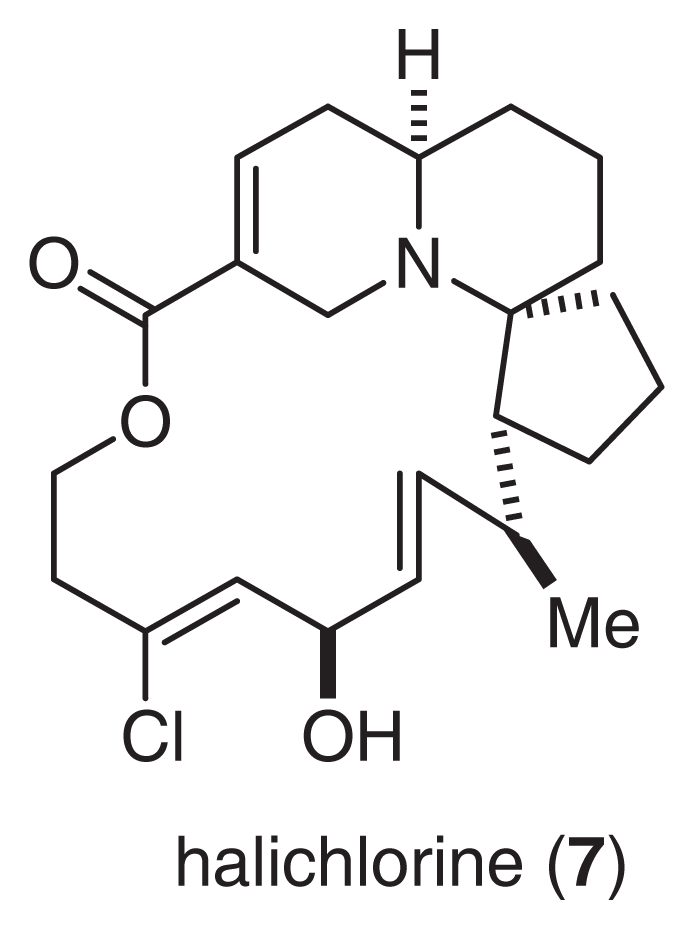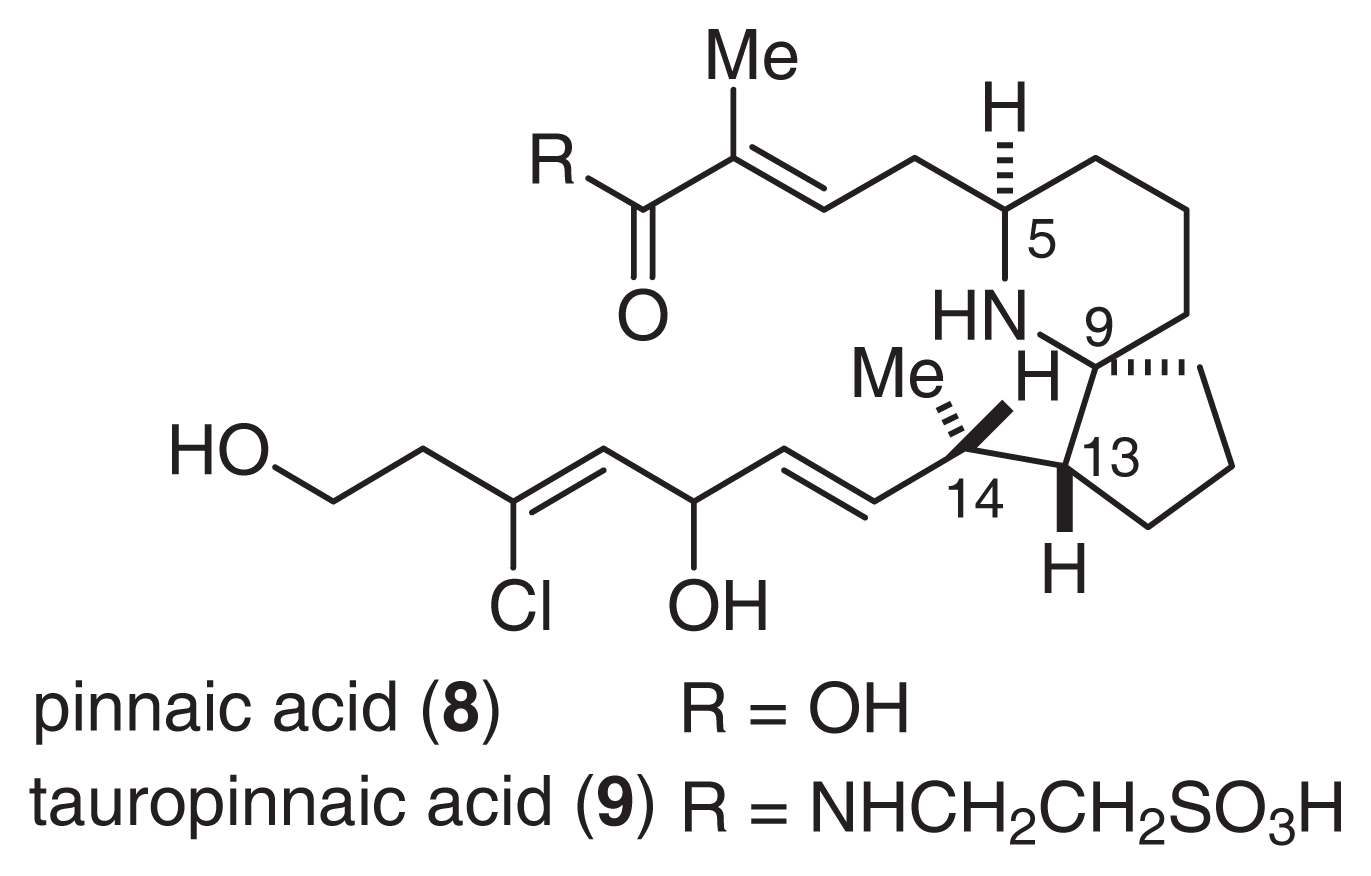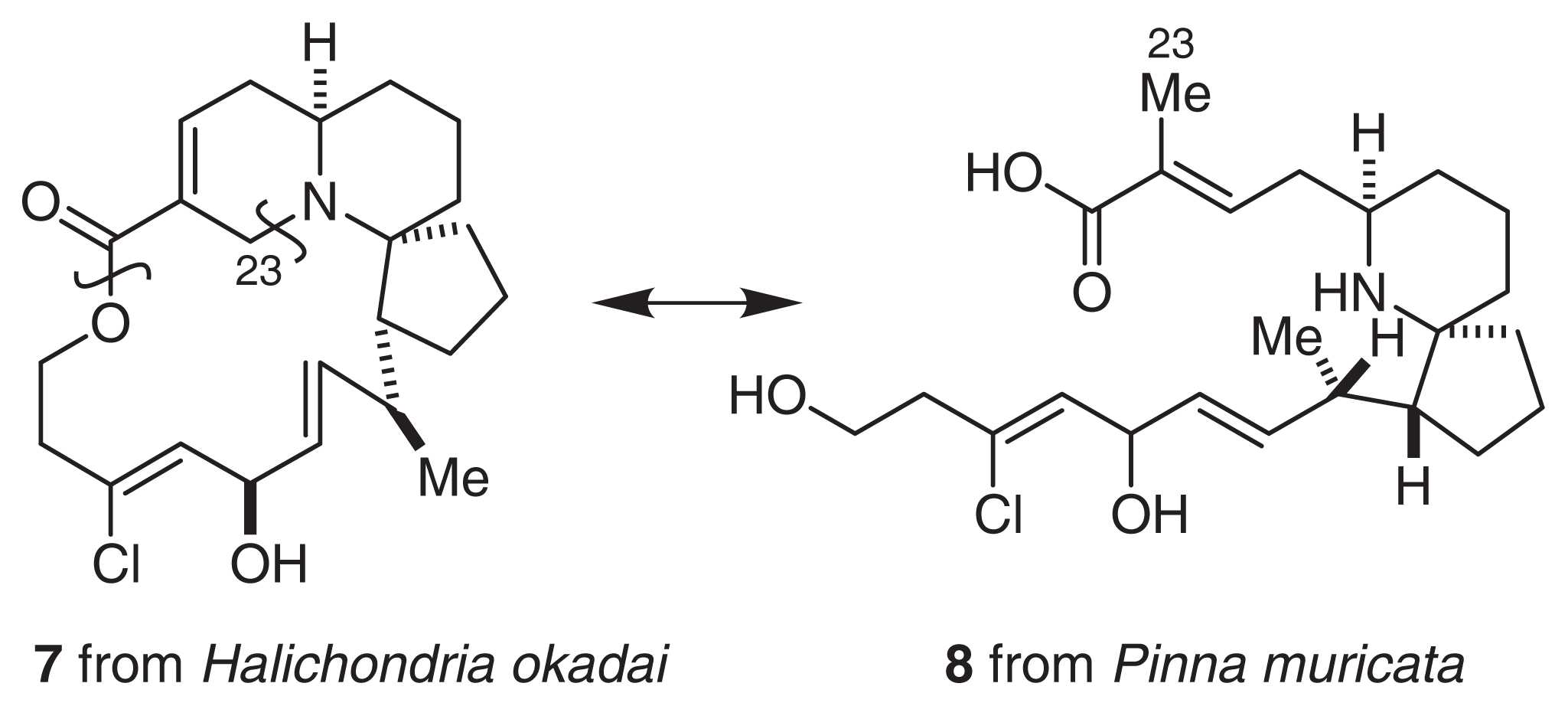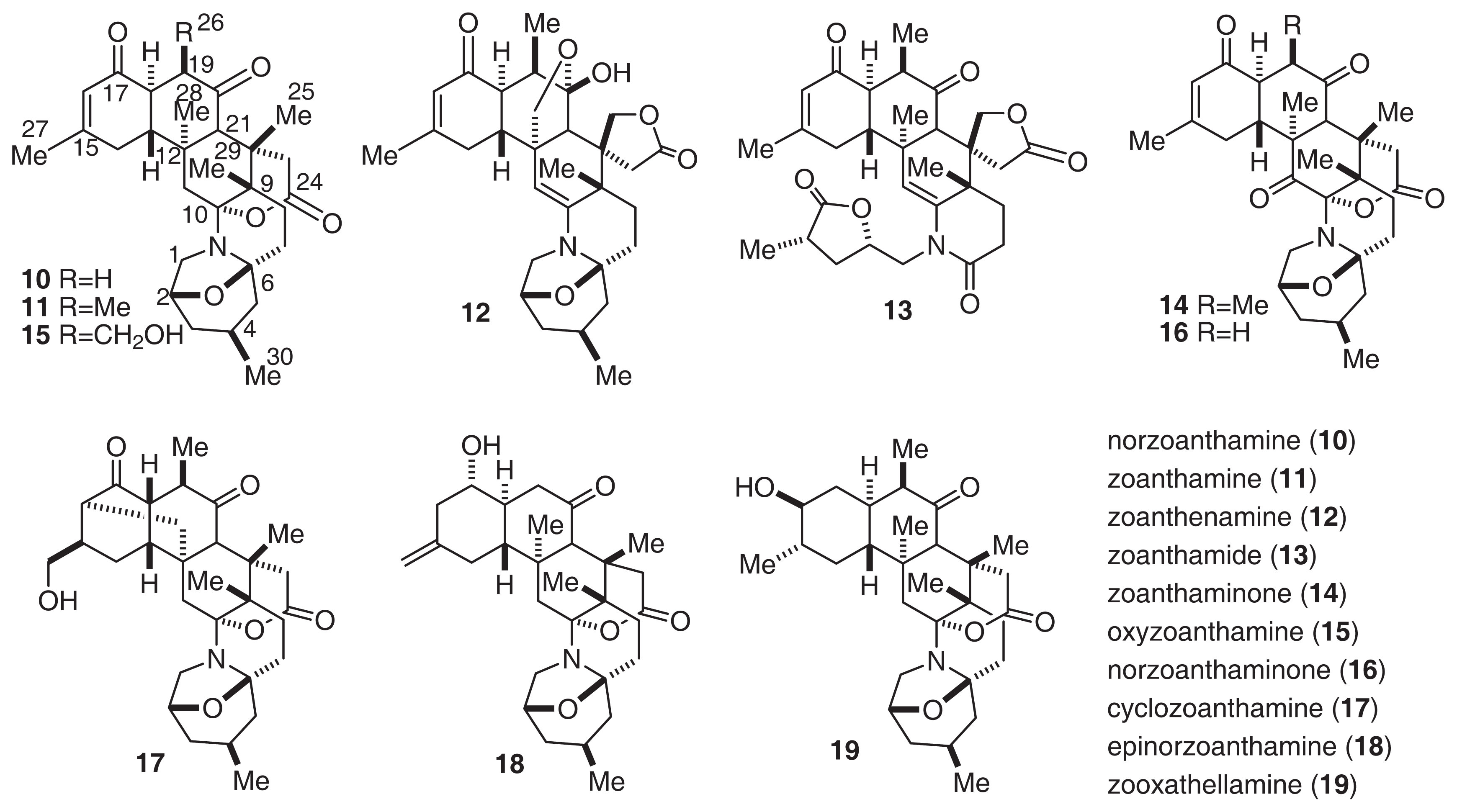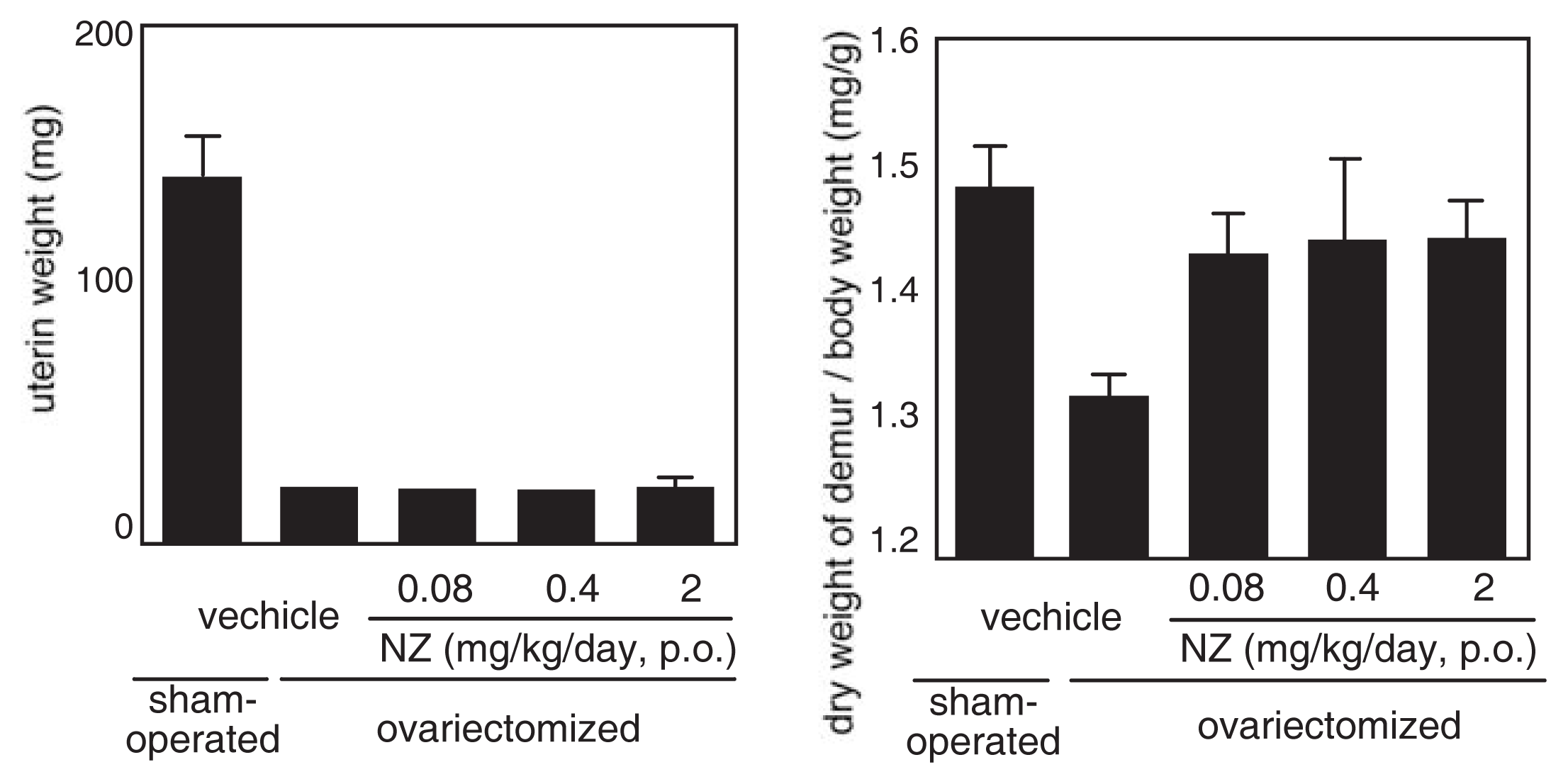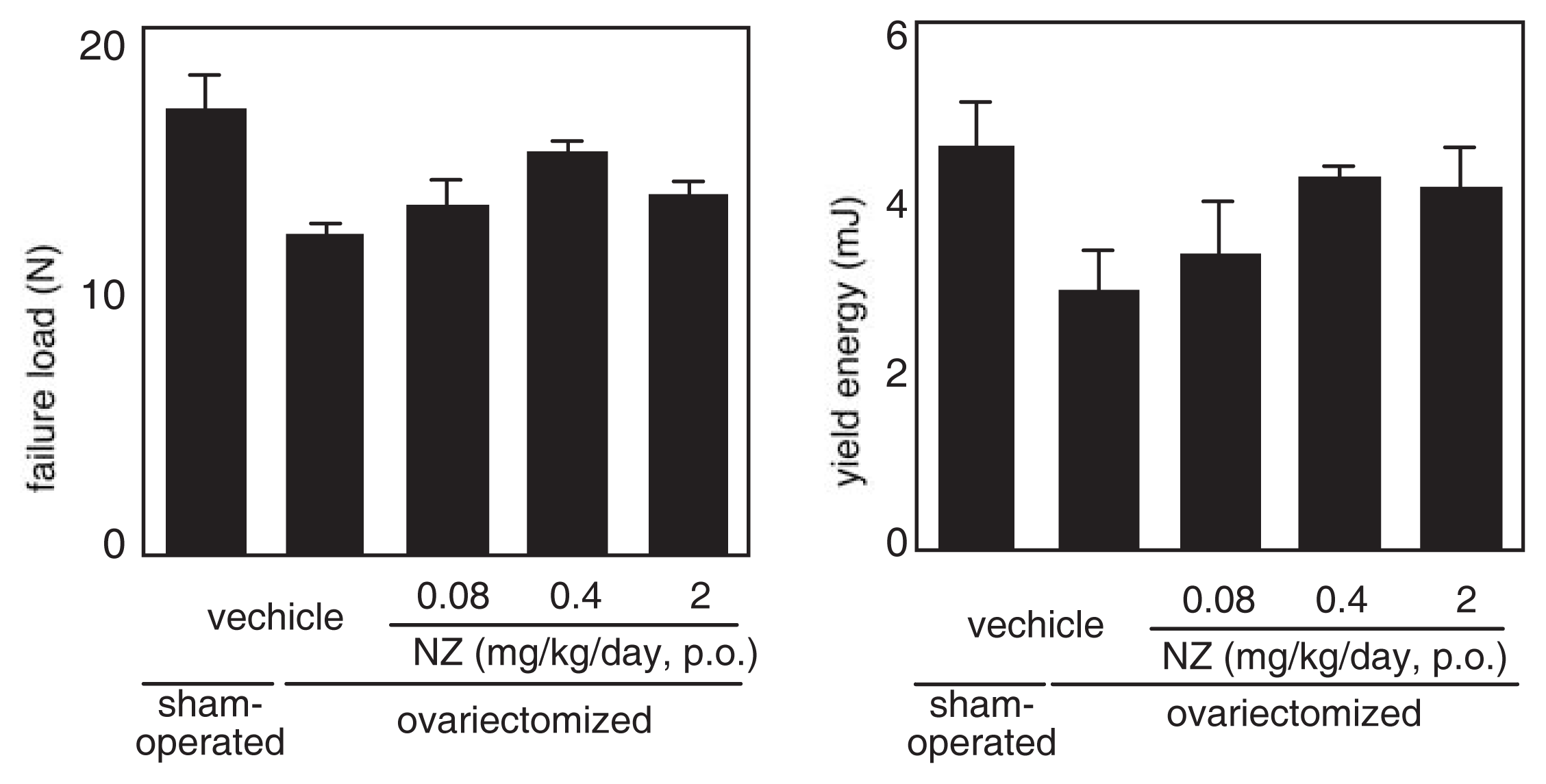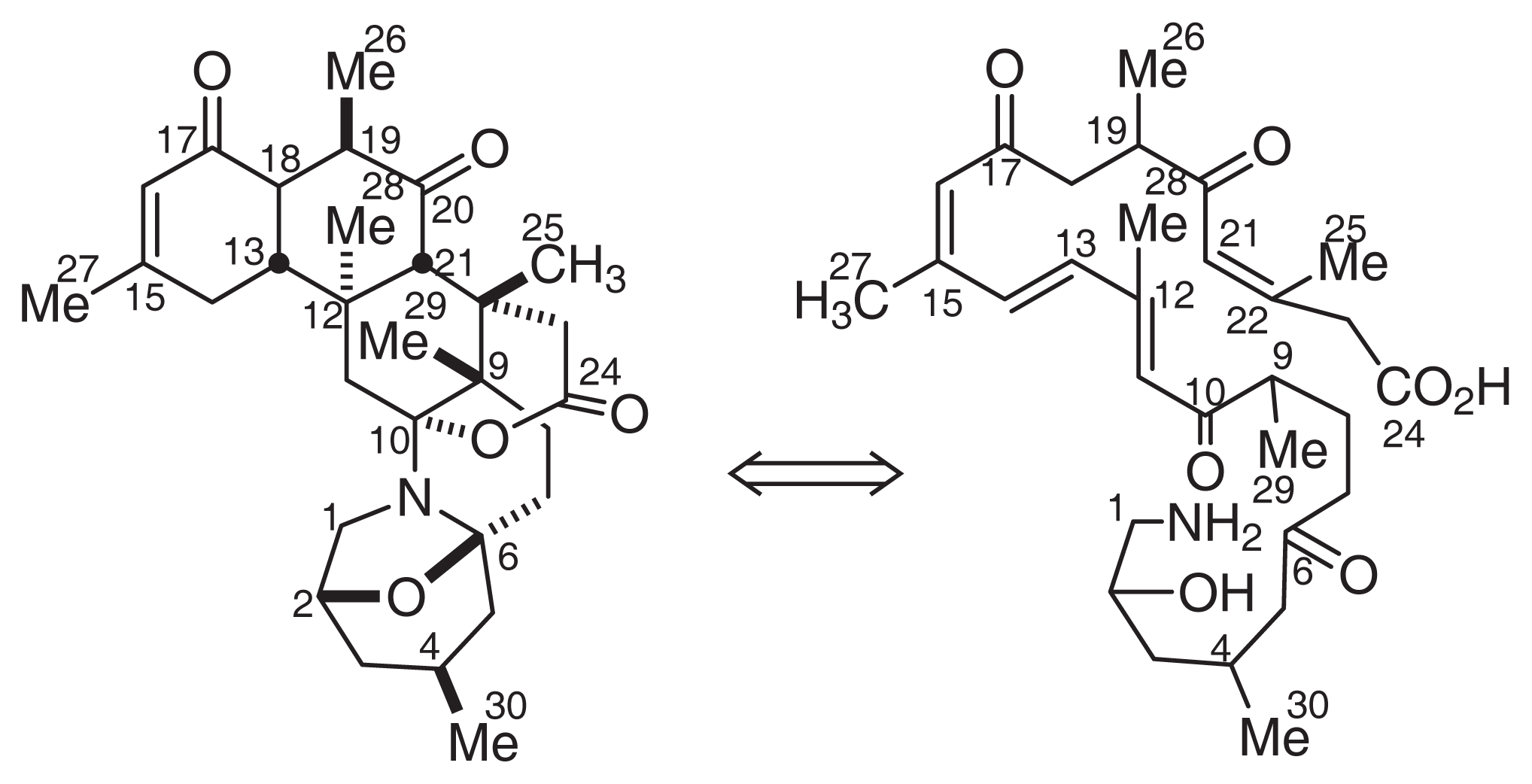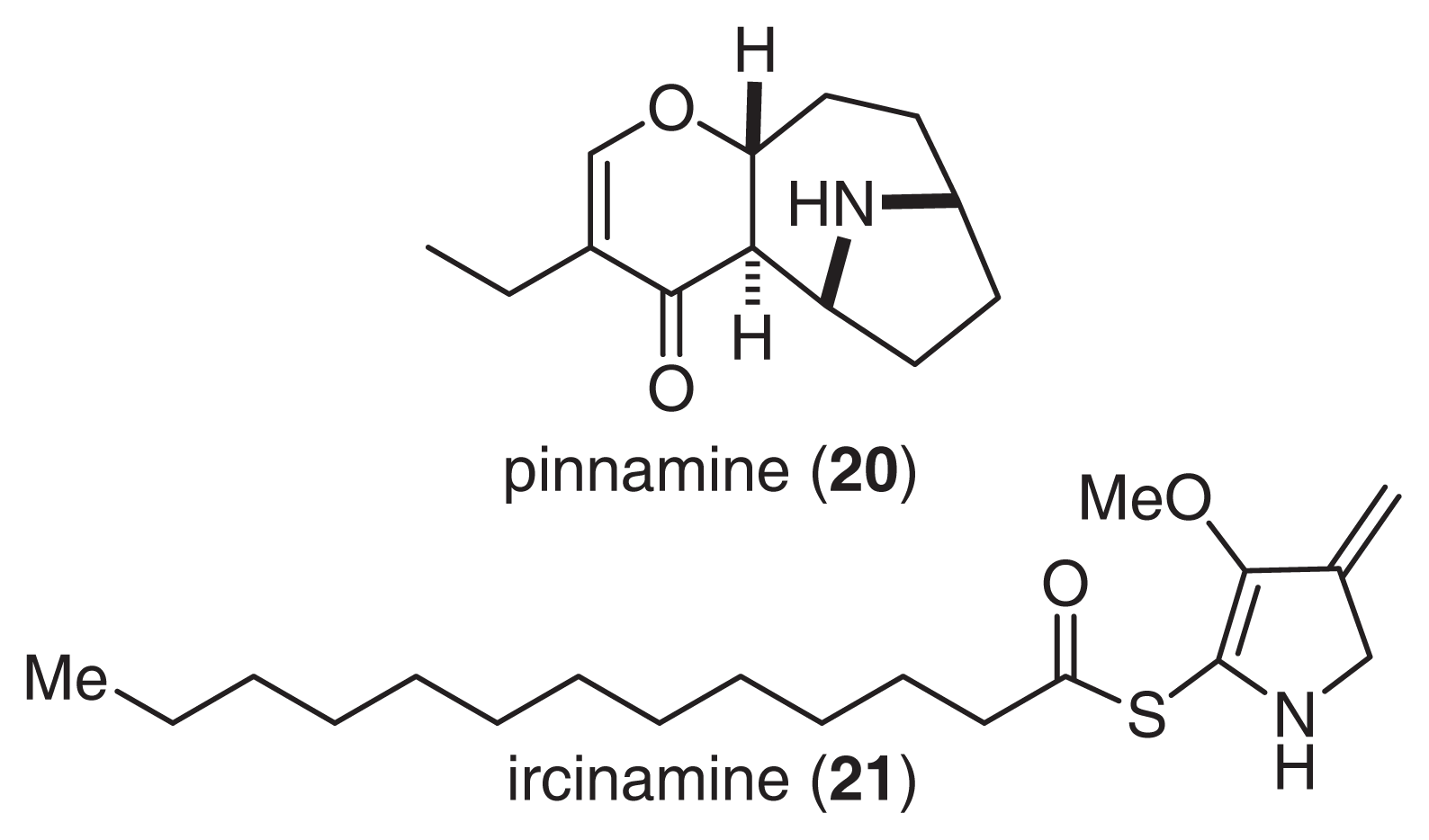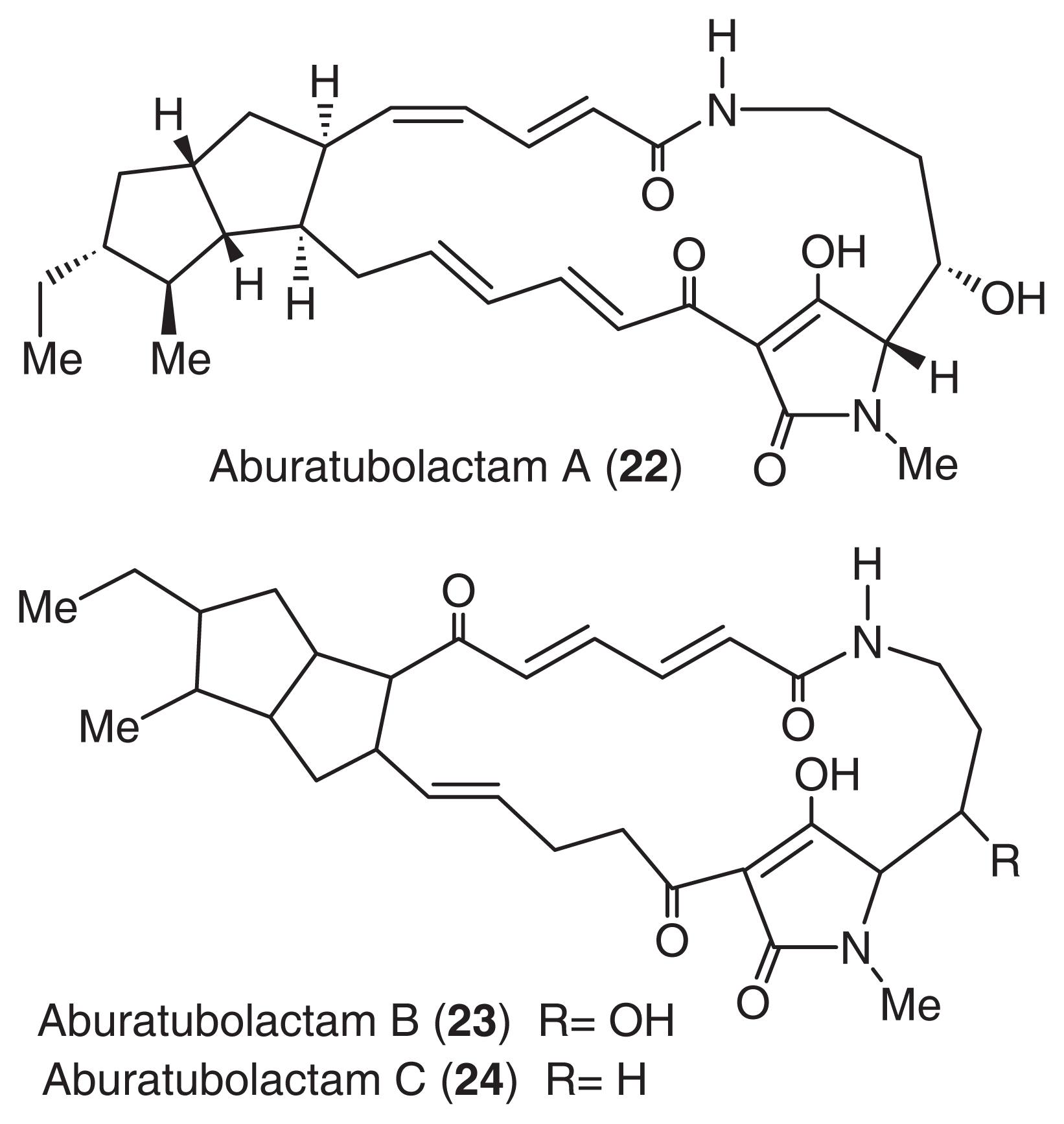 Scheme 1.
Synthesis of (+)-pinnaic acid [
33
].

Acknowledgements
We would like to thank Dr. K. Yamada (Nagoya University) and Dr. K. Yamaguchi (Tokyo University of Fisheries) for testing biological activities. This study was supported in part by Grants-in-Aid for Scientific Research from the Ministry of Education, Culture, Sports, Science and Technology, Japan. We are indebted to Wako Pure Chemical Industries, Ltd.; Banyu Pharmaceutical Co., Ltd.; and the Naito Foundation for their financial support.
© 2004 by MDPI Reproduction is permitted for noncommercial purposes.