Functional Expression and Characterization of the Recombinant N-Acetyl-Glucosamine/N-Acetyl-Galactosamine-Specific Marine Algal Lectin BPL3
1
Department of Genetic Resources Research, National Marine Biodiversity Institute of Korea, Seocheon 33662, Korea
2
Department of Biology, Kongju National University, Kongju 32588, Korea
*
Authors to whom correspondence should be addressed.
Received: 28 November 2017 / Revised: 16 December 2017 / Accepted: 28 December 2017 / Published: 5 January 2018
Abstract
Lectins, characterized by their carbohydrate-binding ability, have extensive practical applications. However, their industrial use is limited due to impurity. Thus, quality-controlled production of recombinant lectin is necessary. In this study, the algal lectin BPL3 (
Bryopsis plumosa lectin
3) was successfully produced using a bacterial expression system, BL21(DE3), with an artificial repeated structure (dimeric construct). Recombinant dimeric BPL3 (rD2BPL3) was confirmed by LC-MS/MS spectrometry. Expression efficiency was greater for the construct with the repeat structure (rD2BPL3) than the monomeric form (rD1BPL3). Optimal conditions for expression were 1 mM IPTG at 20 °C. Recombinant lectin was purified under denaturing conditions and refolded by the flash dilution method. Recombinant BPL3 was solubilized in 1× PBS containing 2 M urea. rD2BPL3 showed strong hemagglutination activity using human erythrocyte. rD2BPL3 had a similar sugar specificity to that of the native protein, i.e., to
N
-acetyl-glucosamine (GlcNAc) and
N
-acetyl-galactosamine (GalNAc). Glycan array results showed that recombinant BPL3 and native BPL3 exhibited different binding properties. Both showed weak binding activity to α-Man-Sp. Native BPL3 showed strong binding specificity to the alpha conformation of amino sugars, and rD2BPL3 had binding activity to the beta conformation. The process developed in this study was suitable for the quality-controlled large-scale production of recombinant lectins.
View Full-Text
►

▼

Figures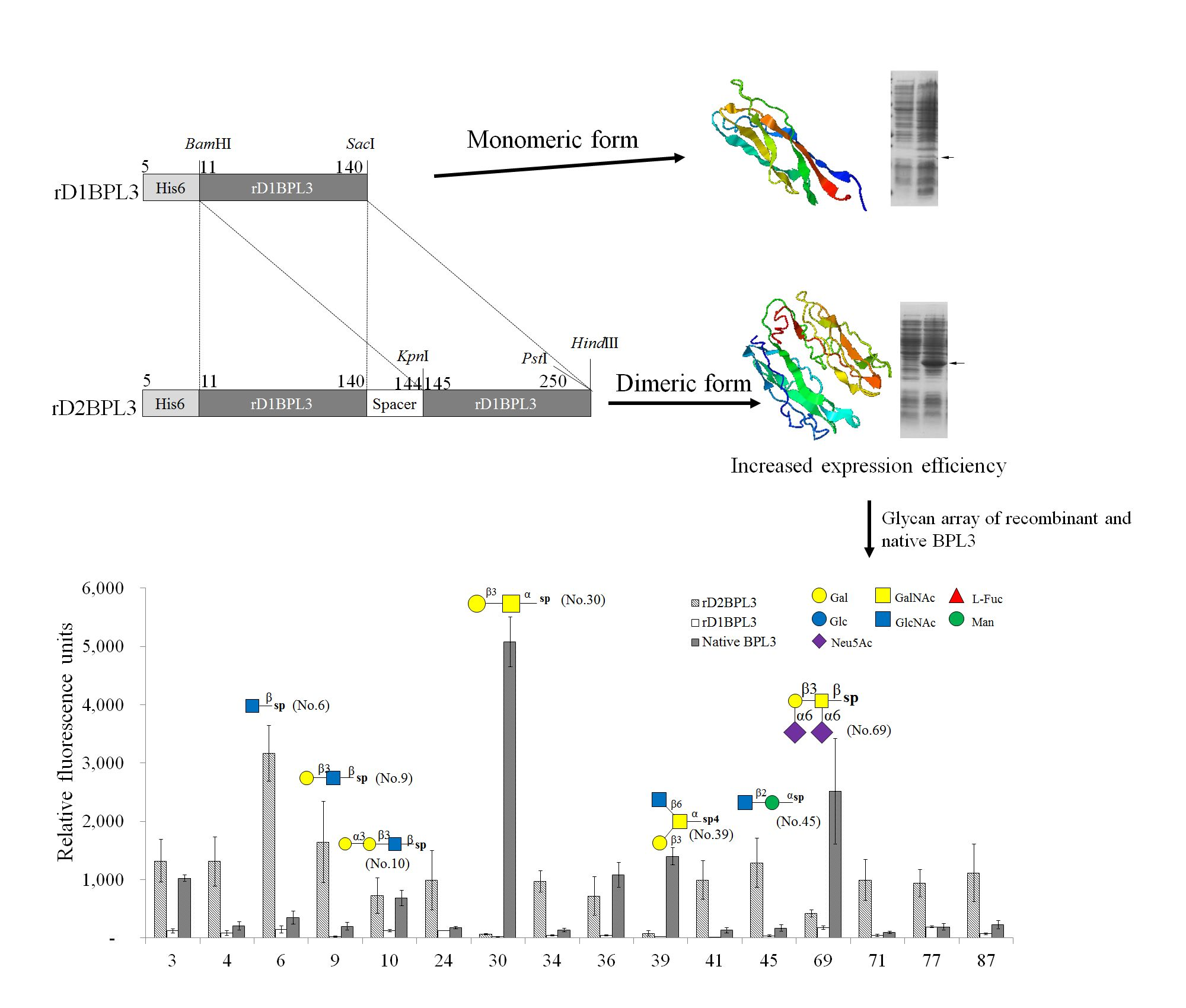 This is an open access article distributed under the
Creative Commons Attribution License
which permits unrestricted use, distribution, and reproduction in any medium, provided the original work is properly cited. (CC BY 4.0).
Share & Cite This Article
MDPI and ACS Style
Hwang, H.-J.; Han, J.-W.; Kim, G.H.; Han, J.W. Functional Expression and Characterization of the Recombinant N-Acetyl-Glucosamine/N-Acetyl-Galactosamine-Specific Marine Algal Lectin BPL3. Mar. Drugs 2018, 16, 13.
Note that from the first issue of 2016, MDPI journals use article numbers instead of page numbers. See further details here.
Related Articles
Comments
[Return to top]