Open Access This article is
freely available
re-usable
Review
Biogenetic Relationships of Bioactive Sponge Merotriterpenoids
1
Department of Medicinal Chemistry, University of Utah, 30 S. 2000 E., Salt Lake City, UT 84112, USA
2
Department of Integrative Biology, University of Texas at Austin, 2506 Speedway, NMS 4.216 stop C0930, Austin, TX 78712, USA
Received: 25 July 2017 / Accepted: 7 September 2017 / Published: 10 September 2017
Abstract
:
Hydroquinone meroterpenoids, especially those derived from marine sponges, display a wide range of biological activities. However, use of these compounds is limited by their inaccessibility; there is no sustainable supply of these compounds. Furthermore, our knowledge of their metabolic origin remains completely unstudied. In this review, an in depth structural analysis of sponge merotriterpenoids, including the adociasulfate family of kinesin motor protein inhibitors, provides insight into their biosynthesis. Several key structural features provide clues to the relationships between compounds. All adociasulfates appear to be derived from only four different hydroquinone hexaprenyl diphosphate precursors, each varying in the number and position of epoxidations. Proton-initiated cyclization of these precursors can lead to all carbon skeletons observed amongst sponge merotriterpenoids. Consideration of the enzymes involved in the proposed biosynthetic route suggests a bacterial source, and a hypothetical gene cluster was constructed that may facilitate discovery of the authentic pathway from the sponge metagenome. A similar rationale can be extended to other sponge meroterpenoids, for which no biosynthetic pathways have yet been identified.
Keywords:
sponge; meroterpenoid; marine natural product; medicinal chemistry; biosynthesis; drug discovery
Acknowledgments
I thank Drs. Eric Schmidt, Chris Ireland, and Glenn Prestwich for their advice and critiques regarding this manuscript. This work was supported by the American Foundation for Pharmaceutical Education (AFPE) Predoctoral Fellowship.
Conflicts of Interest
The author declares no conflict of interest.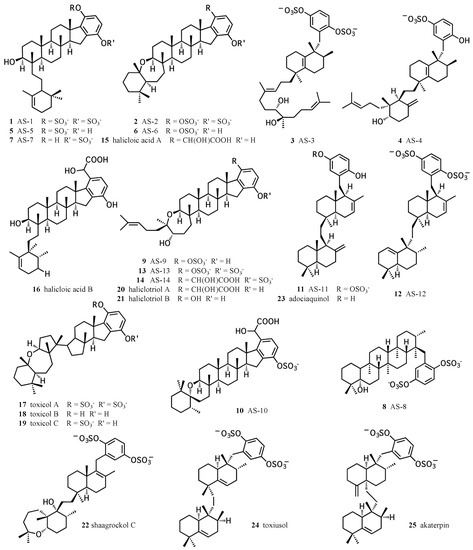 Figure 1.
Chemical structures of sponge hydroquinone merotriterpenoids. The adociasulfates and related compounds are derived from sponges of the family
Chalinidae
, with the exception of akaterpin, isolated from
Callyspongia sp
.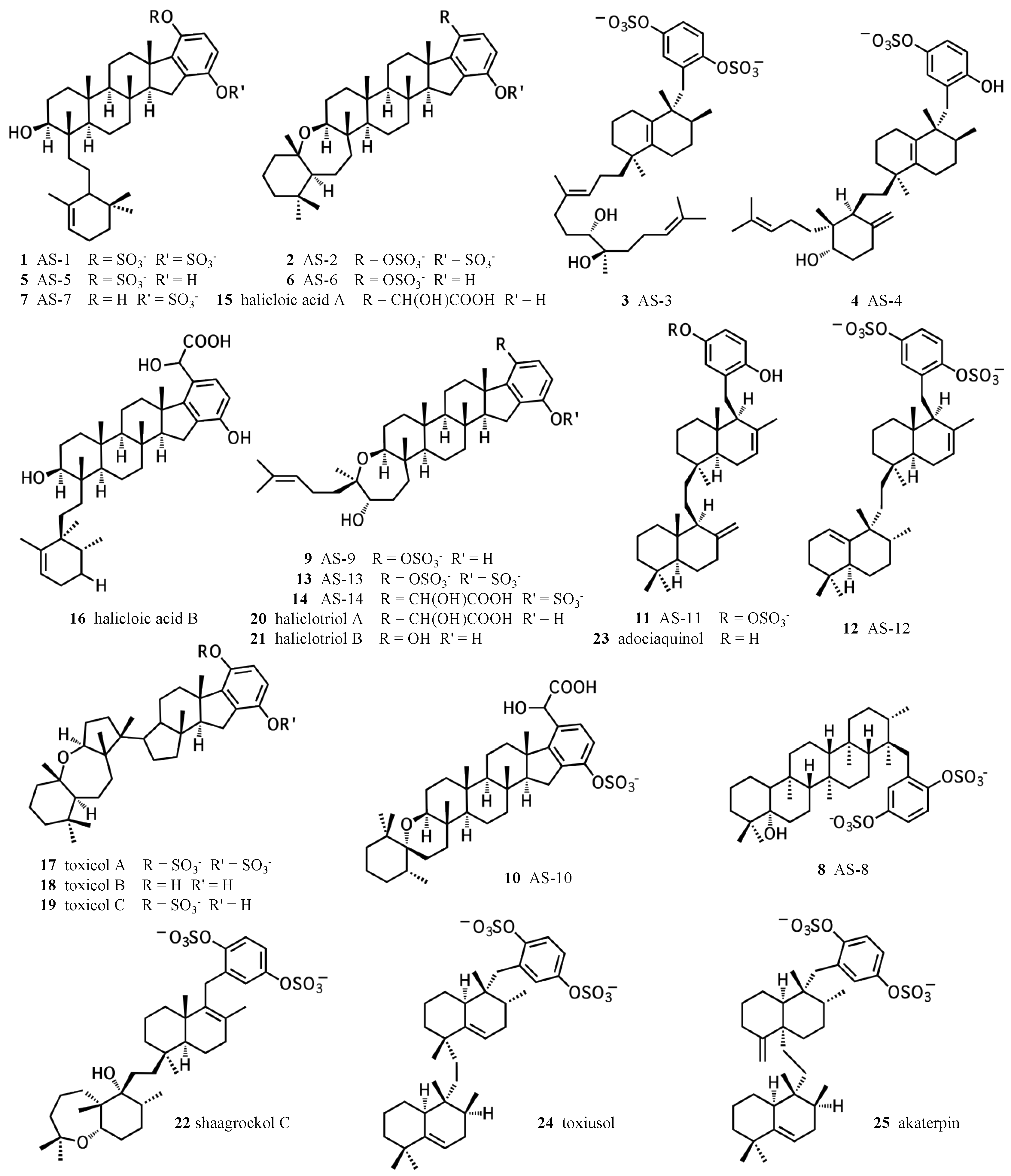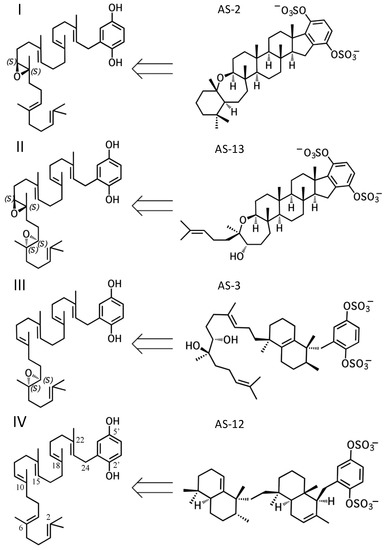 Figure 2. The four, putative hydroquinone merotriterpenoid biosynthetic classes. Sponge merotriterpenoids can be divided into four groups by the number and position of epoxidations of the linear hexaprenoid precursor (left side). Representative adociasulfates of each major group are shown (right side).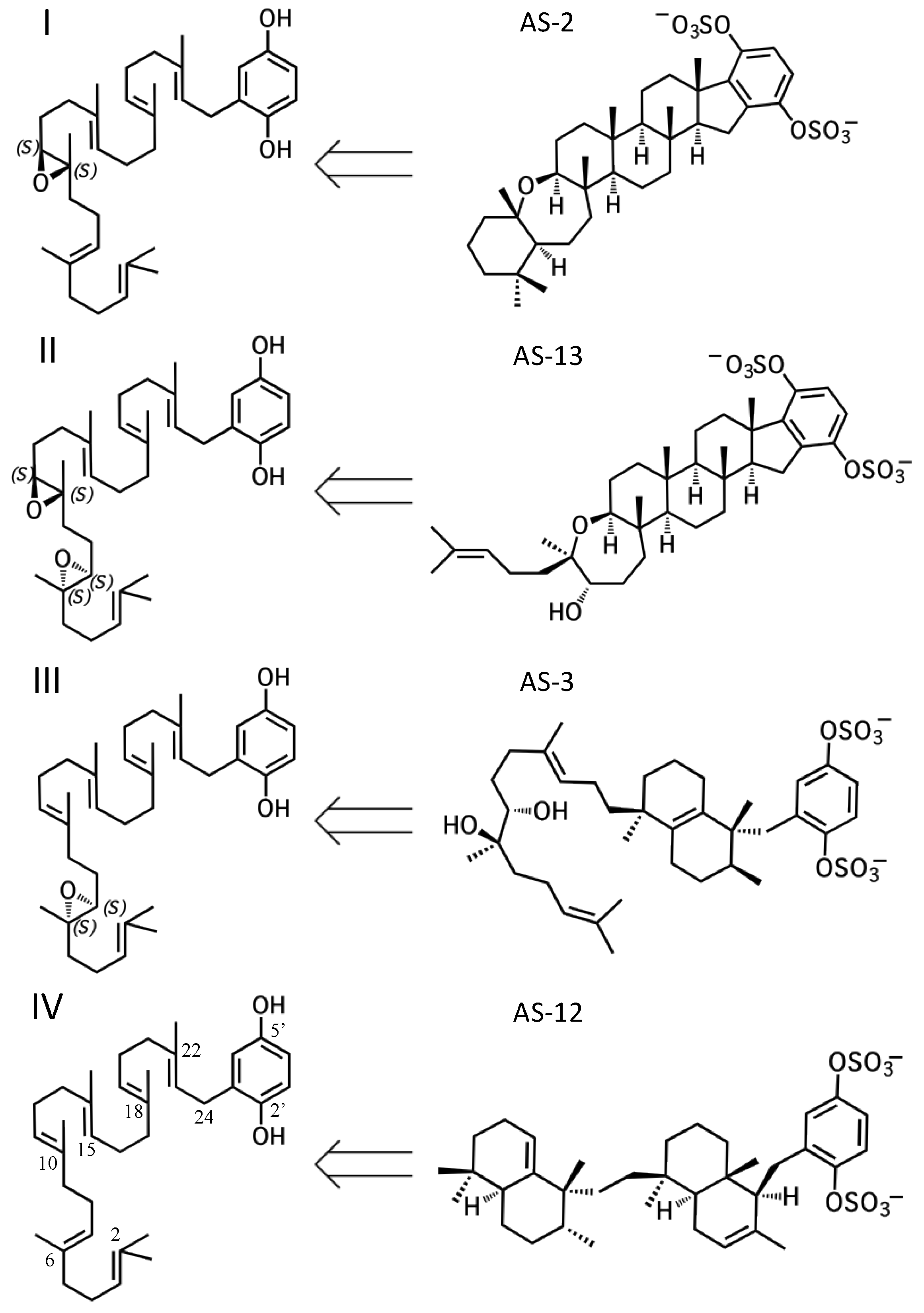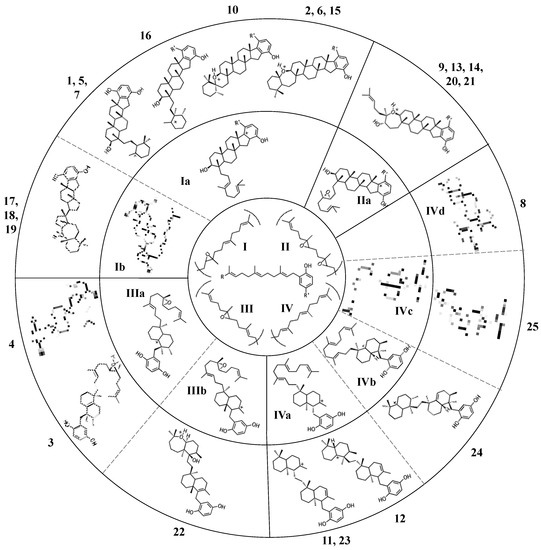 Figure 3. Diverse merotriterpenoid skeletons can be derived from a small number of related precursors via different cyclization routes. The innermost circle shows the four putative precursor molecules. Carbocation products of a single cyclization event are shown in the middle ring. Carbocation products of a second cyclization event are shown in the outermost ring. Numeric designations of final products lie outside of the circle. The number and complexity of structures expands outwards from the simple precursors in the center. The R group of the center linear precursor is substituted with one of the four groups in shown in parentheses, while the R' group denotes a hydroxyl group for most compounds, or a glycolic acid moiety for some group I and II compounds.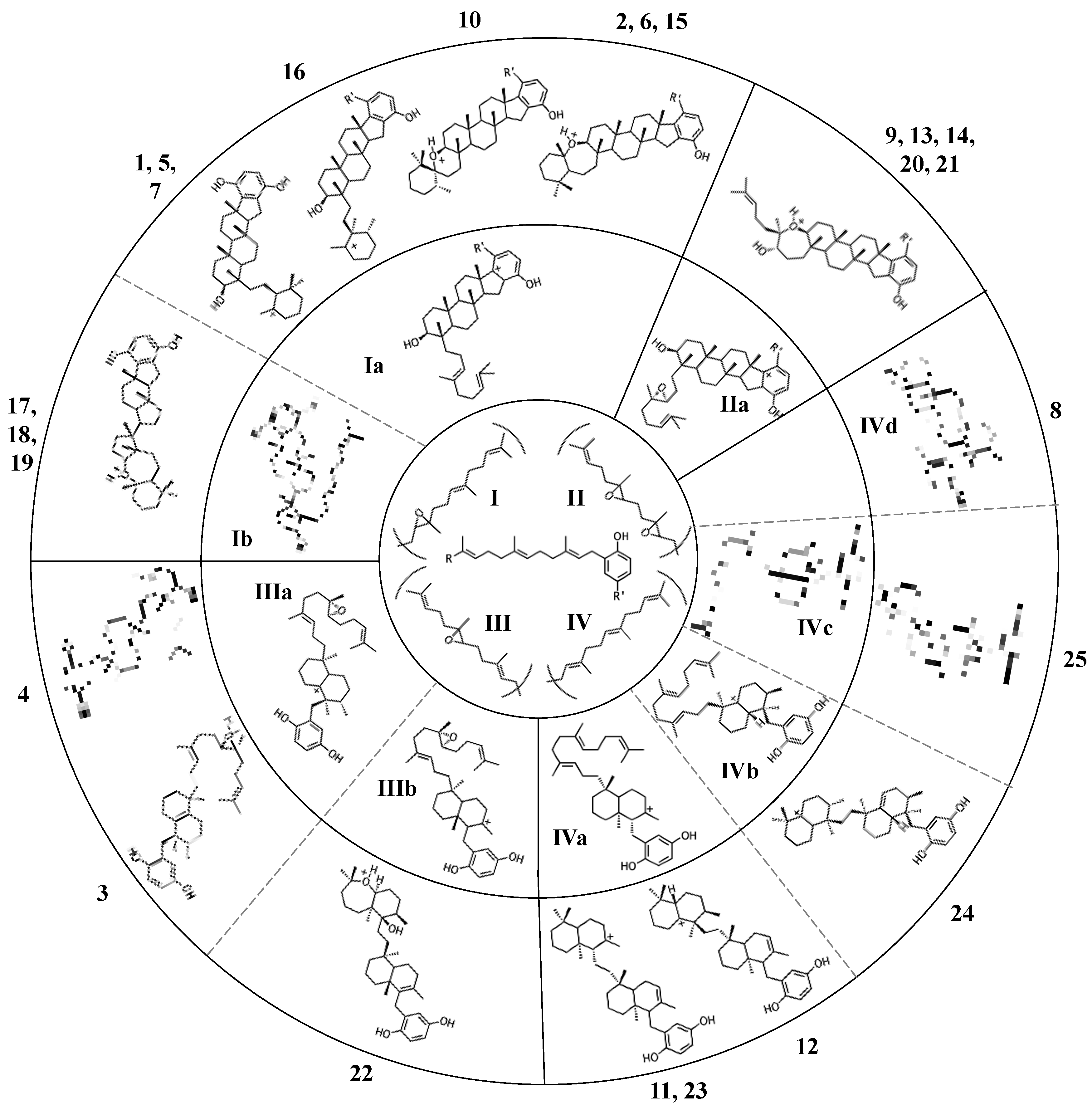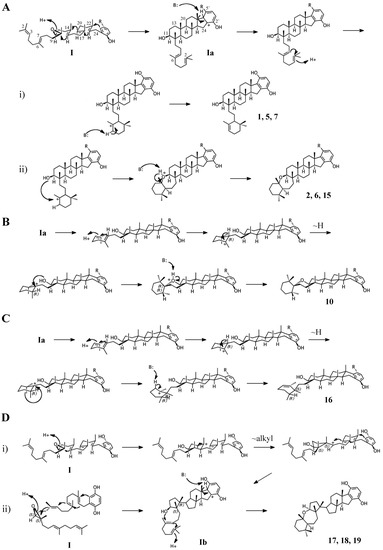 Figure 4. Putative cyclization routes of group I sponge merotriterpenoids, derived from 10,11-epoxyhexaprenyl diphosphate, including: (A) 1, 2, 5, 6, 7, halicloic acid A (15), (B) 10, (C) halicloic acid B (16), and (D) toxicols A-C (17–19).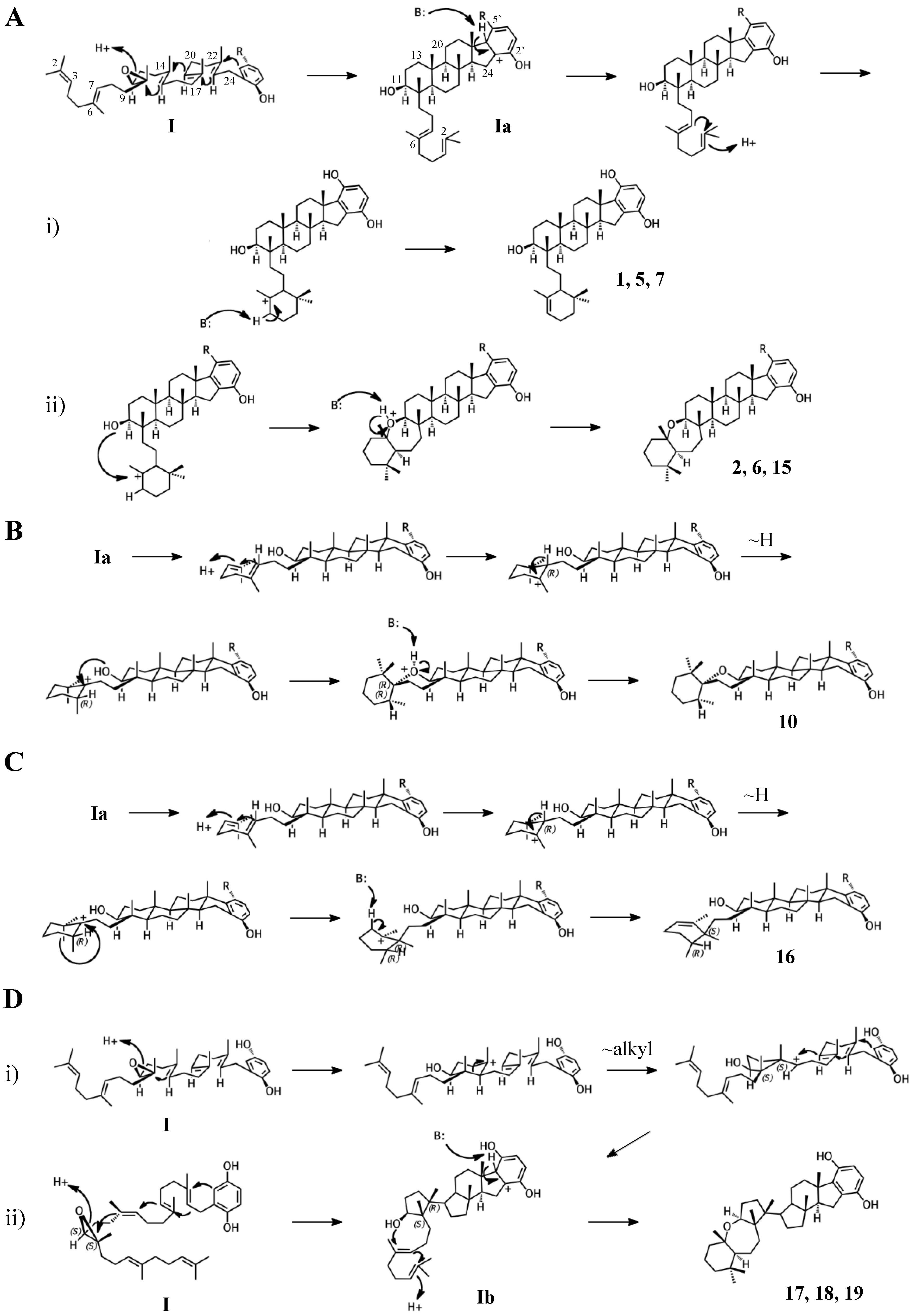 Figure 5. Putative cyclization routes of group II sponge merotriterpenoids, derived from 6,7-10,11-diepoxyhexaprenyl diphosphate, including: 9, 13, 14, and haliclotriols A (20) and B (21).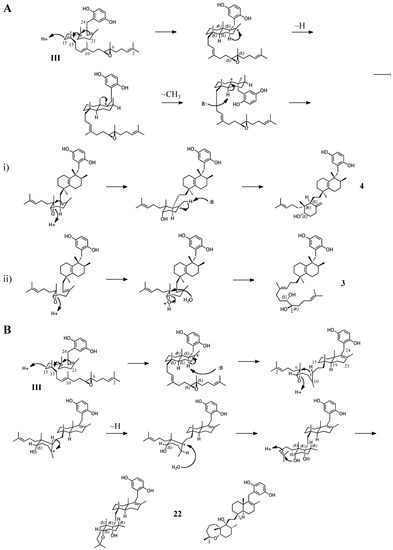 Figure 6. Putative cyclization routes of group III sponge merotriterpenoids, derived from 6,7-epoxyhexaprenyl diphosphate, including: (A) 3, 4, (B) and shaagrockol C (22).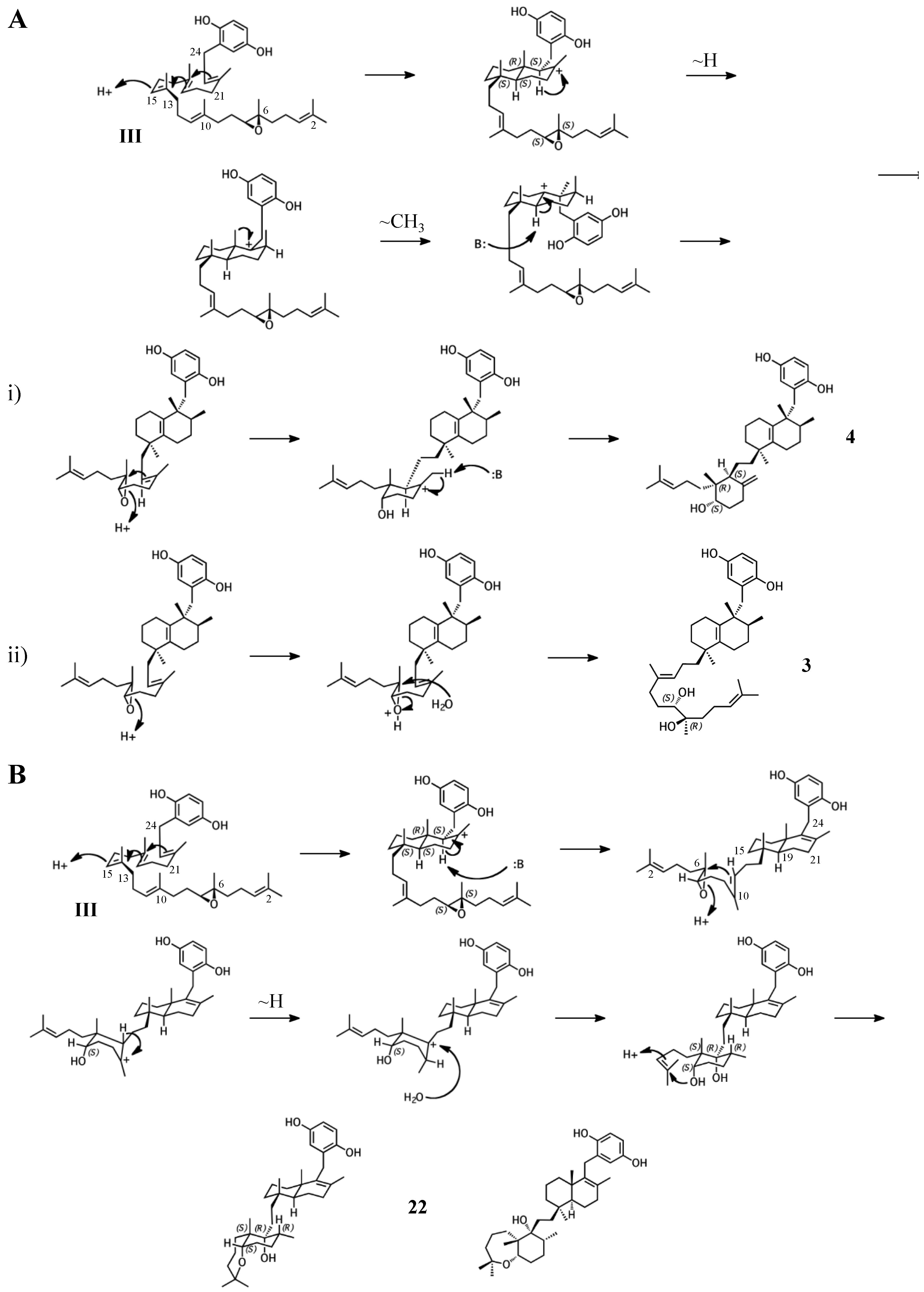 Figure 7. Putative cyclization routes of group IV sponge merotriterpenoids, derived from hexaprenyl diphosphate, including: (A) 11, 12, adociaquinol (23), (B) toxiusol (24), (C) akaterpin (25), and (D) 8.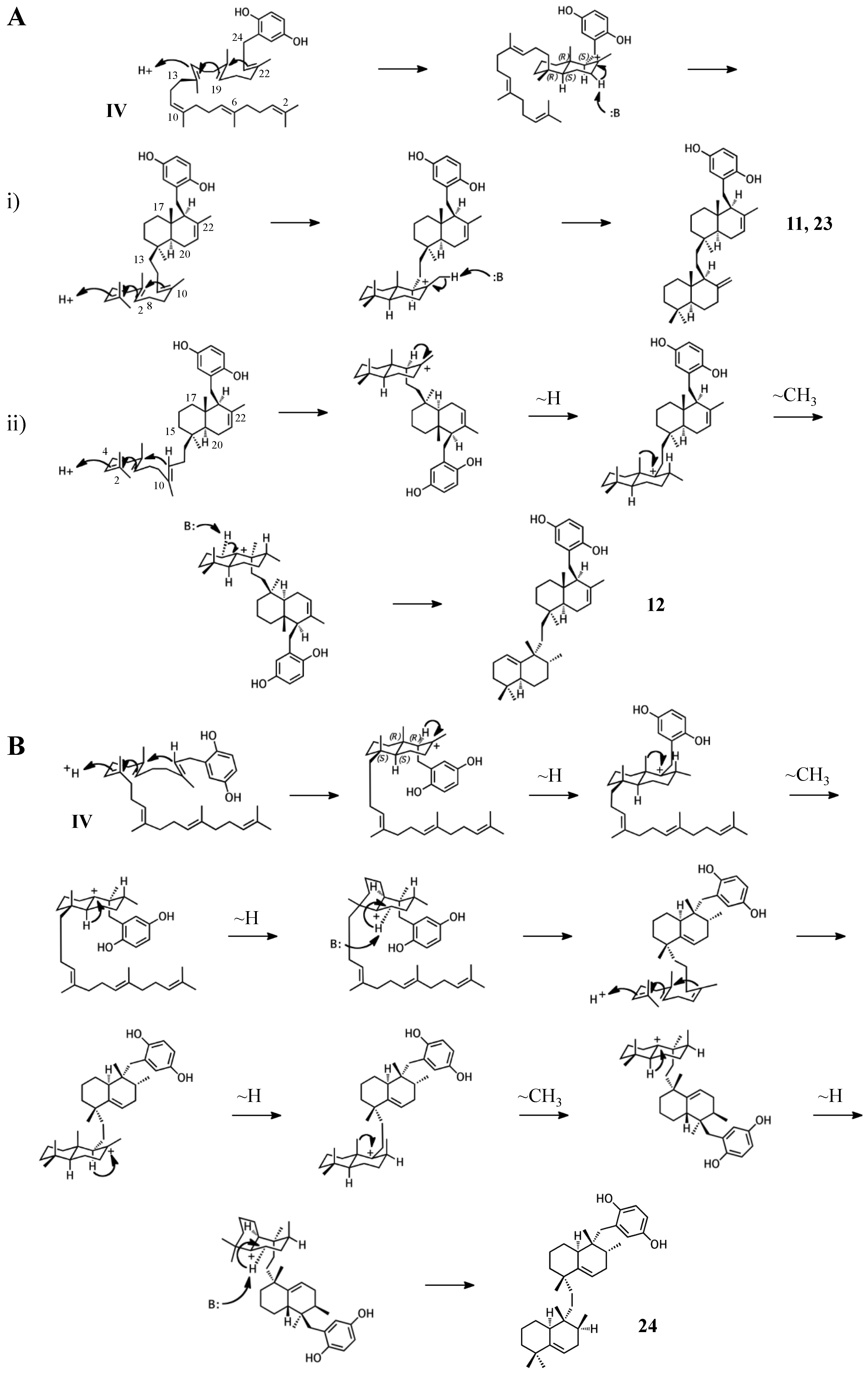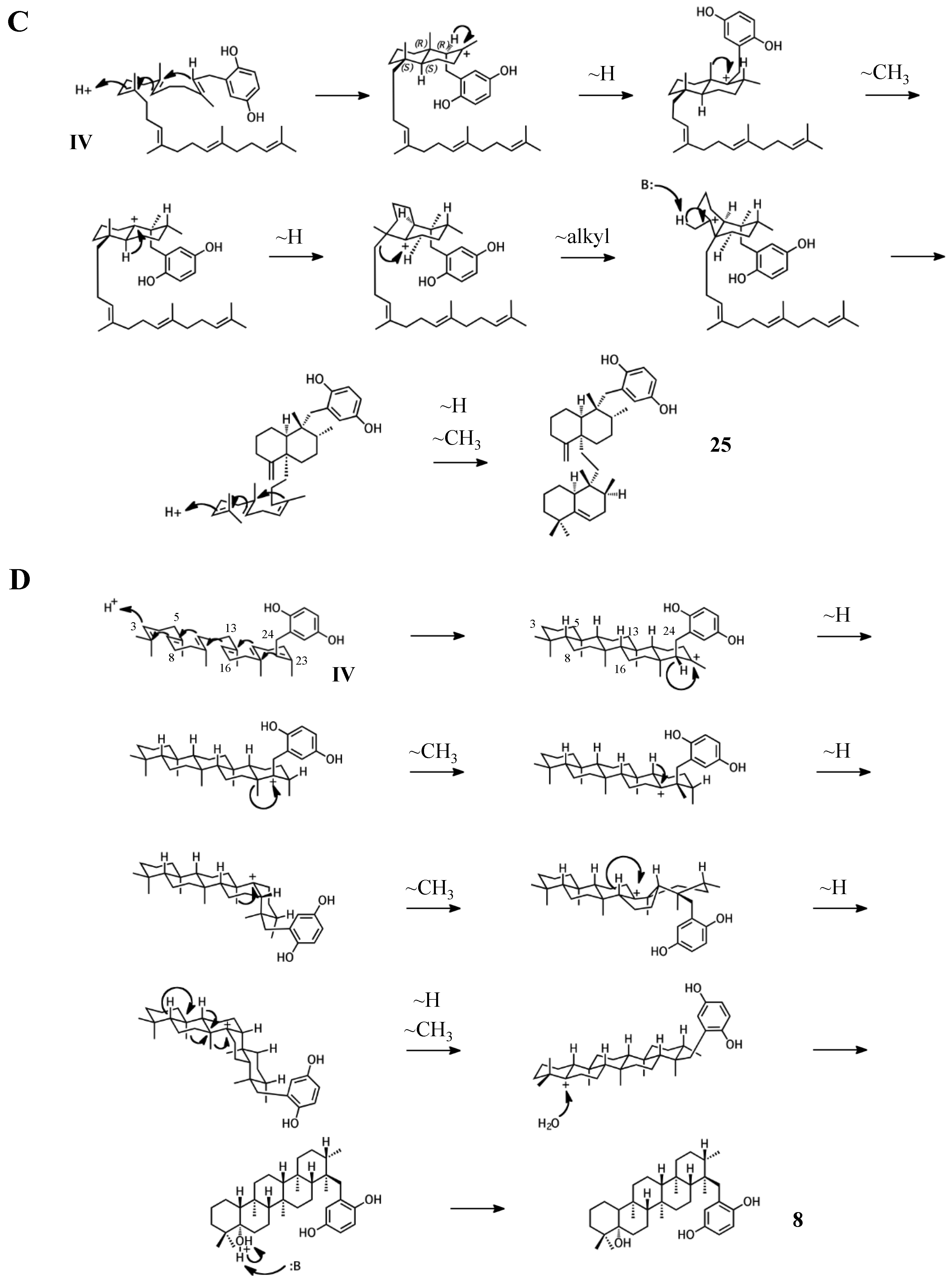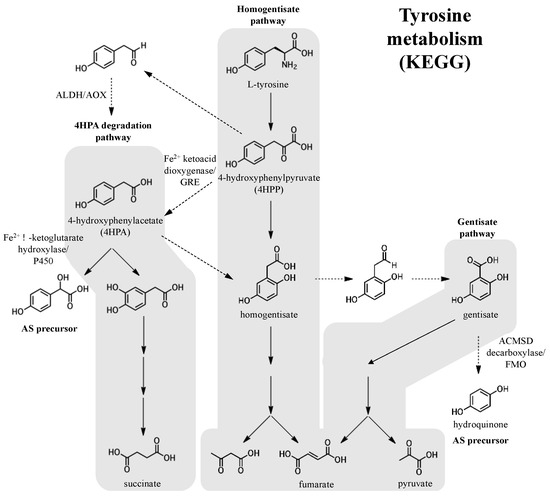 Figure 8. Potential biosynthetic origins of the aromatic adociasulfate prenyl acceptor from tyrosine metabolism pathways, as mapped by the Kyoto Encyclopedia of Genes and Genomes (KEGG). Dashed arrows indicate possible or uncharacterized enzymatic transformations.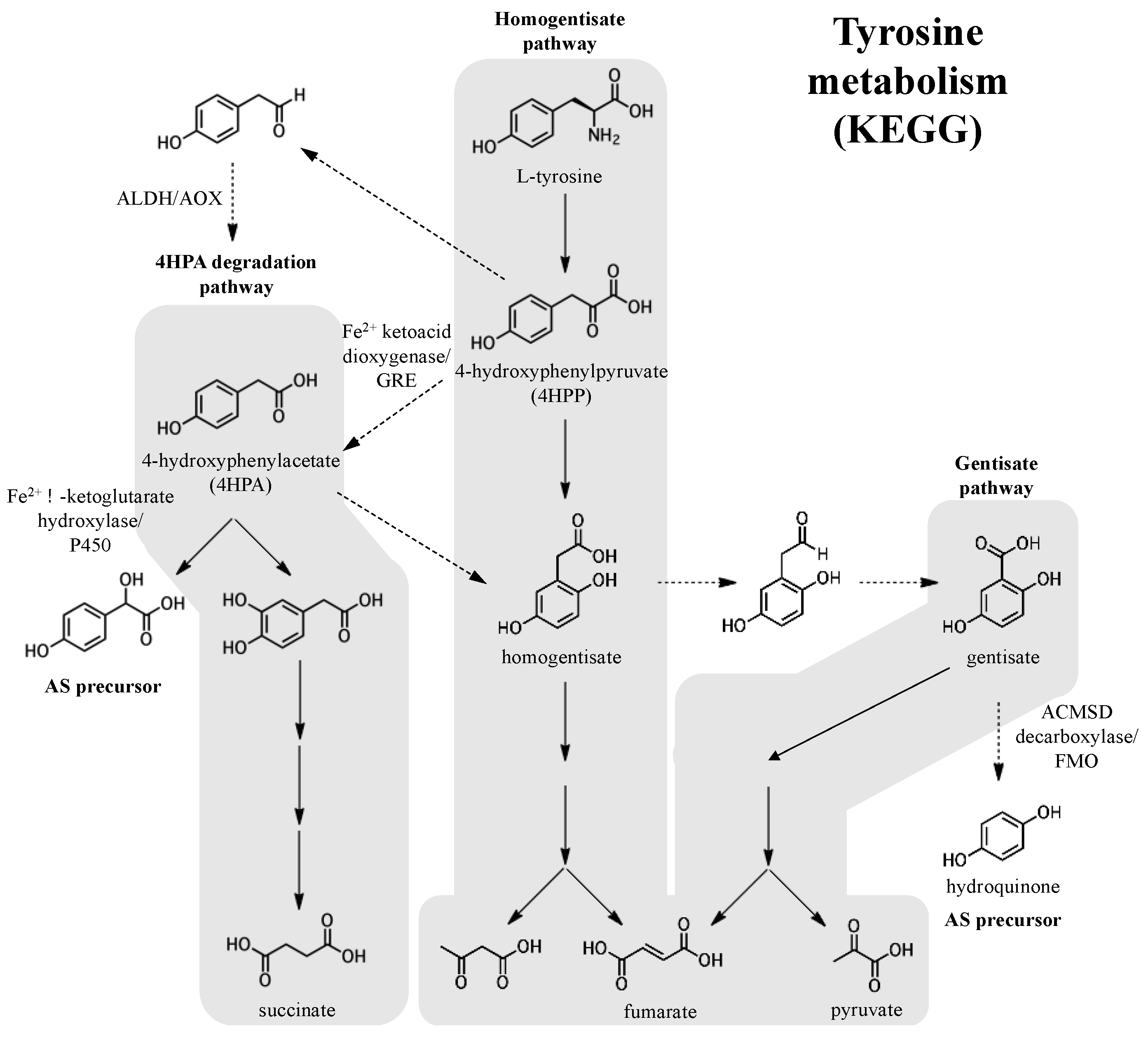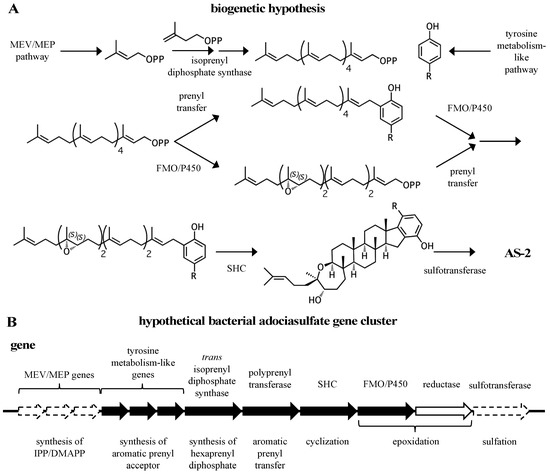 Figure 9. A biogenetic hypothesis for the adociasulfates. (A) A biosynthetic scheme summarizing the proposed biogenetic hypothesis for the origin of adociasulfates. (B) A hypothetical adociasulfate gene cluster was constructed based on the most probable biosynthetic origin, as addressed in this review. In this scenario, the pathway is assumed to be part of a bacterial genome. Black genes represent those directly involved in biosynthesis, white genes are those indirectly involved in biosynthesis, and those bordered with a dashed line have the potential to be entirely absent from the cluster.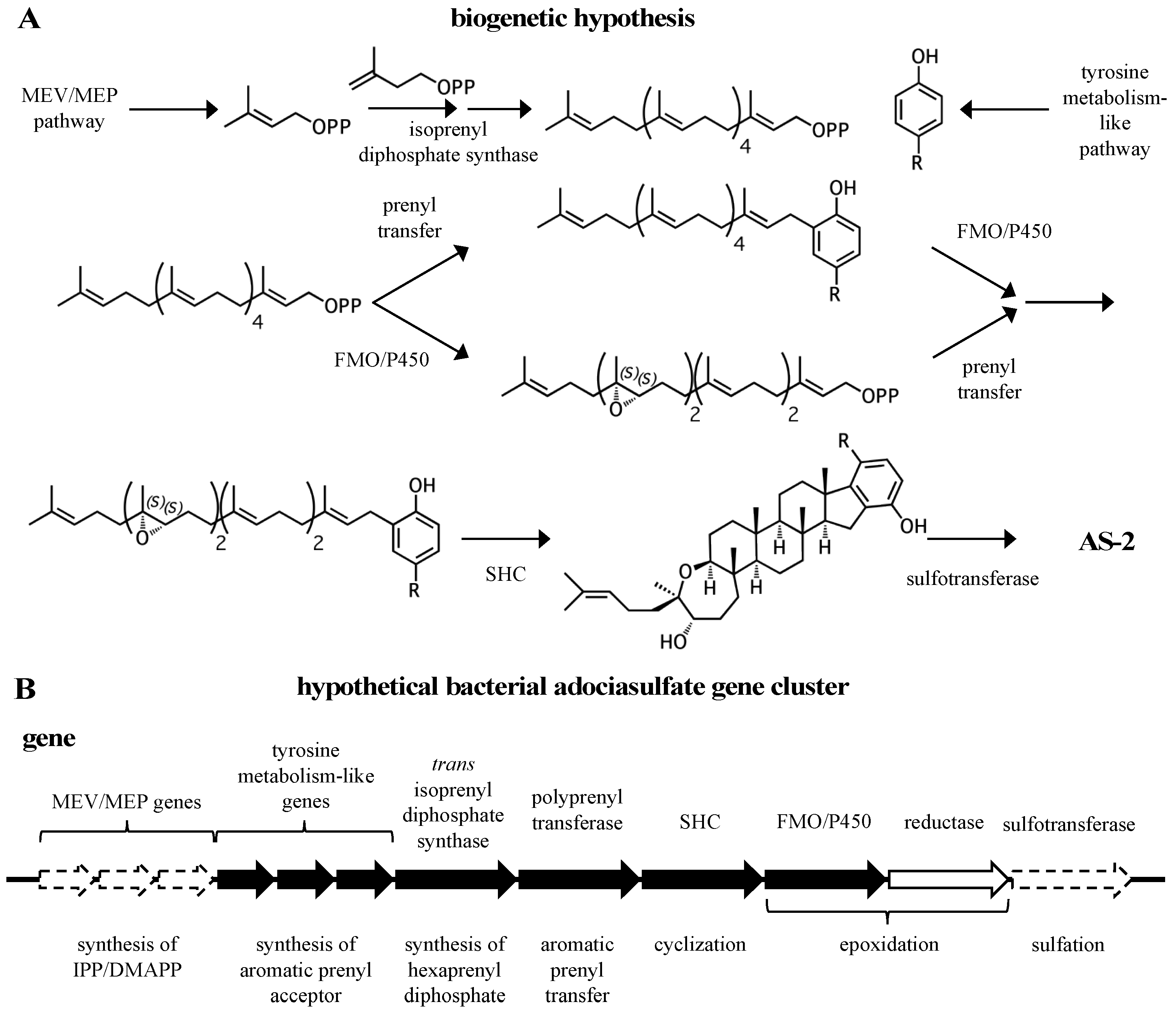 © 2017 by the author. Licensee MDPI, Basel, Switzerland. This article is an open access article distributed under the terms and conditions of the Creative Commons Attribution (CC BY) license (http://creativecommons.org/licenses/by/4.0/).