A Novel High-Mannose Specific Lectin from the Green Alga Halimeda renschii Exhibits a Potent Anti-Influenza Virus Activity through High-Affinity Binding to the Viral Hemagglutinin
1
Graduate School of Biosphere Science, Hiroshima University, Kagamiyama 1-4-4, Higashi-Hiroshima 739-8528, Japan
2
Faculty of Pharmacy, Yasuda Women's University, Yasuhigashi 6-13-1, Asaminami-Ku, Hiroshima 731-0153, Japan
*
Author to whom correspondence should be addressed.
Received: 8 July 2017 / Revised: 8 August 2017 / Accepted: 8 August 2017 / Published: 16 August 2017
Abstract
We have isolated a novel lectin, named HRL40 from the green alga
Halimeda renschii
. In hemagglutination-inhibition test and oligosaccharide-binding experiment with 29 pyridylaminated oligosaccharides, HRL40 exhibited a strict binding specificity for high-mannose
N
-glycans having an exposed (α1-3) mannose residue in the D2 arm of branched mannosides, and did not have an affinity for monosaccharides and other oligosaccharides examined, including complex
N
-glycans, an
N
-glycan core pentasaccharide, and oligosaccharides from glycolipids. The carbohydrate binding profile of HRL40 resembled those of Type I high-mannose specific antiviral algal lectins, or the
Oscillatoria agardhii
agglutinin (OAA) family, which were previously isolated from red algae and a blue-green alga (cyanobacterium). HRL40 potently inhibited the infection of influenza virus (A/H3N2/Udorn/72) into NCI-H292 cells with half-maximal effective dose (ED
50
) of 2.45 nM through high-affinity binding to a viral envelope hemagglutinin (K
D
, 3.69 × 10
−11
M). HRL40 consisted of two isolectins (HRL40-1 and HRL40-2), which could be separated by reverse-phase HPLC. Both isolectins had the same molecular weight of 46,564 Da and were a disulfide -linked tetrameric protein of a 11,641 Da polypeptide containing at least 13 half-cystines. Thus, HRL40, which is the first Type I high-mannose specific antiviral lectin from the green alga, had the same carbohydrate binding specificity as the OAA family, but a molecular structure distinct from the family.
View Full-Text
►

▼

Figures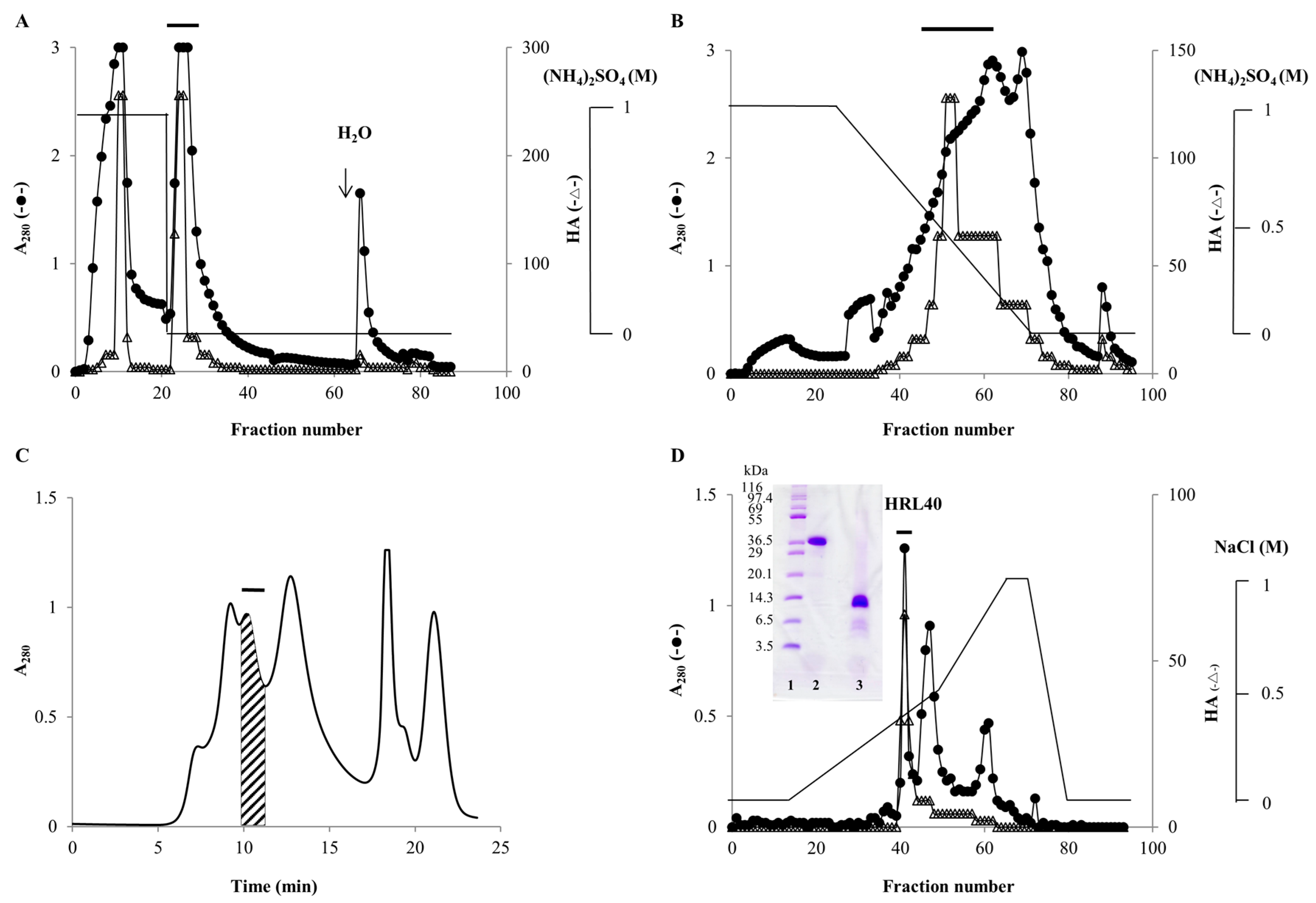 Figure 1
This is an open access article distributed under the
Creative Commons Attribution License
which permits unrestricted use, distribution, and reproduction in any medium, provided the original work is properly cited. (CC BY 4.0).
Share & Cite This Article
MDPI and ACS Style
Mu, J.; Hirayama, M.; Sato, Y.; Morimoto, K.; Hori, K. A Novel High-Mannose Specific Lectin from the Green Alga Halimeda renschii Exhibits a Potent Anti-Influenza Virus Activity through High-Affinity Binding to the Viral Hemagglutinin. Mar. Drugs 2017, 15, 255.
Note that from the first issue of 2016, MDPI journals use article numbers instead of page numbers. See further details here.
Related Articles
Comments
[Return to top]