Anti-Coagulant and Anti-Thrombotic Properties of Blacklip Abalone (Haliotis rubra): In Vitro and Animal Studies
1
UQ Diamantina Institute, Translational Research Institute, Faculty of Medicine, The University of Queensland, 37 Kent Street Woolloongabba, Brisbane, QLD 4102, Australia
2
CSIRO Agriculture and Food, 306 Carmody Road, St Lucia, Brisbane, QLD 4067, Australia
3
Royal Brisbane & Women's Hospital Campus, University of Queensland Centre for Clinical Research, The University of Queensland, Herston, Brisbane, QLD 4029, Australia
†
Glenda C. Gobe and Simone A. Osborne contributed equally to this research.
*
Author to whom correspondence should be addressed.
Received: 14 June 2017 / Revised: 24 July 2017 / Accepted: 27 July 2017 / Published: 4 August 2017
Abstract
Sulphated polysaccharides with anti-thrombotic and anti-coagulant activities have been found in various marine biota. In this study, a previously characterised anti-thrombotic and anti-coagulant extract from blacklip abalone was fractionated by anion exchange chromatography (AEC), pooled (on a sulphated polysaccharide basis) and administered to Wistar rats via oral gavage (N = 8) for assessment as an oral therapeutic. To ensure that the preparation had anti-coagulant activity prior to oral administration, it was assessed in rat blood by thromboelastography (TEG) significantly increasing reaction (R) time (or time until clot formation). Following in vitro confirmation of anti-coagulant activity, 40 mg of the preparation was orally administered to rats with blood samples collected at 2, 4, and 6 h post-gavage. Assessment of all blood samples by TEG showed some prolongation of R time from 355 to 380 s after 4 h. Dosing of the post-gavage blood samples with the abalone preparation to confirm anti-thrombotic activity in vitro revealed residual anti-coagulant activity, further suggesting that oral administration did increase anti-coagulant potential in the collected blood but that bioavailability was low. Assessment of tissues and haematological parameters showed no obvious harmful effects of the abalone preparation in animals. In summary, even though oral administration of fractionated and pooled blacklip abalone extract to rats delayed clotting after 4 h, bioavailability of the preparation appeared to be low and may be more appropriate for intravenous administration as an anti-thrombotic or anti-coagulant therapeutic.
View Full-Text
►

▼

Figures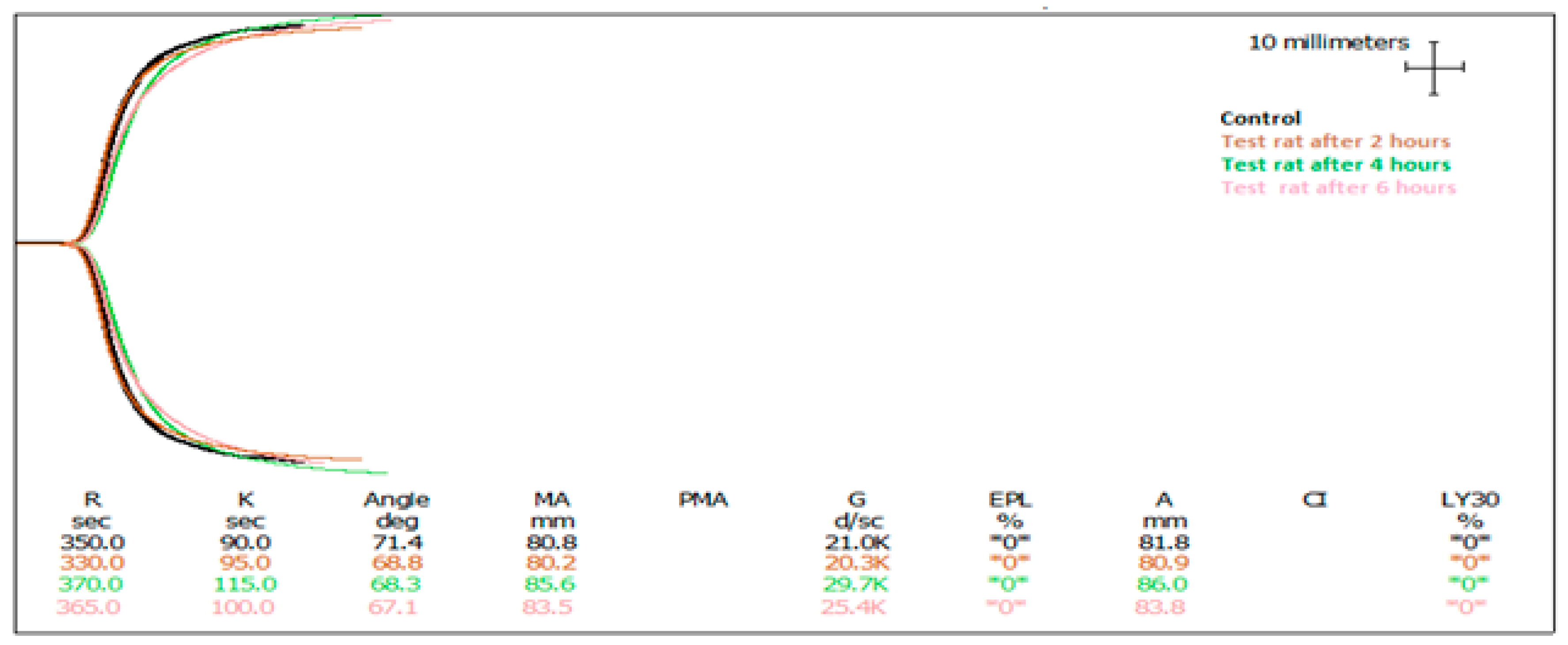 Figure 1
This is an open access article distributed under the
Creative Commons Attribution License
which permits unrestricted use, distribution, and reproduction in any medium, provided the original work is properly cited. (CC BY 4.0).
Share & Cite This Article
MDPI and ACS Style
Suleria, H.A.R.; Masci, P.P.; Zhao, K.-N.; Addepalli, R.; Chen, W.; Osborne, S.A.; Gobe, G.C. Anti-Coagulant and Anti-Thrombotic Properties of Blacklip Abalone (Haliotis rubra): In Vitro and Animal Studies. Mar. Drugs 2017, 15, 240.
Note that from the first issue of 2016, MDPI journals use article numbers instead of page numbers. See further details here.
Related Articles
Comments
[Return to top]