Undariopsis peterseniana Promotes Hair Growth by the Activation of Wnt/β-Catenin and ERK Pathways
1
Department of Medicine, School of Medicine, Jeju National University, 102 Jejudaehakno, Jeju 63243, Korea
2
Department of Marine Life Science, Jeju National University, 102 Jejudaehakno, Jeju 63243, Korea
3
Aqua Green Technology Co. Ltd., 209 Jeju Bio-Industry Center, 102 Jejudaehakno, Jeju 63243, Korea
4
Seaweed Research Center, National Institute of Fisheries Science, 130 Tongilro, Mokpo 58746, Korea
5
Jeju Research Center for Natural Medicine, Jeju National University, 102 Jejudaehakno, Jeju 63243, Korea
*
Author to whom correspondence should be addressed.
Academic Editor: Peer B. Jacobson
Received: 16 March 2017 / Revised: 27 April 2017 / Accepted: 2 May 2017 / Published: 30 May 2017
Abstract
In this study, we investigated the effect and mechanism of
Undariopsis peterseniana
, an edible brown alga, on hair growth. The treatment of vibrissa follicles with
U. peterseniana
extract ex vivo for 21 days significantly increased the hair-fiber lengths. The
U. peterseniana
extract also significantly accelerated anagen initiation in vivo. Moreover, we found that
U. peterseniana
extract was able to open the K
ATP
channel, which may contribute to increased hair growth. The
U. peterseniana
extract decreased 5α-reductase activity and markedly increased the proliferation of dermal papilla cells, a central regulator of the hair cycle. The
U. peterseniana
extract increased the levels of cell cycle proteins, such as Cyclin D1, phospho(ser780)-pRB, Cyclin E, phospho-CDK2, and CDK2. The
U. peterseniana
extract also increased the phosphorylation of ERK and the levels of Wnt/β-catenin signaling proteins such as glycogen synthase kinase-3β (GSK-3β) and β-catenin. These results suggested that the
U. peterseniana
extract had the potential to influence hair growth by dermal papilla cells proliferation through the activation of the Wnt/β-catenin and ERK pathways. We isolated a principal of the
U. peterseniana
extract, which was subsequently identified as apo-9′-fucoxanthinone, a trichogenic compound. The results suggested that
U. peterseniana
extract may have a pivotal role in the treatment of alopecia.
View Full-Text
►

▼

Figures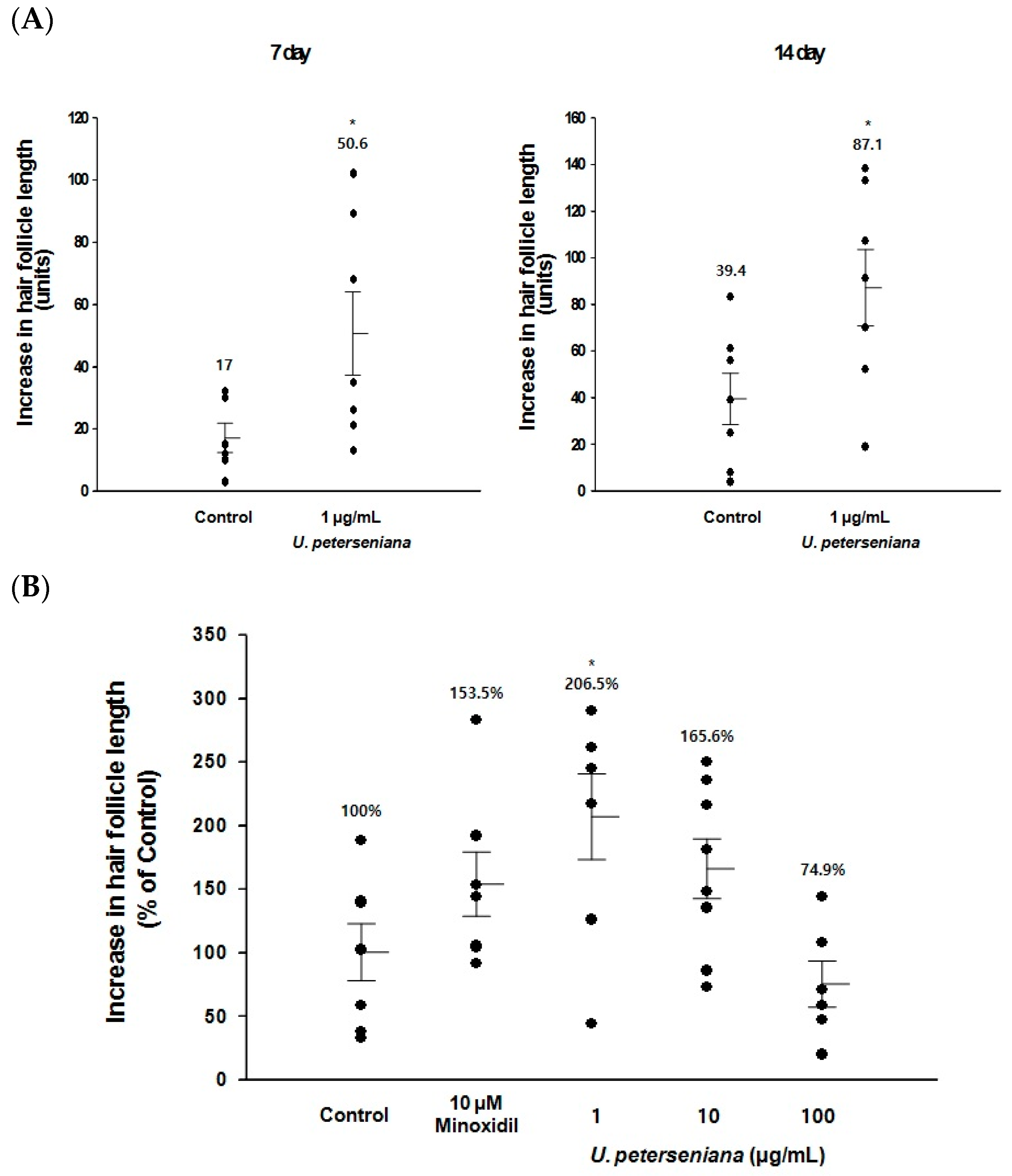 Figure 1
This is an open access article distributed under the
Creative Commons Attribution License
which permits unrestricted use, distribution, and reproduction in any medium, provided the original work is properly cited. (CC BY 4.0).
Share & Cite This Article
MDPI and ACS Style
Kang, J.-I.; Kim, M.-K.; Lee, J.-H.; Jeon, Y.-J.; Hwang, E.-K.; Koh, Y.-S.; Hyun, J.-W.; Kwon, S.-Y.; Yoo, E.-S.; Kang, H.-K. Undariopsis peterseniana Promotes Hair Growth by the Activation of Wnt/β-Catenin and ERK Pathways. Mar. Drugs 2017, 15, 130.
Note that from the first issue of 2016, MDPI journals use article numbers instead of page numbers. See further details here.
Related Articles
Comments
[Return to top]