Lipophilic Fraction of Cultivated Bifurcaria bifurcata R. Ross: Detailed Composition and In Vitro Prospection of Current Challenging Bioactive Properties
1
CICECO—Aveiro Institute of Materials and Department of Chemistry, University of Aveiro, 3810-193 Aveiro, Portugal
2
Centro de Biotecnologia Agrícola e Agro-Alimentar do Alentejo (CEBAL)/Instituto Politécnico de Beja (IPBeja), 7801-908 Beja, Portugal
3
ICAAM—Instituto de Ciências Agrárias e Ambientais Mediterrânicas, Universidade de Évora, Pólo da Mitra, 7006-554 Évora, Portugal
4
CNC—Center for Neuroscience and Cell Biology, University of Coimbra, 3004-504 Coimbra, Portugal
5
FFUC—Faculty of Pharmacy, University of Coimbra, 3000-548 Coimbra, Portugal
6
ALGAplus—Prod. e Comerc. De Algas e Seus Derivados, Lda., 3830-196 Ílhavo, Portugal
7
QOPNA and Department of Chemistry, University of Aveiro, 3810-193 Aveiro, Portugal
*
Author to whom correspondence should be addressed.
Received: 20 September 2017 / Revised: 19 October 2017 / Accepted: 23 October 2017 / Published: 1 November 2017
Abstract
Macroalgae have been seen as an alternative source of molecules with promising bioactivities to use in the prevention and treatment of current lifestyle diseases. In this vein, the lipophilic fraction of short-term (three weeks) cultivated
Bifurcaria bifurcata
was characterized in detail by gas chromatography–mass spectrometry (GC-MS).
B. bifurcata
dichloromethane extract was composed mainly by diterpenes (1892.78 ± 133.97 mg kg
−1
dry weight (DW)), followed by fatty acids, both saturated (550.35 ± 15.67 mg kg
−1
DW) and unsaturated (397.06 ± 18.44 mg kg
−1
DW). Considerable amounts of sterols, namely fucosterol (317.68 ± 26.11 mg kg
−1
DW) were also found. In vitro tests demonstrated that the
B. bifurcata
lipophilic extract show antioxidant, anti-inflammatory and antibacterial activities (against both Gram-positive and Gram-negative bacteria), using low extract concentrations (in the order of µg mL
−1
). Enhancement of antibiotic activity of drug families of major clinical importance was observed by the use of
B. bifurcata
extract. This enhancement of antibiotic activity depends on the microbial strain and on the antibiotic. This work represents the first detailed phytochemical study of the lipophilic extract of
B. bifurcata
and is, therefore, an important contribution for the valorization of
B. bifurcata
macroalgae, with promising applications in functional foods, nutraceutical, cosmetic and biomedical fields.
View Full-Text
►

▼

Figures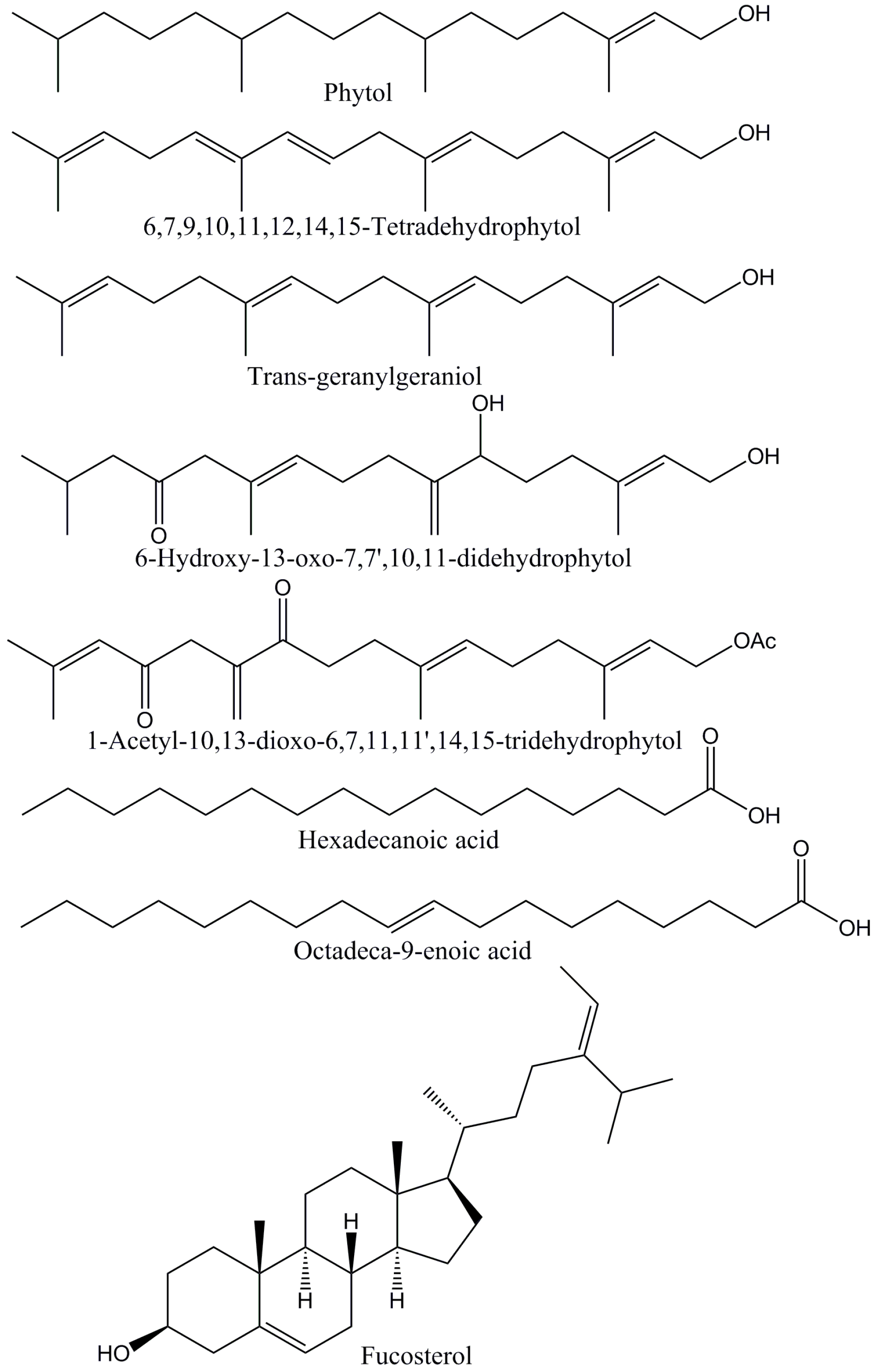 Figure 1
This is an open access article distributed under the
Creative Commons Attribution License
which permits unrestricted use, distribution, and reproduction in any medium, provided the original work is properly cited. (CC BY 4.0).
Share & Cite This Article
MDPI and ACS Style
Santos, S.A.O.; Trindade, S.S.; Oliveira, C.S.D.; Parreira, P.; Rosa, D.; Duarte, M.F.; Ferreira, I.; Cruz, M.T.; Rego, A.M.; Abreu, M.H.; Rocha, S.M.; Silvestre, A.J.D. Lipophilic Fraction of Cultivated Bifurcaria bifurcata R. Ross: Detailed Composition and In Vitro Prospection of Current Challenging Bioactive Properties. Mar. Drugs 2017, 15, 340.
Note that from the first issue of 2016, MDPI journals use article numbers instead of page numbers. See further details here.
Related Articles
Comments
[Return to top]