Release Behavior and Antibacterial Activity of Chitosan/Alginate Blends with Aloe vera and Silver Nanoparticles
1
Universidad CES-Grupo de Investigación en Ciencias Farmacéuticas (ICIF-CES), Programa de Química Farmacéutica, Facultad de Ciencias y Biotecnología, Universidad CES, 050021 Medellin, Antioquia, Colombia
2
Universidad EIA-Grupo de Investigación en Ingeniería Biomédica EIA-CES (GIBEC), Departamento de Ingeniería Biomédica, Las Palmas Campus, Universidad EIA and Universidad CES, 055420 Envigado, Antioquia, Colombia
*
Author to whom correspondence should be addressed.
Received: 4 August 2017 / Revised: 30 August 2017 / Accepted: 17 October 2017 / Published: 24 October 2017
Abstract
Aloe vera
is a perennial plant employed for medical, pharmaceutical and cosmetic purposes that is rich in amino acids, enzymes, vitamins and polysaccharides, which are responsible for its therapeutic properties. Incorporating these properties into a biopolymer film obtained from alginate and chitosan allowed the development of a novel wound dressing with antibacterial capacity and healing effects to integrate the antibacterial capacity of silver nanoparticles with the healing and emollient properties of
Aloe vera
gel. Three alginate-chitosan matrices were obtained through blending methods using different proportions of alginate, chitosan, the
Aloe vera
(AV) gel and silver nanoparticles (AgNps), which were incorporated into the polymeric system through immersion methods. Physical, chemical and antibacterial characteristics were evaluated in each matrix. Interaction between alginate and chitosan was identified using the Fourier transform infrared spectroscopy technique (FTIR), porosity was studied using scanning electron microscopy (SEM), swelling degree was calculated by difference in weight,
Aloe vera
gel release capacity was estimated by applying a drug model (Peppas) and finally antibacterial capacity was evaluated against
S. Aureus
and
P. aeruginosa
. Results show that alginate-chitosan (A (1:3 Chit 1/Alg 1); B (1:3 Chit 1.5/Alg 1) and C (3:1 Chit 1/Alg 1/B12)) matrices with
Aloe vera
(AV) gel and silver nanoparticles (AgNps) described here displayed antibacterial properties and absorption and
Aloe vera
release capacity making it a potential wound dressing for minor injuries.
View Full-Text
►

▼

Figures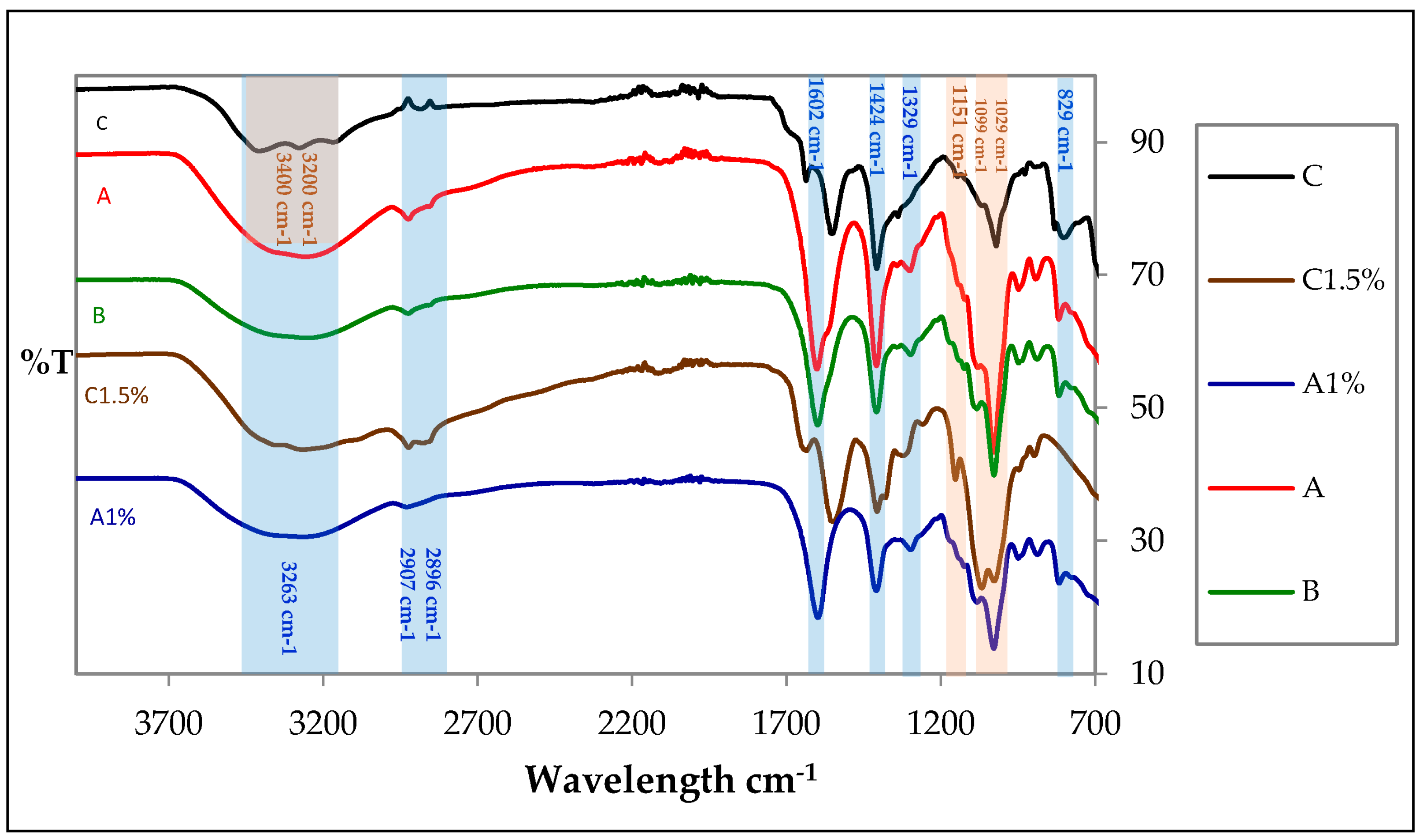 Figure 1
This is an open access article distributed under the
Creative Commons Attribution License
which permits unrestricted use, distribution, and reproduction in any medium, provided the original work is properly cited. (CC BY 4.0).
Share & Cite This Article
MDPI and ACS Style
Gómez Chabala, L.F.; Cuartas, C.E.E.; López, M.E.L. Release Behavior and Antibacterial Activity of Chitosan/Alginate Blends with Aloe vera and Silver Nanoparticles. Mar. Drugs 2017, 15, 328.
Note that from the first issue of 2016, MDPI journals use article numbers instead of page numbers. See further details here.
Related Articles
Comments
[Return to top]