Different Levels of Skin Whitening Activity among 3,6-Anhydro-
l

-galactose, Agarooligosaccharides, and Neoagarooligosaccharides

1

School of Food Science and Biotechnology, Kyungpook National University, Daegu 41566, Korea

2

Korean Medicine Application Center, Korea Institute of Oriental Medicine, Daegu 41062, Korea

3

Department of Biotechnology, Graduate School, Korea University, Seoul 02841, Korea

†

Both authors contributed equally to this work.

*

Authors to whom correspondence should be addressed.

Received: 22 August 2017 / Revised: 15 October 2017 / Accepted: 16 October 2017 / Published: 20 October 2017
Abstract
3,6-Anhydro-
l
-galactose (AHG), a major monomeric constituent of red macroalgae (
Rhodophyta
), was recently reported to possess skin whitening activity. Moreover, AHG-containing oligosaccharides, such as agarooligosaccharides (AOSs) and neoagarooligosaccharides (NAOSs), have various physiological activities, including anti-inflammatory, antioxidant, and skin moisturizing effects. In this study, AHG and NAOSs were produced from agarose by enzymatic reactions catalyzed by an endo-type β-agarase, an exo-type β-agarase, and a neoagarobiose hydrolase. In a cell proliferation assay, AHG, AOSs, and NAOSs at 12.5, 25, and 50 μg/mL concentrations did not exhibit cytotoxicity toward murine B16 melanoma cells or human epidermal melanocytes. In an in vitro skin whitening activity assay of AHG, AOSs, and NAOSs at 50 μg/mL, AHG showed the highest skin whitening activity in both murine B16 melanoma cells and human epidermal melanocytes; this activity was mediated by the inhibition of melanogenesis. Neoagarotetraose and neoagarohexaose also exhibited in vitro skin whitening activity, whereas neoagarobiose and AOSs with degrees of polymerization of 3 (agarotriose), 5 (agaropentaose), and 7 (agaroheptaose) did not. Therefore, AHG is responsible for the skin whitening activity of agar-derived sugars, and the structural differences among the AHG-containing oligosaccharides may be responsible for their different skin whitening activities.
View Full-Text
►

▼

Figures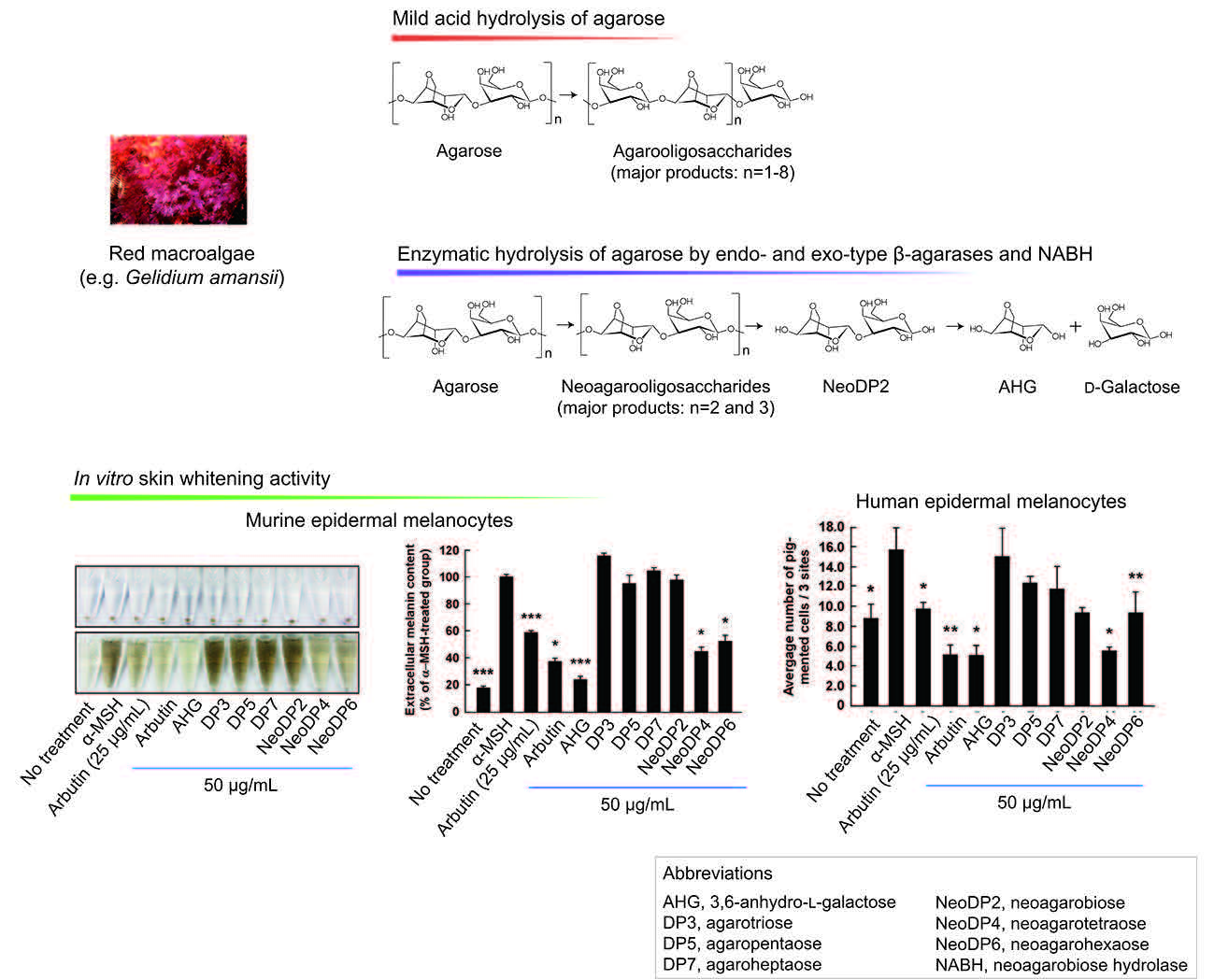 This is an open access article distributed under the
Creative Commons Attribution License
which permits unrestricted use, distribution, and reproduction in any medium, provided the original work is properly cited. (CC BY 4.0).
Share & Cite This Article
MDPI and ACS Style
Kim, J.H.; Yun, E.J.; Yu, S.; Kim, K.H.; Kang, N.J. Different Levels of Skin Whitening Activity among 3,6-Anhydro-l-galactose, Agarooligosaccharides, and Neoagarooligosaccharides. Mar. Drugs 2017, 15, 321.
Note that from the first issue of 2016, MDPI journals use article numbers instead of page numbers. See further details here.
Related Articles
Comments
[Return to top]