Preparation of Chito-Oligomers by Hydrolysis of Chitosan in the Presence of Zeolite as Adsorbent
1
Department of Chemical Engineering, Faculty of Engineering, Al-Hussein Bin Talal University, P.O. Box 20, Ma`an 71111, Jordan
2
College of Engineering, King Saud University, P.O. Box 800, Riyadh 11421, Saudi Arabia
3
Department of Basic Sciences, Zarqa College, Al-Balqa Applied University, P.O. Box 313, Zarqa 13110, Jordan
4
Department of Chemistry, Faculty of Science, Al-Hussein Bin Talal University, P.O. Box 20, Ma`an 71111, Jordan
5
Department of Pharmaceutical Medicinal Chemistry and Pharmacognosy, Faculty of Pharmacy and Medical Technology, Petra University, P.O. Box 961343, Amman 11196, Jordan
6
Research and Innovation Center (RIC), The Jordanian Pharmaceutical Manufacturing Co., P.O. Box 94, Naor 11710, Jordan
7
The Jordanian Pharmaceutical Manufacturing Co., P.O. Box 94, Naor 11710, Jordan
*
Author to whom correspondence should be addressed.
Academic Editors: Hitoshi Sashiwa and David Harding
Received: 31 December 2015 / Revised: 9 February 2016 / Accepted: 15 February 2016 / Published: 23 July 2016
Abstract
An increasing interest has recently been shown to use chitin/chitosan oligomers (chito-oligomers) in medicine and food fields because they are not only water-soluble, nontoxic, and biocompatible materials, but they also exhibit numerous biological properties, including antibacterial, antifungal, and antitumor activities, as well as immuno-enhancing effects on animals. Conventional depolymerization methods of chitosan to chito-oligomers are either chemical by acid-hydrolysis under harsh conditions or by enzymatic degradation. In this work, hydrolysis of chitosan to chito-oligomers has been achieved by applying adsorption-separation technique using diluted HCl in the presence of different types of zeolite as adsorbents. The chito-oligomers were retrieved from adsorbents and characterized by differential scanning calorimetry (DSC), liquid chromatography/mass spectroscopy (LC/MS), and ninhydrin test.
View Full-Text
►

▼

Figures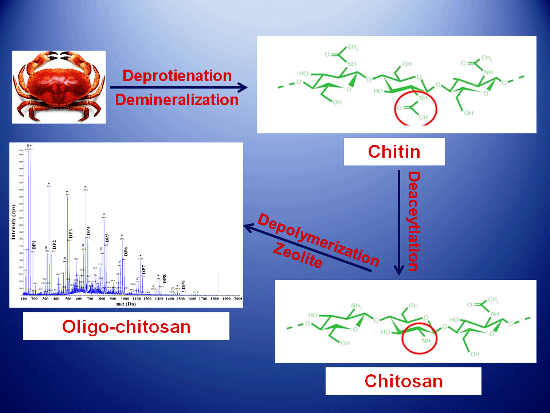 This is an open access article distributed under the
Creative Commons Attribution License
which permits unrestricted use, distribution, and reproduction in any medium, provided the original work is properly cited. (CC BY 4.0).
Share & Cite This Article
MDPI and ACS Style
Ibrahim, K.A.; El-Eswed, B.I.; Abu-Sbeih, K.A.; Arafat, T.A.; Al Omari, M.M.H.; Darras, F.H.; Badwan, A.A. Preparation of Chito-Oligomers by Hydrolysis of Chitosan in the Presence of Zeolite as Adsorbent. Mar. Drugs 2016, 14, 43.
Note that from the first issue of 2016, MDPI journals use article numbers instead of page numbers. See further details here.
Related Articles
Comments
[Return to top]