Tackling the Cytotoxic Effect of a Marine Polycyclic Quinone-Type Metabolite: Halenaquinone Induces Molt 4 Cells Apoptosis via Oxidative Stress Combined with the Inhibition of HDAC and Topoisomerase Activities
1
Graduate Institute of Marine Biotechnology, National Dong Hwa University, Pingtung 944, Taiwan
2
Department of Marine Biotechnology and Resources, National Sun Yat-sen University, Kaohsiung 804, Taiwan
3
Division of Urology, Department of Surgery, Zuoying Branch of Kaohsiung Armed Forces General Hospital, Kaohsiung 813, Taiwan
4
Department of Pharmacognosy and Natural Products Chemistry, Faculty of Pharmacy, Ain-Shams University, Organization of African Unity Street, Abassia, Cairo 11566, Egypt
5
Department of Urology, Kaohsiung Municipal Hsiao-Kang Hospital, Kaohsiung 812, Taiwan
6
Department of Urology, College of Medicine, Kaohsiung Medical University, Kaohsiung 807, Taiwan
7
Department of Urology, Kaohsiung Medical University Hospital, Kaohsiung 807, Taiwan
8
Department of Botanicals, Medical and Pharmaceutical Industry Technology and Development Center , New Taipei City 248, Taiwan
9
National Museum of Marine Biology & Aquarium, Pingtung 944, Taiwan
10
The PhD Program of Cancer Biology and Drug discovery, China Medical University, Taichung 404, Taiwan
11
School of Pharmacy, College of Pharmacy, China Medical University, Taichung 404, Taiwan
12
Chinese Medicine Research and Development Center, China Medical University Hospital, Taichung 404, Taiwan
13
Graduate Institute of Natural Products, Kaohsiung Medical University, Kaohsiung 807, Taiwan
14
Center of Molecular Medicine, China Medical University Hospital, Taichung 404, Taiwan
†
These authors contributed equally to this work.
*
Authors to whom correspondence should be addressed.
Academic Editor: Peer B. Jacobson
Received: 5 March 2015 / Accepted: 7 May 2015 / Published: 20 May 2015
Abstract
A marine polycyclic quinone-type metabolite, halenaquinone (HQ), was found to inhibit the proliferation of Molt 4, K562, MDA-MB-231 and DLD-1 cancer cell lines, with IC
50
of 0.48, 0.18, 8.0 and 6.76 μg/mL, respectively. It exhibited the most potent activity against leukemia Molt 4 cells. Accumulating evidence showed that HQ may act as a potent protein kinase inhibitor in cancer therapy. To fully understand the mechanism of HQ, we further explored the precise molecular targets in leukemia Molt 4 cells. We found that the use of HQ increased apoptosis by 26.23%–70.27% and caused disruption of mitochondrial membrane potential (MMP) by 17.15%–53.25% in a dose-dependent manner, as demonstrated by Annexin-V/PI and JC-1 staining assays, respectively. Moreover, our findings indicated that the pretreatment of Molt 4 cells with
N
-acetyl-l-cysteine (NAC), a reactive oxygen species (ROS) scavenger, diminished MMP disruption and apoptosis induced by HQ, suggesting that ROS overproduction plays a crucial rule in the cytotoxic activity of HQ. The results of a cell-free system assay indicated that HQ could act as an HDAC and topoisomerase catalytic inhibitor through the inhibition of pan-HDAC and topoisomerase IIα expression, respectively. On the protein level, the expression of the anti-apoptotic proteins
p
-Akt, NFκB, HDAC and Bcl-2, as well as hexokinase II was inhibited by the use of HQ. On the other hand, the expression of the pro-apoptotic protein Bax, PARP cleavage, caspase activation and cytochrome
c
release were increased after HQ treatment. Taken together, our results suggested that the antileukemic effect of HQ is ROS-mediated mitochondrial apoptosis combined with the inhibitory effect on HDAC and topoisomerase activities.
View Full-Text
►

▼

Figures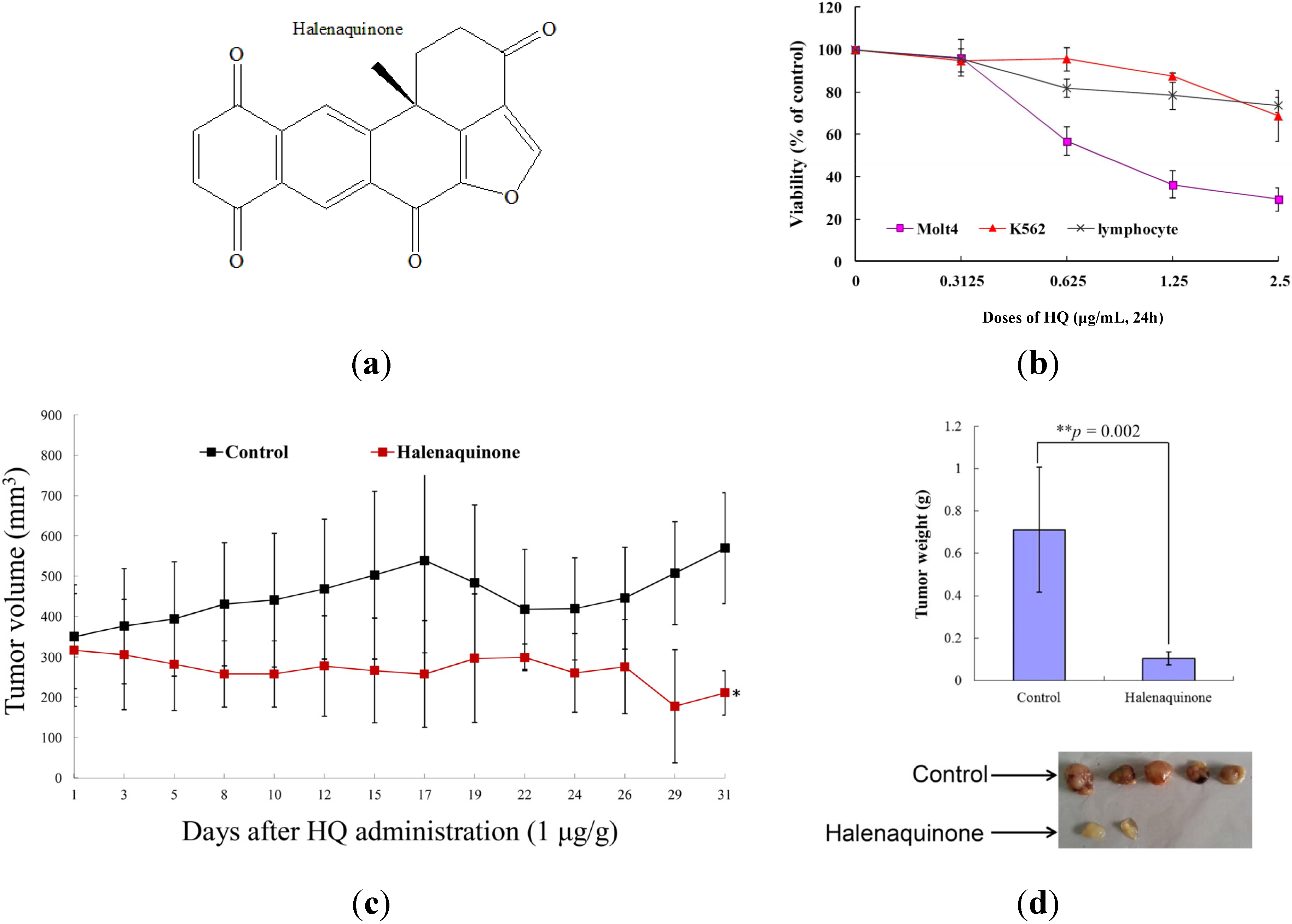 Figure 1
This is an open access article distributed under the
Creative Commons Attribution License
which permits unrestricted use, distribution, and reproduction in any medium, provided the original work is properly cited. (CC BY 4.0).
Share & Cite This Article
MDPI and ACS Style
Shih, S.-P.; Lee, M.-G.; El-Shazly, M.; Juan, Y.-S.; Wen, Z.-H.; Du, Y.-C.; Su, J.-H.; Sung, P.-J.; Chen, Y.-C.; Yang, J.-C.; Wu, Y.-C.; Lu, M.-C. Tackling the Cytotoxic Effect of a Marine Polycyclic Quinone-Type Metabolite: Halenaquinone Induces Molt 4 Cells Apoptosis via Oxidative Stress Combined with the Inhibition of HDAC and Topoisomerase Activities. Mar. Drugs 2015, 13, 3132-3153.
Related Articles
Comments
[Return to top]