Flexibilide Obtained from Cultured Soft Coral Has Anti-Neuroinflammatory and Analgesic Effects through the Upregulation of Spinal Transforming Growth Factor-β1 in Neuropathic Rats
1
Department of Marine Biotechnology and Resources, Asia-Pacific Ocean Research Center, National Sun Yat-sen University, Kaohsiung 80424, Taiwan
2
Division of Neurosurgery, Department of Surgery, Kaohsiung Armed Forces General Hospital, Kaohsiung 80284, Taiwan
3
Department and Graduate Institute of Aquaculture, National Kaohsiung Marine University, Kaohsiung 81157, Taiwan
4
Doctoral Degree Program in Marine Biotechnology, National Sun Yat-sen University and Academia Sinica, Kaohsiung 80424, Taiwan
5
National Museum of Marine Biology and Aquarium, Pingtung 944, Taiwan
6
Department of Anesthesiology, Taipei Veterans General Hospital, Taipei 11217, Taiwan
7
School of Medicine, National Yang-Ming University, Taipei 11221, Taiwan
8
School of Medicine, College of Medicine and Department of Pediatrics, E-DA Hospital, I-Shou University, Kaohsiung 84001, Taiwan
9
Department of Fragrance and Cosmetic Science, Kaohsiung Medical University, Kaohsiung 80708, Taiwan
10
Graduate Institute of Natural Products, Kaohsiung Medical University, Kaohsiung 80708, Taiwan
11
Department of Neurosurgery, Kaohsiung Chang Gung Memorial Hospital and Chang Gung University College of Medicine, Kaohsiung 83301, Taiwan
†
These authors contributed equally to this work.
*
Authors to whom correspondence should be addressed.
Received: 8 April 2014 / Revised: 28 May 2014 / Accepted: 29 May 2014 / Published: 27 June 2014
Abstract
Chronic neuroinflammation plays an important role in the development and maintenance of neuropathic pain. The compound flexibilide, which can be obtained from cultured soft coral, possesses anti-inflammatory and analgesic effects in the rat carrageenan peripheral inflammation model. In the present study, we investigated the antinociceptive properties of flexibilide in the rat chronic constriction injury (CCI) model of neuropathic pain. First, we found that a single intrathecal (i.t.) administration of flexibilide significantly attenuated CCI-induced thermal hyperalgesia at 14 days after surgery. Second, i.t. administration of 10-μg flexibilide twice daily was able to prevent the development of thermal hyperalgesia and weight-bearing deficits in CCI rats. Third, i.t. flexibilide significantly inhibited CCI-induced activation of microglia and astrocytes, as well as the upregulated proinflammatory enzyme, inducible nitric oxide synthase, in the ipsilateral spinal dorsal horn. Furthermore, flexibilide attenuated the CCI-induced downregulation of spinal transforming growth factor-β1 (TGF-β1) at 14 days after surgery. Finally, i.t. SB431542, a selective inhibitor of TGF-β type I receptor, blocked the analgesic effects of flexibilide in CCI rats. Our results suggest that flexibilide may serve as a therapeutic agent for neuropathic pain. In addition, spinal TGF-β1 may be involved in the anti-neuroinflammatory and analgesic effects of flexibilide.
View Full-Text
►

▼

Figures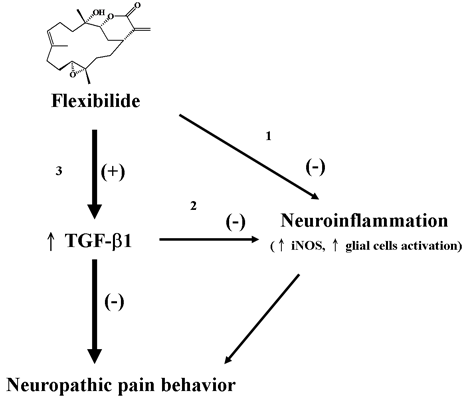 Share & Cite This Article
MDPI and ACS Style
Chen, N.-F.; Huang, S.-Y.; Lu, C.-H.; Chen, C.-L.; Feng, C.-W.; Chen, C.-H.; Hung, H.-C.; Lin, Y.-Y.; Sung, P.-J.; Sung, C.-S.; Yang, S.-N.; Wang, H.-M.D.; Chang, Y.-C.; Sheu, J.-H.; Chen, W.-F.; Wen, Z.-H. Flexibilide Obtained from Cultured Soft Coral Has Anti-Neuroinflammatory and Analgesic Effects through the Upregulation of Spinal Transforming Growth Factor-β1 in Neuropathic Rats. Mar. Drugs 2014, 12, 3792-3817.
Related Articles
Comments
[Return to top]