Complex Toxin Profile of French Mediterranean Ostreopsis cf. ovata Strains, Seafood Accumulation and Ovatoxins Prepurification
1
Ifremer, Phycotoxins Laboratory, rue de l'Ile d'Yeu, BP 21105, Nantes F-44311, France
2
Université Nantes Angers Le Mans (LUNAM), University of Nantes, MMS EA2160, Pharmacy Faculty, 9 rue Bias, Nantes F-44035, France
3
Sorbonne Universités, UPMC Univ Paris 06, UMR 7093, LOV, Observatoire Océanologique, Villefranche/mer F-06230, France
4
CNRS, UMR 7093, LOV, Groupe Biodiversité et Biogéochimie, Observatoire océanologique, Villefranche/mer F-06230, France
5
Ifremer, Laboratoire Environnement Ressource de Bretagne Occitentale (LER-BO), Marine Biological Station, BP 40537, Concarneau F-29185, France
*
Author to whom correspondence should be addressed.
Received: 13 March 2014 / Revised: 15 April 2014 / Accepted: 24 April 2014 / Published: 13 May 2014
Abstract
Ostreopsis
cf.
ovata
produces palytoxin analogues including ovatoxins (OVTXs) and a putative palytoxin (p-PLTX), which can accumulate in marine organisms and may possibly lead to food intoxication. However, purified ovatoxins are not widely available and their toxicities are still unknown. The aim of this study was to improve understanding of the ecophysiology of
Ostreopsis
cf.
ovata
and its toxin production as well as to optimize the purification process for ovatoxin. During
Ostreopsis
blooms in 2011 and 2012 in Villefranche-sur-Mer (France, NW Mediterranean Sea), microalgae epiphytic cells and marine organisms were collected and analyzed both by LC-MS/MS and hemolysis assay. Results obtained with these two methods were comparable, suggesting ovatoxins have hemolytic properties. An average of 223 μg·kg
−1
of palytoxin equivalent of whole flesh was found, thus exceeding the threshold of 30 μg·kg
−1
in shellfish recommended by the European Food Safety Authority (EFSA).
Ostreopsis
cells showed the same toxin profile both
in situ
and in laboratory culture, with ovatoxin-a (OVTX-a) being the most abundant analogue (~50%), followed by OVTX-b (~15%), p-PLTX (12%), OVTX-d (8%), OVTX-c (5%) and OVTX-e (4%).
Ostreopsis
cf.
ovata
produced up to 2 g of biomass per L of culture, with a maximum concentration of 300 pg PLTX equivalent cell
−1
. Thus, an approximate amount of 10 mg of PLTX-group toxins may be produced with 10 L of this strain. Toxin extracts obtained from collected biomass were purified using different techniques such as liquid-liquid partition or size exclusion. Among these methods, open-column chromatography with Sephadex LH20 phase yielded the best results with a cleanup efficiency of 93% and recovery of about 85%, representing an increase of toxin percentage by 13 fold. Hence, this purification step should be incorporated into future isolation exercises.
View Full-Text
►

▼

Figures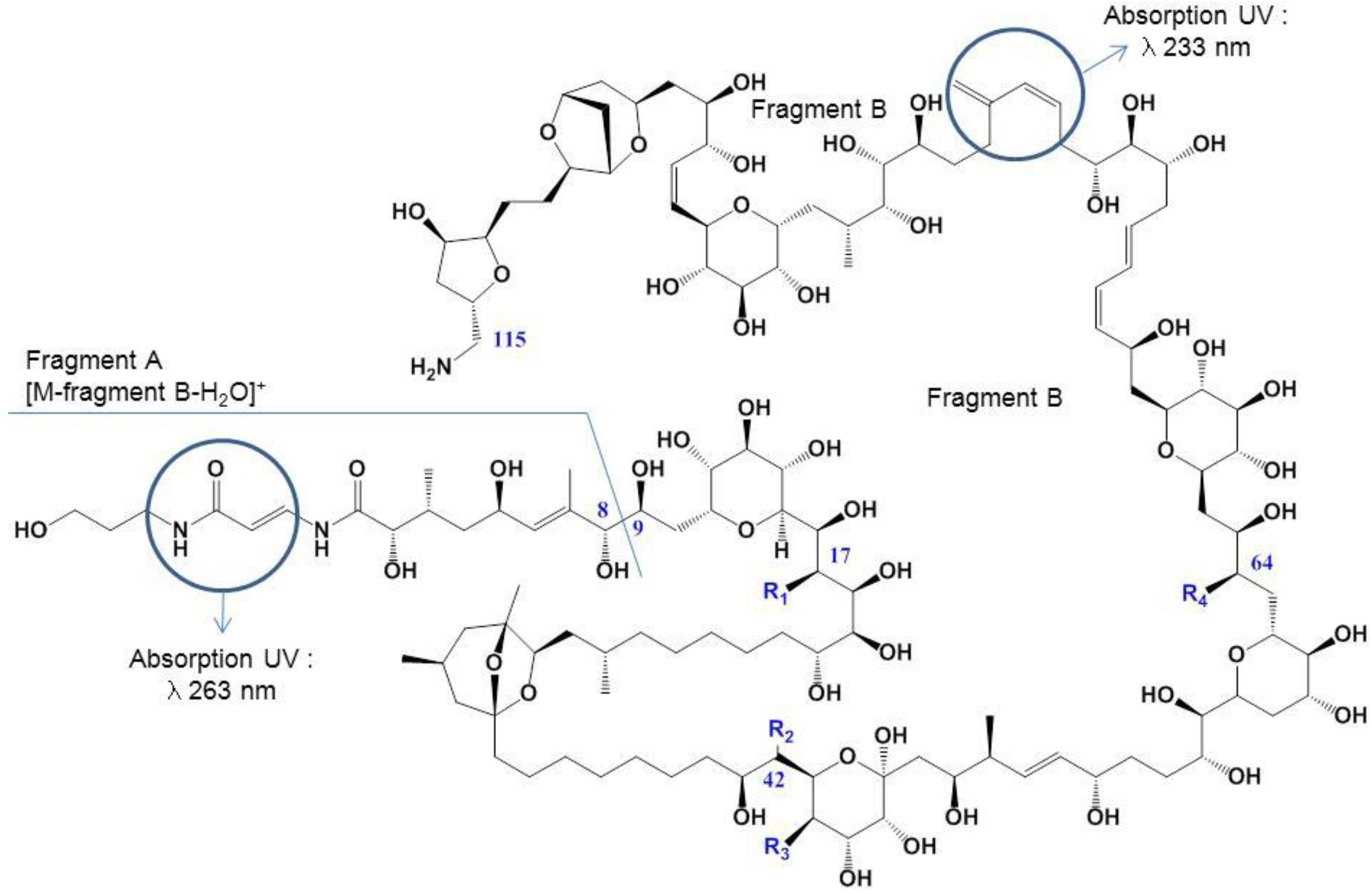 Figure 1
Share & Cite This Article
MDPI and ACS Style
Brissard, C.; Herrenknecht, C.; Séchet, V.; Hervé, F.; Pisapia, F.; Harcouet, J.; Lémée, R.; Chomérat, N.; Hess, P.; Amzil, Z. Complex Toxin Profile of French Mediterranean Ostreopsis cf. ovata Strains, Seafood Accumulation and Ovatoxins Prepurification. Mar. Drugs 2014, 12, 2851-2876.
Related Articles
Comments
[Return to top]