Development of Synechocystis sp. PCC 6803 as a Phototrophic Cell Factory
1
Key Laboratory of Combinatory Biosynthesis and Drug Discovery (Ministry of Education), School of Pharmaceutical Sciences, Wuhan University, 185 East Lake Road, Wuhan 430071, China
2
Department of Energy, Environmental and Chemical Engineering; Washington University, St. Louis, MO 63130, USA
3
Division of Biology & Biomedical Sciences, Washington University, St. Louis, MO 63130, USA
*
Authors to whom correspondence should be addressed.
Received: 14 June 2013 / Revised: 14 June 2013 / Accepted: 15 July 2013 / Published: 13 August 2013
Abstract
Cyanobacteria (blue-green algae) play profound roles in ecology and biogeochemistry. One model cyanobacterial species is the unicellular cyanobacterium
Synechocystis
sp. PCC 6803. This species is highly amenable to genetic modification. Its genome has been sequenced and many systems biology and molecular biology tools are available to study this bacterium. Recently, researchers have put significant efforts into understanding and engineering this bacterium to produce chemicals and biofuels from sunlight and CO
2
. To demonstrate our perspective on the application of this cyanobacterium as a photosynthesis-based chassis, we summarize the recent research on
Synechocystis
6803 by focusing on five topics: rate-limiting factors for cell cultivation; molecular tools for genetic modifications; high-throughput system biology for genome wide analysis; metabolic modeling for physiological prediction and rational metabolic engineering; and applications in producing diverse chemicals. We also discuss the particular challenges for systems analysis and engineering applications of this microorganism, including precise characterization of versatile cell metabolism, improvement of product rates and titers, bioprocess scale-up, and product recovery. Although much progress has been achieved in the development of
Synechocystis
6803 as a phototrophic cell factory, the biotechnology for "Compounds from
Synechocystis
" is still significantly lagging behind those for heterotrophic microbes (e.g.,
Escherichia coli
).
View Full-Text
►

▼

Figures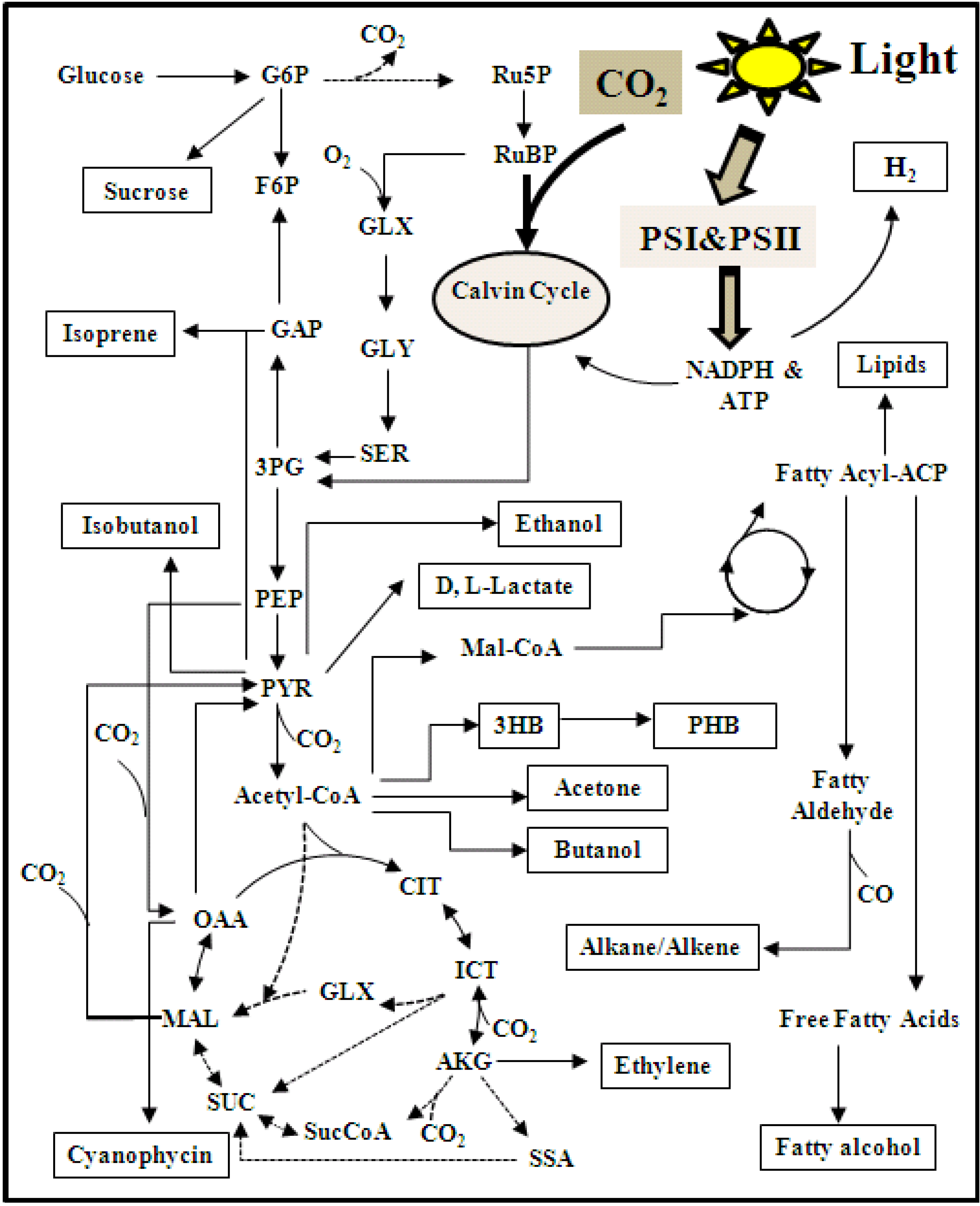 Figure 1
Share & Cite This Article
MDPI and ACS Style
Yu, Y.; You, L.; Liu, D.; Hollinshead, W.; Tang, Y.J.; Zhang, F. Development of Synechocystis sp. PCC 6803 as a Phototrophic Cell Factory. Mar. Drugs 2013, 11, 2894-2916.
Related Articles
Comments
[Return to top]