Open Access This article is
freely available
re-usable
Review
Antimicrobial Peptides from Marine Proteobacteria
University of Brest, LUBEM EA 3882, SFR 148, Quimper 29000, France
*
Author to whom correspondence should be addressed; Tel.: +33-298-641-935; Fax: +33-298-641-969.
Received: 12 July 2013; in revised form: 30 July 2013 / Accepted: 5 August 2013 / Published: 30 September 2013
Abstract
: After years of inadequate use and the emergence of multidrug resistant (MDR) strains, the efficiency of "classical" antibiotics has decreased significantly. New drugs to fight MDR strains are urgently needed. Bacteria hold much promise as a source of unusual bioactive metabolites. However, the potential of marine bacteria, except for Actinomycetes and Cyanobacteria, has been largely underexplored. In the past two decades, the structures of several antimicrobial compounds have been elucidated in marine Proteobacteria. Of these compounds, polyketides (PKs), synthesised by condensation of malonyl-coenzyme A and/or acetyl-coenzyme A, and non-ribosomal peptides (NRPs), obtained through the linkage of (unusual) amino acids, have recently generated particular interest. NRPs are good examples of naturally modified peptides. Here, we review and compile the data on the antimicrobial peptides isolated from marine Proteobacteria, especially NRPs.
Keywords:
Proteobacteria; marine; peptide; antimicrobial; antibiotic; antifungal; NRPS
1. Introduction
Since the beginning of antibiotic use, bacterial resistance has been a main public health issue. Despite the need for new active compounds, only a few new antibacterial structure classes have been approved for human use in the past 40 years. For example, the lipopeptide antibiotic daptomycin was approved in 2003, and it was the first natural product-based antibiotic from a new structure class to be launched onto the market in this time period. Natural sources provide the most diverse compounds for drug development [1]. Among marine organisms, bacterioplanktons should be now regarded as a valuable reserve of original molecules. However, the discovery of bioactive compounds from marine bacterioplankton often depends on the ability to culture the microorganisms [2], because cultivation would probably be necessary to obtain a regular supply of bacterioplankton-derived compounds at a commercial scale [3]. Even though great improvements have been made, new culture media still need to be developed to ensure sustainable cultures of the microorganisms of interest [4].
The enhancement of genomic tools has provided further insight into marine biodiversity [5,6,7]. The most abundant bacteria tend to be α-Proteobacteria representatives, whereas those successfully cultured are generally members of the γ-Proteobacteria class [2]. The phylum Proteobacteria consists of Gram-negative bacteria with diverse lifestyles that inhabit various environments; the name of the phylum was first proposed by Stackebrandt et al. [8] for the group of "purple bacteria and their relatives" and the clade includes the well-known α-, β-, γ-, δ- and ε-Proteobacteria classes (Table 1). Vibrio, Pseudoalteromonas and Pseudomonas are some well-known proteobacterial genera frequently observed in marine environments. Recently, new species have been discovered and led to the creation of the Candidatus ζ-Proteobacteria class [9].
Table 1. Current classification of Proteobacteria.
Phylum Proteobacteria
Class
α-Proteobacteria
Class
β-Proteobacteria
Orders
Caulobacterales
Rhizobiales
Orders
Burkholderiales
Neisseriales
Kiloniellales
Rhodobacterales
Ferritrophicales
Nitrosomonadales
Kopriimonadales
Rhodospirillales
Gallionellales
Procabacteriales
Kordiimonadales
Rickettsiales
Hydrogenophilales
Rhodocyclales
Magnetococcales
Sneathiellales
Methylophilales
Unclassified taxa
Parvularculales
Sphingomonadales
Unclassified taxa
Class
γ-Proteobacteria
Class
δ-Proteobacteria
Orders
Acidithiobacillales
Orbales
Orders
Bdellovibrionales
Desulfuromonadales
Aeromonadales
Pasteurellales
Desulfarculales
Myxococcales
Alteromonadales
Pseudomonadales
Desulfobacterales
Syntrophobacterales
Cardiobacteriales
Salinisphaerales
Desulfovibrionales
Unclassified taxa
Chromatiales
Thiotrichales
Desulfurellales
Enterobacteriales
Vibrionales
Legionellales
Xanthomonadales
Methylococcales
Unclassified taxa
Oceanospirillales
Class
ε-Proteobacteria
Class
ζ-Proteobacteria (candidatus)
Orders
Campylobacterales
Order
Mariprofundales
Nautiliales
Unclassified taxa
Even though Proteobacteria is the most abundant phylum in marine environments (abundance between 50% and 80%), only a few bioactive compounds have been described from those microorganisms [10]. In contrast, many natural products have been isolated from the phylum Actinobacteria, which accounts for only 5% to 10% of total bacterioplankton [5,6,7,11]. Several kinds of natural products from marine microorganisms are reported in the literature. Many of them are peptides, polyketides or hybrids thereof [12].
Antimicrobial peptides produced by bacteria can be classified according to how they are synthesised: Via the ribosomal (bacteriocin) or the non-ribosomal pathway. To date, no marine bacteriocins have been characterised from marine Proteobacteria. Nonribosomal peptide synthetase (NRPS) and polyketide synthase (PKS) are the hallmarks of secondary metabolites. These biosynthetic pathways have been extensively studied regarding their ability to generate a wide variety of compounds presenting antimicrobial, siderophore, antitumour, surfactant, immunomodulatory, or toxic properties [13]. Since they were first described in the 1970s [14,15], NRPS systems have been widely studied. In addition, recent advances in genomics have led to precise identification of NRPS genes. The biological activity of nonribosomal peptides (NRPs) is probably enhanced by the presence of non-proteinogenic amino acids, as demonstrated for some peptides [16]. Unlike ribosomal peptide synthesis, NRPS enzymes are able to select and incorporate more than 100 amino acids. Furthermore, these amino acids can even be modified by NRPS itself, hence increasing the diversity of the generated molecules. As a consequence, NRPs are an important source of novel bioactive molecules.
This review gives an overview of antibiotic peptides produced by NRPSs in the most abundant marine bacteria phylum, Proteobacteria. Here, we describe the structure, antimicrobial activity, structure-activity relationships (when available) and finally biosynthesis mechanisms (when elucidated) of marine NRPs. When the biosynthesis has only been elucidated in another bacterium (e.g., in a non-marine bacterium), it is given in the text and the information is mentioned. The comparison of NRP antimicrobial activity remains difficult due to the great diversity and non-standardised protocols that are used in the literature: Microbial strains, target cell concentrations (104 to 108 CFU mL−1), physiological states, incubation times or temperatures, culture media, liquid or diffusion assays, etc. all vary among studies. Marine antimicrobial peptides will be described according the systematic classification of their bacterial sources (α-, β-, γ-, ε-Proteobacteria), as indicated in Table 2.
2. Overview of Nonribosomal Peptide Synthetases (NRPSs)
NRPSs are multimodular enzymes. Each module is divided into domains. Three domains are required for synthesis of the peptide backbone: The adenylation (A) domain, the peptidyl carrier protein (PCP) and the condensation (C) domains [17]. NRPSs have already been presented and discussed in other reviews [13,17,18,19,20].
Table 2. Antimicrobial peptides isolated from marine Proteobacteria

.

Class/Order
Producers
Compounds
Activity
Biosynthesis
α-Proteobacteria
Rhodobacterales

Oceanibulbus indolifex

Cyclic dipeptides
Antibacterial
Unknown

Phaeobacter

sp.
Indigoidine
Antibacterial (Gram-negative)
NRPS
γ-Proteobacteria
Vibrionales

Vibrio

sp.
Andrimid Moiramide (pseudopeptides)
Antibacterial
Hybrid NRPS-PKS (<100 kDa)
Kahalalides (depsipeptides)
Antifungal
Unknown

Photobacterium halotolerans

Holomycin (pyrrothine)
Bacteriostatic
NRPS described in

Streptomyces clavuligerus

Photobacterium

sp.
Unnarmicins (depsipeptides)
Antibacterial (Gram-negative)
Unknown
Ngercheumicins (depsipeptides)
Antibacterial (Gram-negative)
Unknown
Solonamides (depsipeptides)
Antibacterial (Gram-negative)
Unknown
Alteromonadales

Pseudoalteromonas

sp.
Thiomarinols (pyrrothine)
Antibacterial
NRPS (pTLM1)
Cyclopeptides
Antibacterial
Unknown
Lipopeptides
Antibacterial
NRPS
Pseudomonadales

Pseudomonas

sp

.

Massetolides (cyclic lipopeptides)
Antimycobacterial
NRPS described in

Pseudomonas fluorescens

δ-Proteobacteria
Myxococcales

Myxococcus fulvus

Myxovalargins (polyketide/polypeptide hybrid)
Antibacterial
Unknown
Althiomycin (polyketide/polypeptide hybrid)
Antibacterial
Hybrid NRPS-PKS described in

Mycococcus xanthus

Myxothiazols
Antifungal
NRPS described in

Stigmatella aurantiaca

Paraliomyxa miuraensis

Miuraenamides (depsipeptides)
Antifungal
Unknown
Many NRPs are synthesised according to the colinearity rule (Figure 1). The number and order of modules in the genome represent the number and order of amino acid residues in the final product [21]. Although NRPS enzymes have nothing in common with aminoacyl-tRNA-synthetase from a structural point of view, A domains have similar functions; they control amino acid substrate activation, and their simultaneous activation as aminoacyl adenylates is at the expense of ATP. This domain is composed of about 550 amino acid residues, among which about 10 residues are used to predict substrate specificity [17]. The PCP domain, also known as the thiolation domain (T), is composed of a segment of 80–100 amino acids long and represents the NRPS transport unit. The activated substrate is transferred to the thiol group of the 4′-phosphopantetheine on the PCP and covalently bound through a thioester linkage [19,22]. Once the aminoacyl substrate has undergone all necessary modifications, the C domain (about 450 amino acid residues long) catalyses the formation of a C–N bond between the two aminoacyl substrates bound to modules adjacent to the PCP domain [19,23]. The first A domain and PCP initiate NRP biosynthesis, then the C, A and PCP domains are repeated several times, depending on the number of amino acids that compose the final NRP product. During synthesis, all intermediates remain covalently bound to the enzyme complex [18]. A thioesterase (TE) terminal domain is frequently involved in the release of the peptide product. This enzyme of 250 amino acids in length is only found in the termination module of the NRPS. The peptide can also be released through the action of a reductase (R) domain that converts the thioester into an alcohol, for example.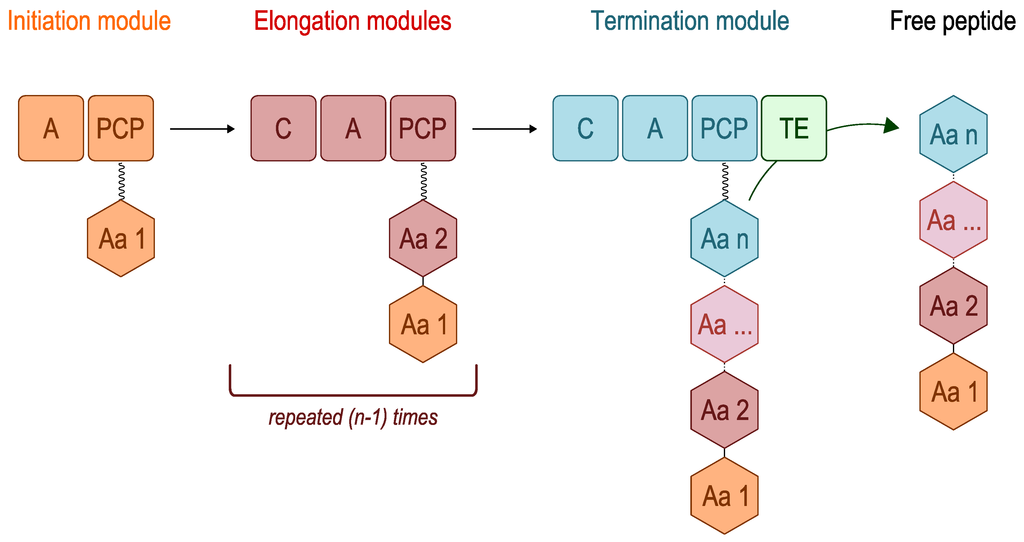 Figure 1. Diagram of NRP biosynthesis. Aa: amino acid; A: adenylation domain; C: condensation domain; PCP: peptidyl carrier protein; and TE: thioesterase domain.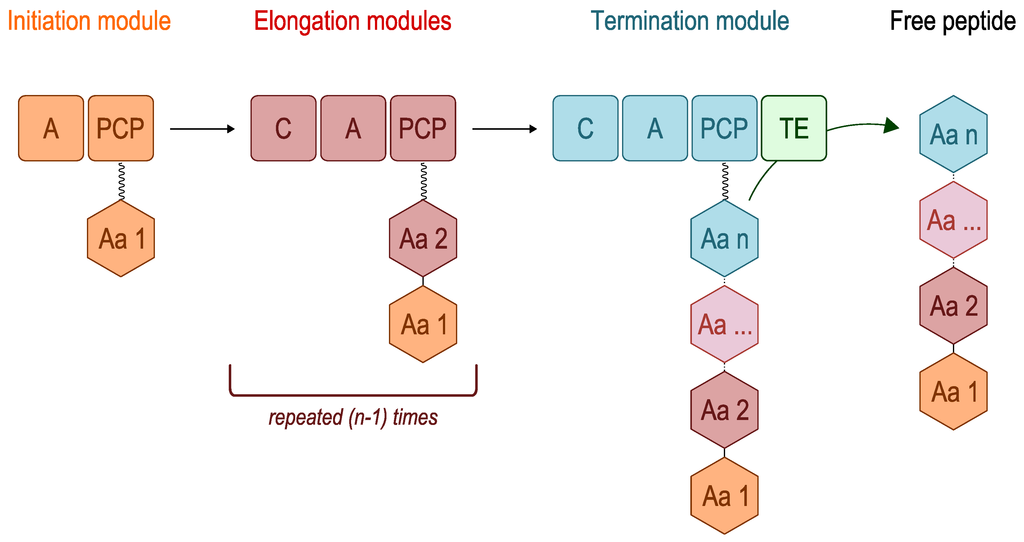 Furthermore, the NRPS system uses additional domains involved in NRP tailoring, e.g., the epimerisation (E), heterocyclisation (Cy), oxidation (Ox), methylation (M) and formylation (F) domains [24]. All these tailoring domains contribute to NRP structural diversity. The potential of NRPs in drug development is highly promising; therefore, diverse strategies have been developed to screen for them.
The linear NRPS model is the best known, but two other models have also been described. In the iterative model, the same domains or modules are used more than once for the synthesis of one NRP. In the non-linear model, domain organisation may differ from the classical one (C-A-PCP) described above. The hybrid NRPS-PKS system belongs to this latter model. All three models and the diversity of assembly lines have been well described in the literature [25]. Iterative and non-linear strategies can complicate predictions based on the primary structure of the enzyme and thereby limit NRP prediction.
2.1. Genome-Based Strategy
With the progress in DNA sequencing technology, genomic sequences have been determined for a large number of species. According to the Genome Online Database (GOLD), 6330 complete bacterial genomes are now available and 14,986 are about to be published. Bioinformatics tools have undergone rapid improvement that has led to "genome mining" approaches. Most studies have focused on NRPS, PKS, or hybrid NRPS-PKS pathways, because the large size and repeating motifs in their genomic nuclear sequences make them relatively simple to identify and analyse [26]. Although the Basic Local Alignment Search Tool (BLAST) is widely used for genome mining and NRPS discovery, specific NRPS-PKS bioinformatics tools have been developed; for more details on the software available for NRPS-PKS analyses, see [27]. Since this software review was published, two freely available online applications, NapDos and antiSMASH, have been introduced [28,29]. Most of the genome-based reports dealing with the discovery of NRPS genes have used targeted gene inactivation as a proof of NRP biosynthesis because the metabolites are constitutively produced [30,31,32].
2.2. Proteomics Strategy
Given that genomes are not always available and that NRPS assembly lines have been discovered without following colinearity rules [21], alternative methods have been developed. One of these methods is named PrISM (Proteomic Investigation of Secondary Metabolism) [33], and uses a strategy based on the large size of NRPS enzymes (often more than 2000 amino acid residues). The workflow consists of first performing SDS-PAGE electrophoresis of the soluble proteome to excise the putative NRPS (protein of about 225 kDa). After trypsin digestion, the peptides are analysed and then degenerate primers are designed. Gene cluster sequencing and identification leads to possible hypothetical structures for the targeted molecules and hence, the development of a relevant purification protocol. One aspect of this integrated approach is detecting peptide fragments containing phosphopantetheinyl, the cofactor involved in all PCP domains. Phosphopantetheinyl was shown to be linked to the Ser residue via a phosphodiester linkage that is labile in tandem mass spectrometry (MS/MS) [34]. This PrISM strategy has been used on a collection of 22 environmental isolates, for which no genomic information was available, and led to the identification of six related lipoheptapeptides [33].
3. Antimicrobial NRPs from Marine Proteobacteria
Numerous published studies have been devoted to the characterisation of marine bacterial molecules. However, far fewer studies have focused on antimicrobial peptides from Proteobacteria. In this review, we will mainly describe molecules from the α-, γ- and δ-Proteobacteria classes. There are not yet any reports of molecules from β-, ε- and ζ-Proteobacteria. To complete this list of molecules, antimicrobial peptides isolated from marine animals, and for which a proteobacterial origin is assumed, will also be presented. Finally, we will not describe all known genera of Proteobacteria, because, within a given class, the available data on antimicrobial peptides involve only a few taxa.
4. Conclusions
Antimicrobial peptides from marine Proteobacteria are generally obtained via nonribosomal pathways. They display potent antibacterial and/or antifungal activities. As a result, they may constitute useful tools to face the challenge of MDR strains. Marine NRPs from Proteobacteria exhibit a high level of structural diversity due to: (i) The presence of non-proteinogenic amino acid residues; (ii) The existence of multiple tailoring enzymes; and (iii) The possible association with PKS systems. Marine antibiotic NRPs are thus an important supply of molecules with great potential for biotechnological applications.
To screen for new NRPs, the genome-based approach is particularly pertinent, because this strategy allows the identification of silent genes and genes from uncultured bacteria. To date, the main characterised NRPS enzymes come from terrestrial organisms and particularly from Actinobacteria such as Streptomyces species. Nonetheless, the genomic approach based on NRPS homology cannot be a universal method to discover and analyse marine Proteobacteria NRPSs. The exclusive use of genomic strategies precludes discovering any non-databank-indexed structures. This highlights the need for a combination of genomic and microbiological strategies, such as complete genome analyses combined with natural NRPs purification and characterisation. However, this coupled approach requires culturable bacteria.
Despite the predominance of Proteobacteria in bacterioplankton, only a few NRPs have been isolated from this phylum when compared to the less abundant Cyanobacteria and Actinobacteria. The absence of standard cultivation protocols has limited investigations into their biochemistry. New cultivation methods have recently proven effective and can give access to the previously "unculturables". This review has probably only just touched upon the tip of the iceberg. The structural diversity of antimicrobial NRPs (several unusual amino acids combined with diverse alkyl chains) described here is both an advantage and a disadvantage for use in a biotechnology context. Given the novel chemical structures, chemical synthesis must be defined. Access to this biotechnological source requires improving culture methods for Proteobacteria. With future advances in cultivation methods, we can reasonably expect an increase in the number of molecules isolated from marine Proteobacteria and the elucidation of new NRPS biosynthesis pathways, thus leading to new and efficient genome-based strategies.
Acknowledgements
This research was supported by the European Union Seventh Framework Programme (FP7/2007–2013) under grant agreement No. 311975. This work was partly funded by the Brittany Regional Council (Biprobio project, ARED 6227). Florie Desriac was supported by a PhD grant from the "Quimper communauté". Hervé Bourdon and Carolyn Engel-Gautier are warmly thanked for their improvement in the manuscript.
Conflicts of Interest
The authors declare no conflicts of interest.
© 2013 by the authors; licensee MDPI, Basel, Switzerland. This article is an open access article distributed under the terms and conditions of the Creative Commons Attribution license (http://creativecommons.org/licenses/by/3.0/).