Isolation and Characterization of a Lycopene ε-Cyclase Gene of Chlorella (Chromochloris) zofingiensis. Regulation of the Carotenogenic Pathway by Nitrogen and Light
1
Institute of Plant Biochemistry and Photosynthesis, CIC Cartuja, University of Seville and CSIC, Avda. Americo Vespucio, n° 49, Seville 41092, Spain
2
Department of Chemistry, Experimental Sciences Faculty, University of Huelva, Avda. Fuerzas Armadas s/n, Huelva 27071, Spain
*
Author to whom correspondence should be addressed.
Received: 20 June 2012 / Revised: 24 July 2012 / Accepted: 12 September 2012 / Published: 21 September 2012
Abstract
The isolation and characterization of the lycopene ε-cyclase gene from the green microalga
Chlorella
(
Chromochloris
)
zofingiensis
(
Czlcy-e
) was performed. This gene is involved in the formation of the carotenoids α-carotene and lutein.
Czlcy-e
gene encoded a polypeptide of 654 amino acids. A single copy of
Czlcy-e
was found in
C. zofingiensis
. Functional analysis by heterologous complementation in
Escherichia coli
showed the ability of this protein to convert lycopene to δ-carotene. In addition, the regulation of the carotenogenic pathway by light and nitrogen was also studied in
C. zofingiensis
. High irradiance stress did not increase mRNA levels of neither lycopene β
-
cyclase gene (
lcy-b
) nor lycopene ε-cyclase gene
(
lcy-e
) as compared with low irradiance conditions, whereas the transcript levels of
psy
,
pds
,
chyB
and
bkt
genes were enhanced, nevertheless triggering the synthesis of the secondary carotenoids astaxanthin, canthaxanthin and zeaxanthin and decreasing the levels of the primary carotenoids α-carotene, lutein, violaxanthin and β-carotene. Nitrogen starvation
per se
enhanced mRNA levels of all genes considered, except
lcy-e and pds
, but did not trigger the synthesis of astaxanthin, canthaxanthin nor zeaxanthin. The combined effect of both high light and nitrogen starvation stresses enhanced significantly the accumulation of these carotenoids as well as the transcript levels of
bkt
gene, as compared with the effect of only high irradiance stress.
View Full-Text
►

▼

Figures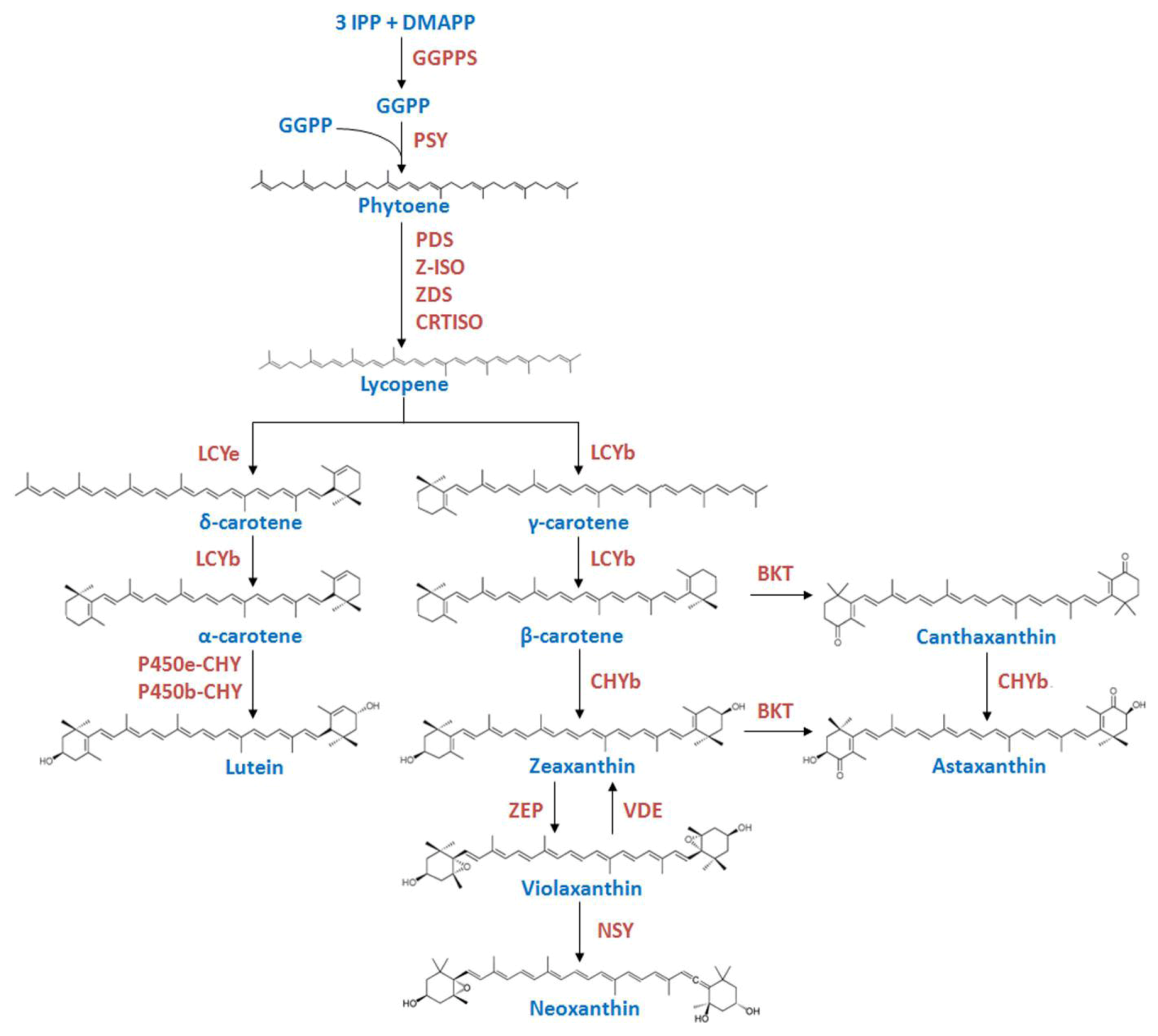 Figure 1
Share & Cite This Article
MDPI and ACS Style
Cordero, B.F.; Couso, I.; Leon, R.; Rodriguez, H.; Vargas, M.A. Isolation and Characterization of a Lycopene ε-Cyclase Gene of Chlorella (Chromochloris) zofingiensis. Regulation of the Carotenogenic Pathway by Nitrogen and Light. Mar. Drugs 2012, 10, 2069-2088.
Related Articles
Comments
[Return to top]