Cell-Penetrating Recombinant Peptides for Potential Use in Agricultural Pest Control Applications
1
Renewable Product Technology Research Unit, National Center for Agricultural Utilization Research (NCAUR), Agricultural Research Service (ARS), United States Department of Agriculture (USDA), 1815 North University Street, Peoria, IL 61604, USA
2
Crop Bioprotection Research Unit, National Center for Agricultural Utilization Research (NCAUR), Agricultural Research Service (ARS), United States Department of Agriculture (USDA),1815 North University Street, Peoria, IL 61604, USA
*
Author to whom correspondence should be addressed.
Received: 27 August 2012 / Revised: 21 September 2012 / Accepted: 21 September 2012 / Published: 28 September 2012
Abstract
Several important areas of interest intersect in a class of peptides characterized by their highly cationic and partly hydrophobic structure. These molecules have been called cell-penetrating peptides (CPPs) because they possess the ability to translocate across cell membranes. This ability makes these peptides attractive candidates for delivery of therapeutic compounds, especially to the interior of cells. Compounds with characteristics similar to CPPs and that, in addition, have antimicrobial properties are being investigated as antibiotics with a reduced risk of causing resistance. These CPP-like membrane-acting antimicrobial peptides (MAMPs) are α-helical amphipathic peptides that interact with and perturb cell membranes to produce their antimicrobial effects. One source of MAMPs is spider venom. Because these compounds are toxic to insects, they also show promise for development as biological agents for control of insecticide-resistant agricultural pests. Spider venom is a potential source of novel insect-specific peptide toxins. One example is the small amphipathic α-helical peptide lycotoxin-1 (Lyt-1 or LCTX) from the wolf spider (
Lycosa carolinensis
). One side of the α-helix has mostly hydrophilic and the other mainly hydrophobic amino acid residues. The positive charge of the hydrophilic side interacts with negatively charged prokaryotic membranes and the hydrophobic side associates with the membrane lipid bilayer to permeabilize it. Because the surface of the exoskeleton, or cuticle, of an insect is highly hydrophobic, to repel water and dirt, it would be expected that amphipathic compounds could permeabilize it. Mutagenized lycotoxin 1 peptides were produced and expressed in yeast cultures that were fed to fall armyworm (
Spodoptera frugiperda
) larvae to identify the most lethal mutants. Transgenic expression of spider venom toxins such as lycotoxin-1 in plants could provide durable insect resistance.
View Full-Text
►

▼

Figures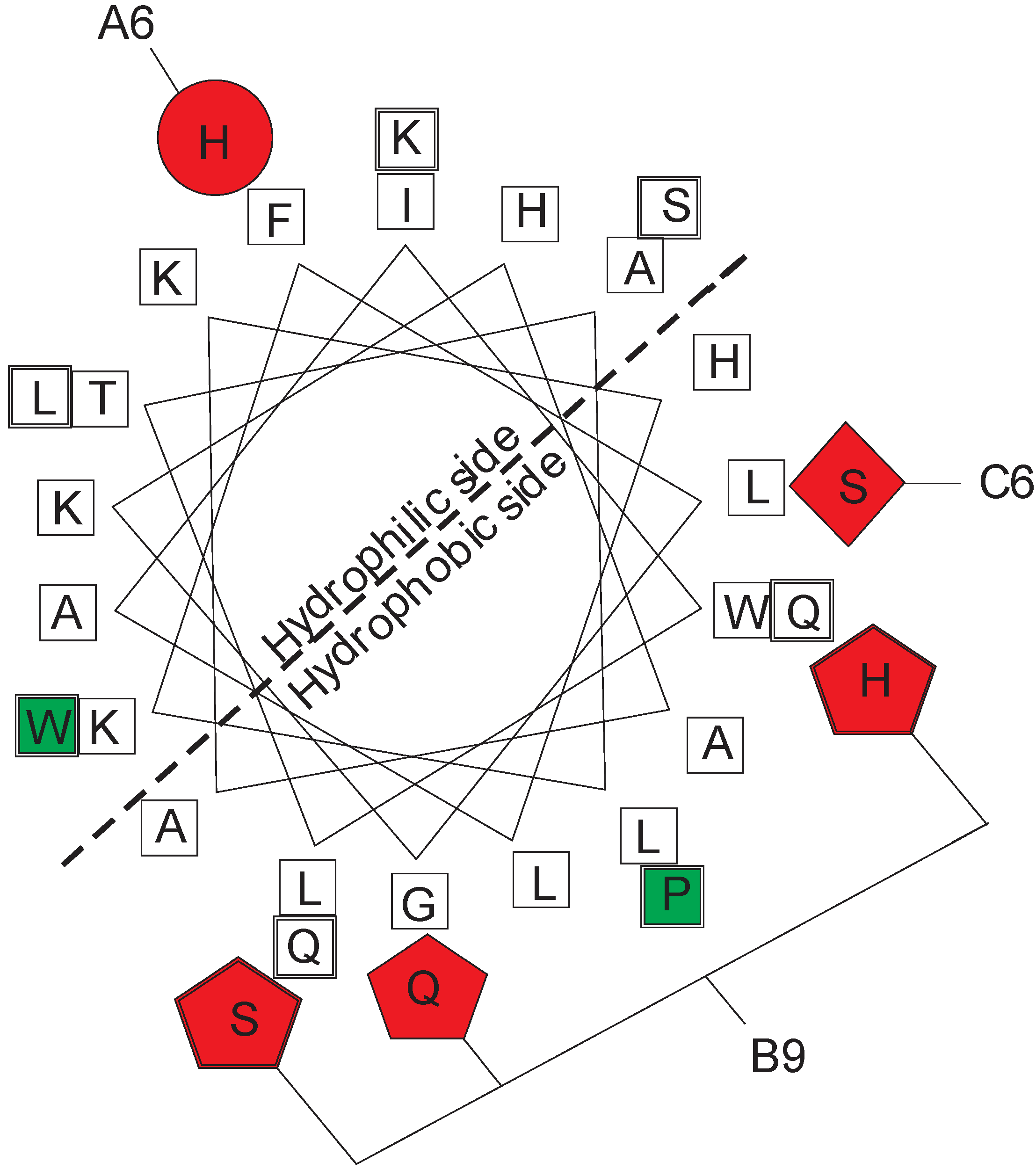 Figure 1
Share & Cite This Article
MDPI and ACS Style
Hughes, S.R.; Dowd, P.F.; Johnson, E.T. Cell-Penetrating Recombinant Peptides for Potential Use in Agricultural Pest Control Applications. Pharmaceuticals 2012, 5, 1054-1063.
Related Articles
Comments
[Return to top]