Vasoinhibins Prevent Bradykinin-Stimulated Endothelial Cell Proliferation by Inactivating eNOS via Reduction of both Intracellular Ca2+ Levels and eNOS Phosphorylation at Ser1179
1
Instituto de Neurobiología, Universidad Nacional Autónoma de México (UNAM), Campus UNAM-Juriquilla, Querétaro 76230, Mexico
2
Instituto de Fisiología Celular, Universidad Nacional Autónoma de México (UNAM), Ciudad Universitaria, Del. Coyoacán, México, D.F., 04510, Mexico
†
These authors contributed equally to this work.
*
Author to whom correspondence should be addressed.
Received: 29 April 2011 / Revised: 6 July 2011 / Accepted: 19 July 2011 / Published: 20 July 2011
Abstract
Vasoinhibins, a family of antiangiogenic peptides derived from prolactin proteolysis, inhibit the vascular effects of several proangiogenic factors, including bradykinin (BK). Here, we report that vasoinhibins block the BK-induced proliferation of bovine umbilical vein endothelial cells. This effect is mediated by the inactivation of endothelial nitric oxide synthase (eNOS), as the NO donor DETA-NONOate reverted vasoinhibin action. It is an experimentally proven fact that the elevation of intracellular Ca
2+
levels ([Ca
2+
]
i
) upon BK stimulation activates eNOS, and vasoinhibins blocked the BK-mediated activation of phospholipase C and the formation of inositol 1,4,5-triphosphate leading to a reduced release of Ca
2+
from intracellular stores. The [Ca
2+
]
i
rise evoked by BK also involves the influx of extracellular Ca
2+
via
canonical transient receptor potential (TRPC) channels. Vasoinhibins likely interfere with TRPC-mediated Ca
2+
entry since La
3+
, which is an enhancer of TRPC4 and TRPC5 channel activity, prevented vasoinhibins from blocking the stimulation by BK of endothelial cell NO production and proliferation, and vasoinhibins reduced the BK-induced increase of TRPC5 mRNA expression. Finally, vasoinhibins prevented the BK-induced phosphorylation of eNOS at Ser
1179
, a post-translational modification that facilitates Ca
2+
-calmodulin activation of eNOS. Together, our data show that vasoinhibins, by lowering NO production through the inhibition of both [Ca
2+
]
i
mobilization and eNOS phosphorylation, prevent the BK-induced stimulation of endothelial cell proliferation. Thus, vasoinhibins help to regulate BK effects on angiogenesis and vascular homeostasis.
View Full-Text
►

▼

Figures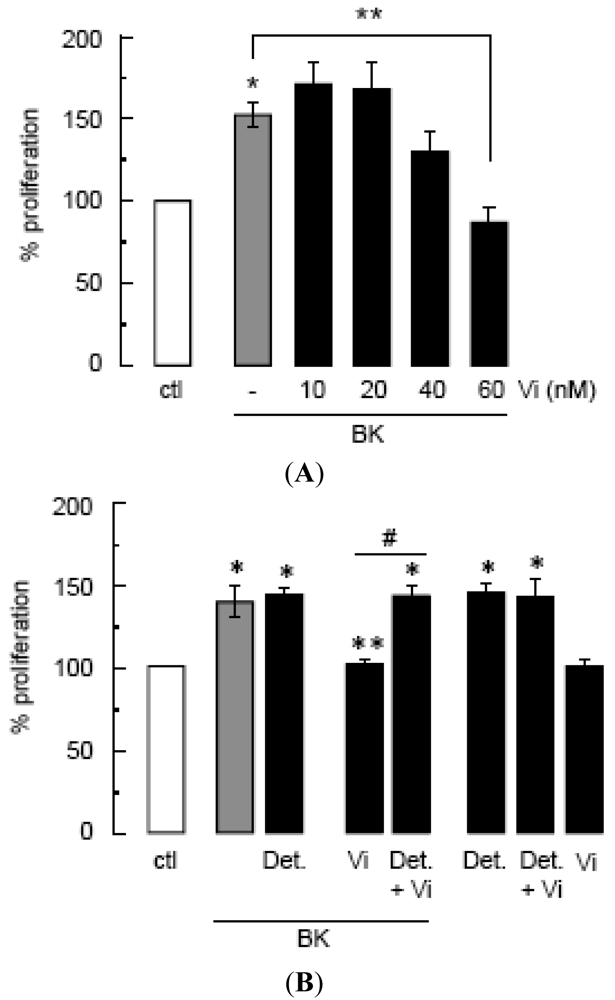 Share & Cite This Article
MDPI and ACS Style
Thebault, S.; González, C.; García, C.; Zamarripa, D.A.; Nava, G.; Vaca, L.; López-Casillas, F.; De la Escalera, G.M.; Clapp, C. Vasoinhibins Prevent Bradykinin-Stimulated Endothelial Cell Proliferation by Inactivating eNOS via Reduction of both Intracellular Ca2+ Levels and eNOS Phosphorylation at Ser1179. Pharmaceuticals 2011, 4, 1052-1069.
Related Articles
Comments
[Return to top]