Open Access This article is
freely available
re-usable
Article
Targeted CRM197-PEG-PEI/siRNA Complexes for Therapeutic RNAi in Glioblastoma
1
Institute of Pharmacology/Biochemical-Pharmacological Center (bpc), Faculty of Medicine, Philipps-University Marburg, Karl-von-Frisch-Strasse 1, D-35032 Marburg, Germany
2
Rudolf-Boehm-Institute of Pharmacology and Toxicology, Clinical Pharmacology, Härtelstrasse 16-18, D-04107 Leipzig, Germany
3
to-BBB technologies BV, Bio Partner Center II, Niels Bohrweg 11, 2333 CA Leiden, The Netherlands; E-Mail:
PieterGaillard@toBBB.com
(P.J.G.)
Received: 16 September 2011; in revised form: 8 December 2011 / Accepted: 9 December 2011 /
Published: 16 December 2011
Abstract
: RNA interference (RNAi) allows the specific knockdown of tumor relevant genes. To induce RNAi, the delivery of small interfering RNAs (siRNAs) is of crucial importance. This is particularly challenging for their therapeutic applications

in vivo

. Low molecular weight branched polyethylenimine (PEI) is safe and efficient for nucleic acid delivery including small RNA molecules, based on its ability to electrostatically complex siRNA molecules, thereby protecting them from nuclease degradation. The nanoscale PEI/siRNA complexes are endocytosed by cells prior to intracellular complex release from the lysosome and cytoplasmic release of the siRNAs from the complexes. Chemical modification and ligand decoration of the complexes aim at introducing target tissue specificity and further increased efficacy of PEI-mediated siRNA delivery. CRM197 is a mutated, non-toxic diphtheria toxin (DT) that binds to the membrane-bound precursor of HB-EGF-like growth factor/diphtheria toxin receptor highly expressed in glioblastoma cells. Likewise, the growth factor pleiotrophin (PTN/HB-GAM/HARP) is overexpressed in glioblastoma and is rate limiting for tumor growth, thus representing an attractive target gene for therapeutic knockdown approaches. PEGylation of PEI was performed to reduce the surface charge, and by CRM197 coupling we prepared a modified PEI for siRNA delivery into glioblastoma cells. The novel PEI conjugates were analyzed for their complexation efficiency and optimal mixing ratios, and complexes were physicochemically characterized regarding stability, size and zeta potential. The biological activity of the complexes was confirmed in cell culture by reporter gene knockdown. For the therapeutic treatment of subcutaneous human gliobastoma xenografts in athymic nude mice, we systemically injected the modified PEI/siRNA complexes targeting PTN. Antitumor effects based on PTN knockdown demonstrated the advantage of tumor-targeted CRM197-PEG-PEI/siRNA over untargeted PEG-PEI polyplexes. Thus, we establish targeted CRM197-PEG-PEI-based complexes for siRNA delivery

in vivo

, and show therapeutic effects of CRM197-PEG-PEI/siRNA-mediated knockdown of PTN.
Keywords:
siRNA; RNA interference; RNAi; CRM197; HB-EGF; polyethylenimine; PEI; targeted delivery; pleiotrophin; glioblastoma; therapeutic siRNA delivery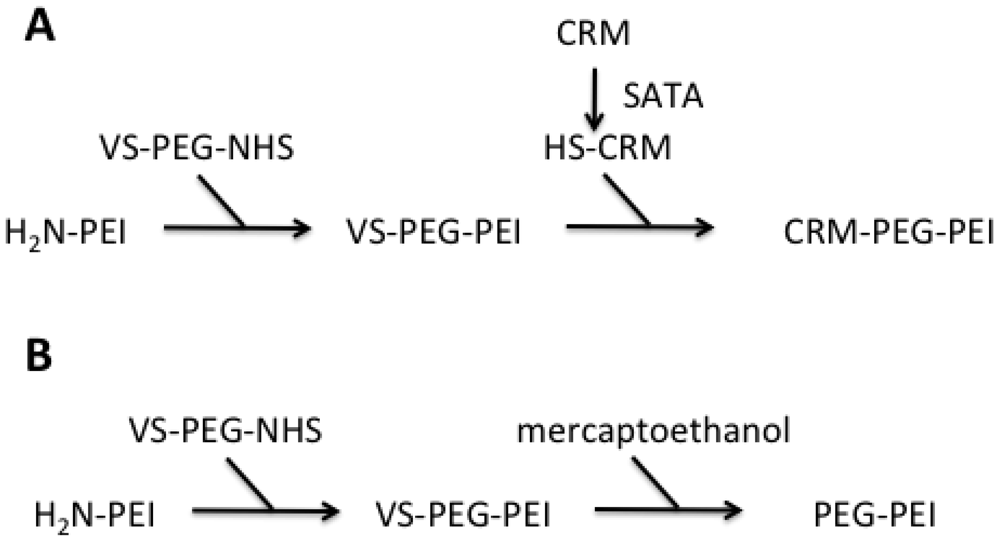 Figure 1. Schematic representation of the synthesis of PEI-conjugates. PEI F25-LMW was conjugated with VS-PEG-PEI to the intermediate VS-PEG-PEI. This intermediate was either transformed into CRM197-PEG-PEI via conjugation to SATA-activated CRM197 (A) or quenched with mercaptoethanol to obtain PEG-PEI (B).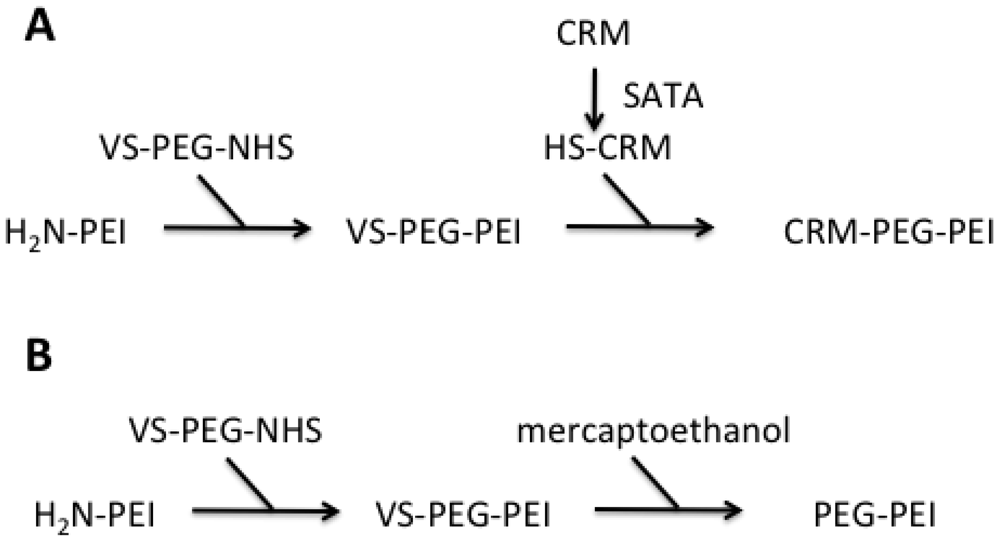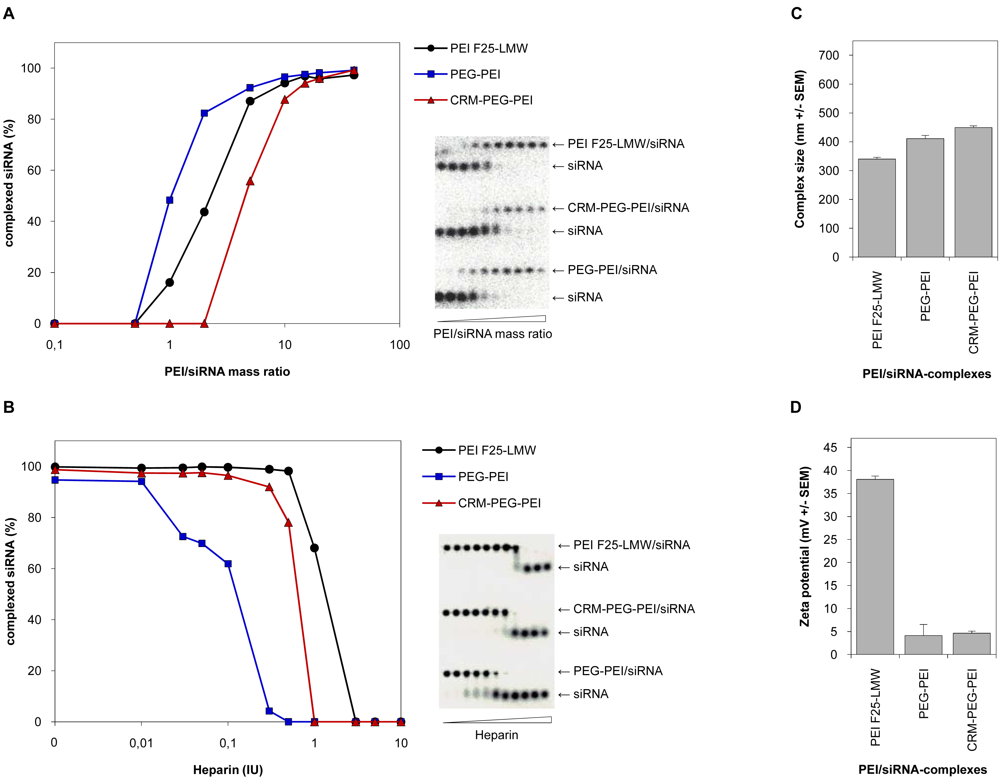 Figure 2. Characterization of PEI/siRNA complexes. (A) SiRNA complexation efficiencies of the parent PEI F25-LMW (black circles) and the novel PEI conjugates, PEG-PEI (blue rectangles) and CRM197-PEG-PEI (red triangles). (B) Stabilities of siRNA complexes against polyanions (heparin displacement assay). After incubation in the presence of various concentrations of heparin as indicated in the figure, complexes were analysed by agarose gel electrophoresis followed by autoradiography and quantitation of the 32P-labeled free or complexed siRNA (left panels; see right panels for original gels). (C) Hydrodynamic diameters of PEI/siRNA complexes as determined by photon correlation spectroscopy, and (D) surface charges (zeta potentials) of the complexes as determined by laser doppler anemometry.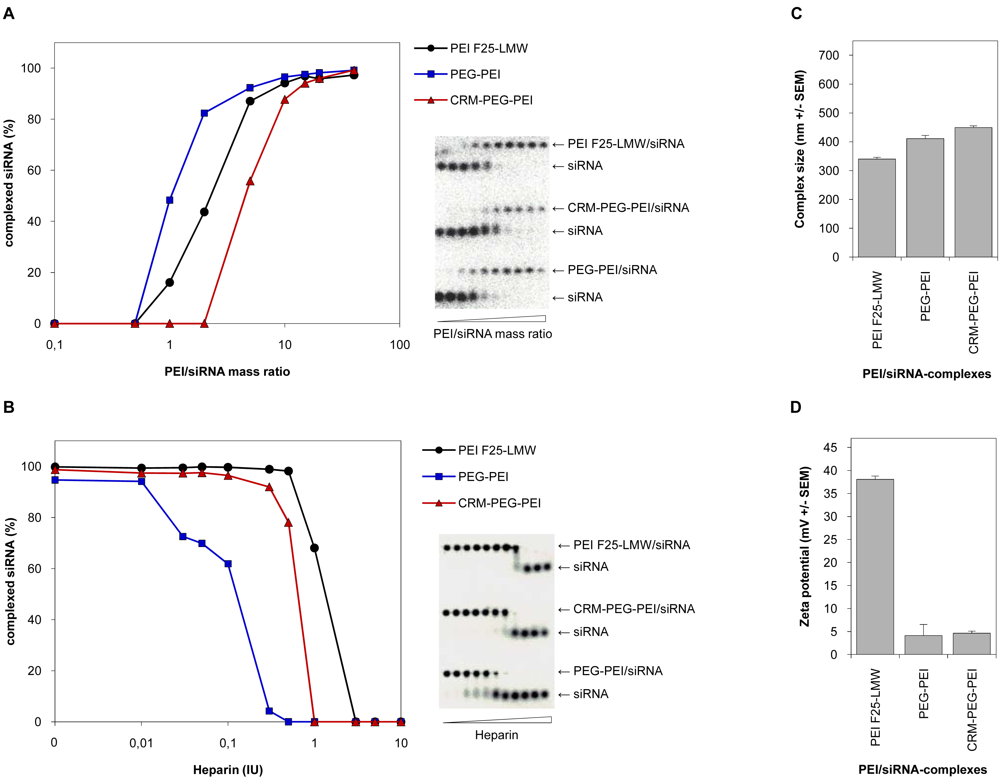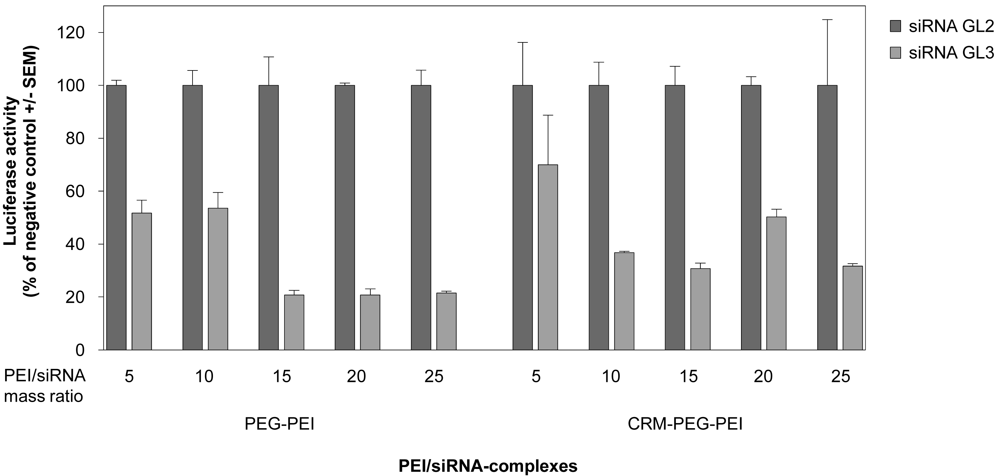 Figure 3.
Determination of optimal (CRM197-)PEG-PEI/siRNA complex stoichiometries in an
in vitro
knockdown assay. The human glioblastoma cell line U87, transiently expressing luciferase, was transfected with PEG-PEI/siRNA complexes (left) or CRM197-PEG-PEI/siRNA complexes (right) at different (CRM197-)PEG-PEI/siRNA mass ratios, with complexes containing a non-specific siRNA (siRNA GL2; dark grey) or the luciferase-specific siRNA GL3 (light grey). Knockdown efficiencies after 48 h were determined by measuring luciferase activities in relative light units, and the respective negative controls are set to 100%.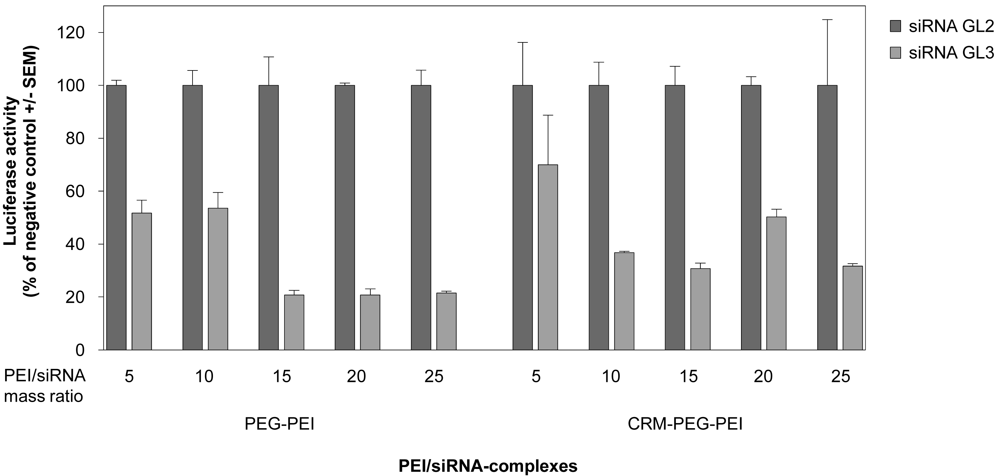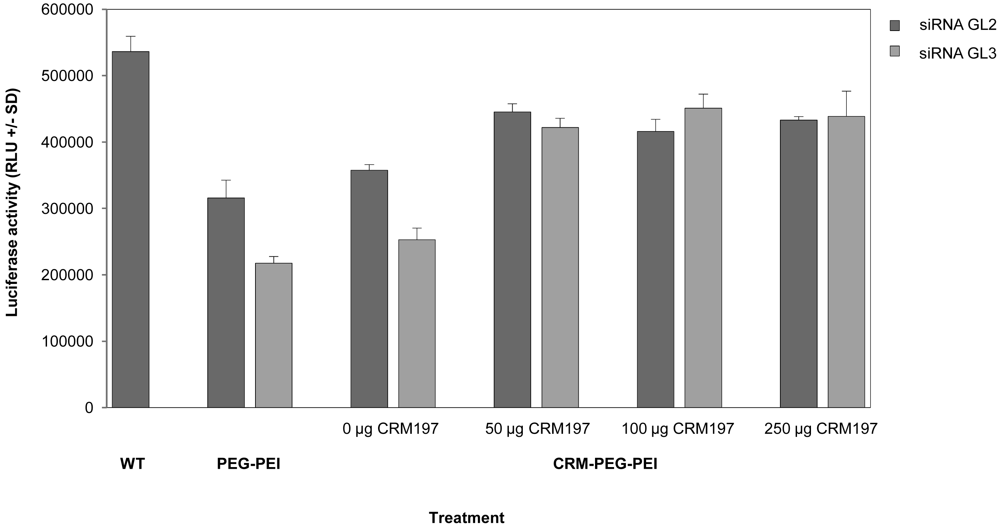 Figure 4. Competition of CRM197-mediated cellular uptake of CRM-PEG-PEI/siRNA complexes and siRNA-mediated knockdown in transiently luciferase expressing U87 cells. Comparison of luciferase activity in cells transfected with DNA (WT) and cells transfected with PEG-PEI/siRNA complexes or CRM197-PEG-PEI/siRNA complexes containing a non-specific siRNA (siRNA GL2; dark grey) or the luciferase-specific siRNA GL3 (light grey), respectively. CRM197-mediated uptake of CRM197-PEG-PEI/siRNA complexes was inhibited by addition of free CRM197 peptide 30 min prior to siRNA-targeting. Knockdown efficiencies after 48 h were determined by measuring luciferase activities in relative light units.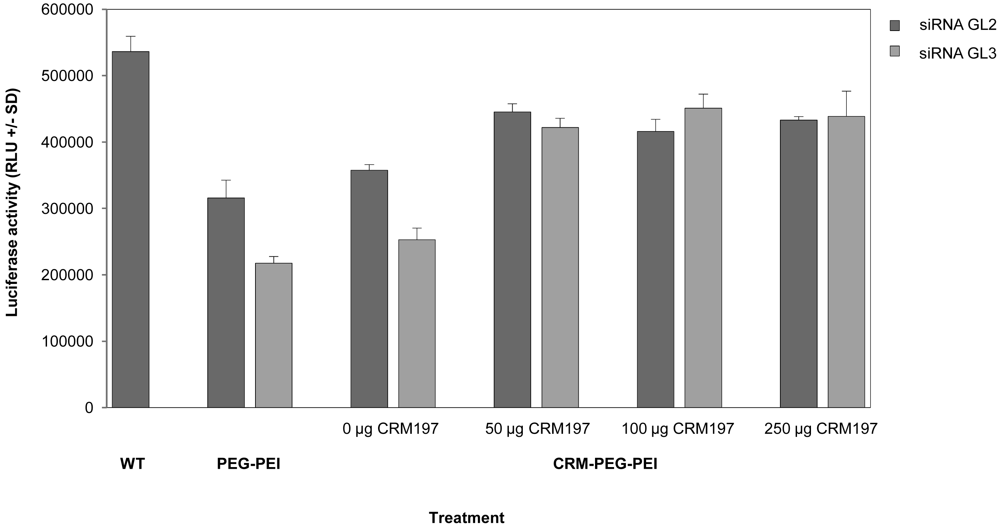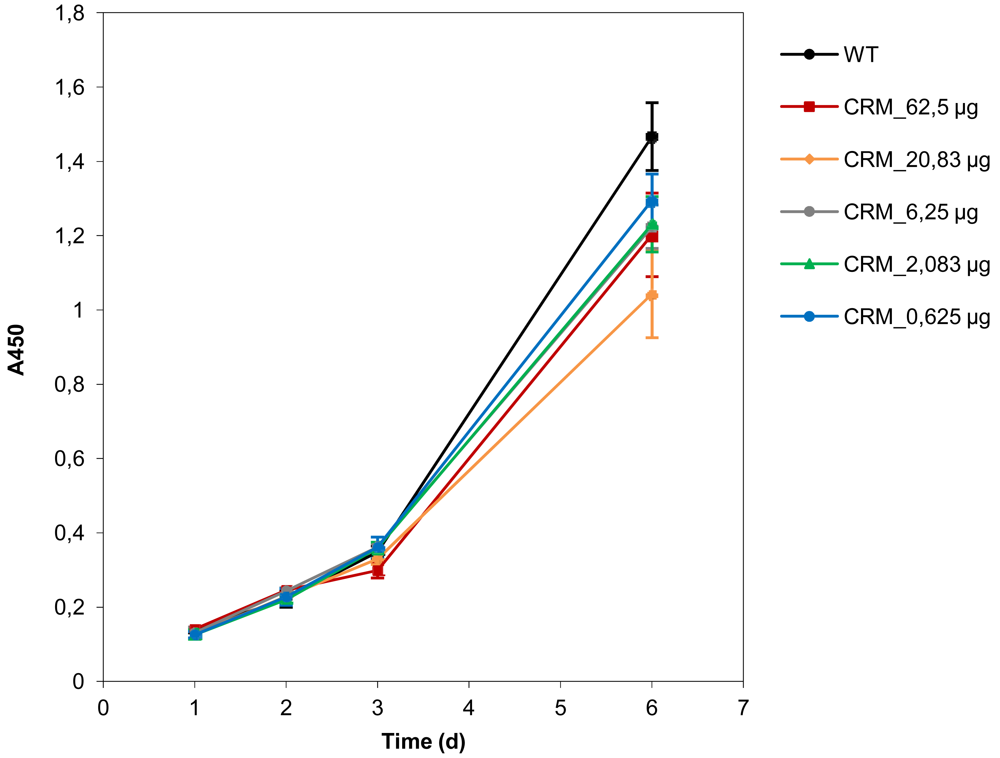 Figure 5. Proliferation of gliobastoma cells treated with CRM197 peptide. Cell proliferation of untreated U87 glioblastoma cells (WT; black line) compared to cells treated with different amounts of CRM197 (colored lines). The viability of cells was determined using the cell proliferation reagent WST-1 and the absorbance was measured at 450 nm.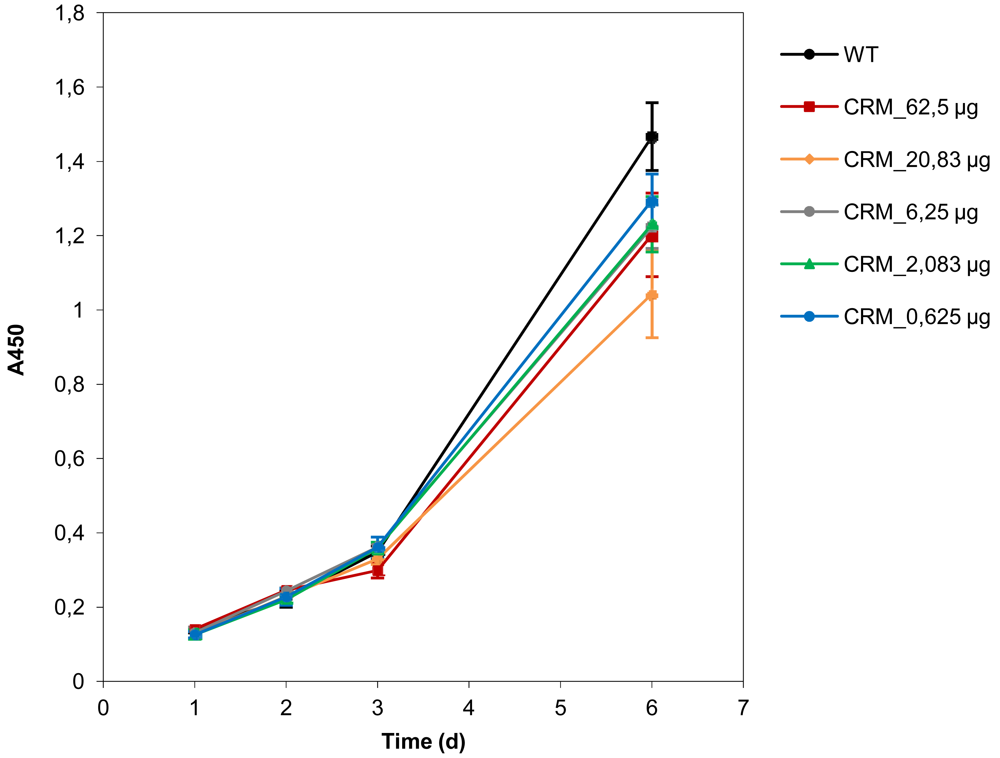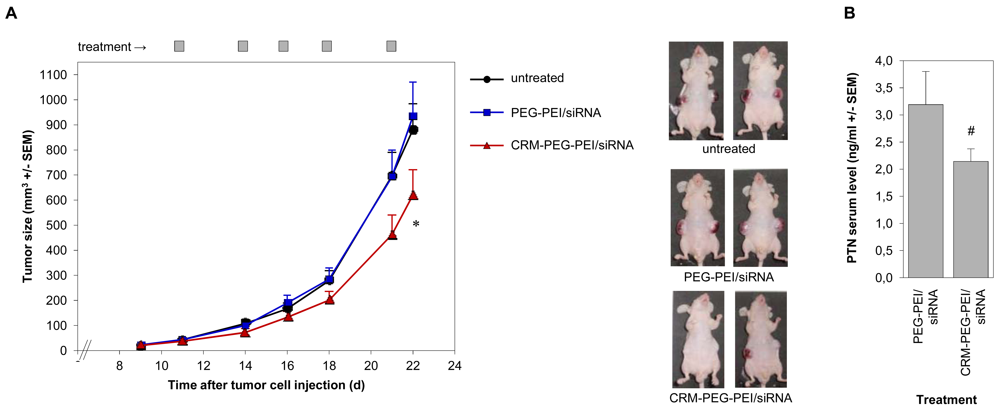 Figure 6. CRM197-PEG-PEI-mediated anti-tumor effects of CRM197-PEG-PEI/siRNA complexes targeting pleiotrophin (PTN). (A) After establishment of s.c. U87 glioblastoma xenografts, athymic nude mice were treated by intraperitoneal injection of PTN-specific CRM197-PEG-PEI/siRNA complexes (red triangles) or PEG-PEI/siRNA complexes (blue rectangles) at the time points indicated, or were left untreated (black circles). Left panel: quantitation of tumor sizes during the treatment (12 tumors per group; p < 0.02 between CRM-PEG-PEI/siRNA and PEG-PEI/siRNA or CRM-PEG-PEI/siRNA and untreated, respectively); right panel: pictures of representative mice from each group upon termination of the experiment. (B) PTN serum levels after termination of the experiment, as determined by ELISA (serum of six mice per group).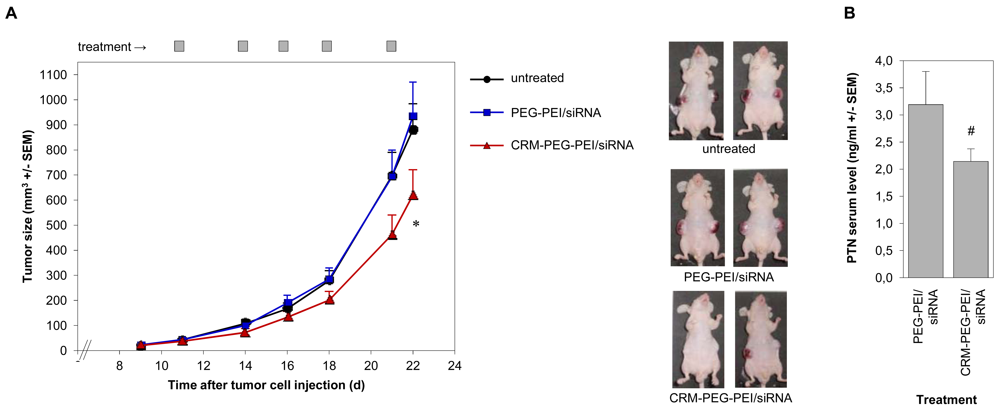 Acknowledgments
We thank Udo Bakowsky and Thomas Kissel for the opportunity to perform PCS and LDA measurements, and we are grateful to Andrea Wüstenhagen and Rick Dorland for expert technical assistance.
Conflict of Interest
The authors declare no conflict of interest.
© 2011 by the authors; licensee MDPI, Basel, Switzerland. This article is an open access article distributed under the terms and conditions of the Creative Commons Attribution license (http://creativecommons.org/licenses/by/3.0/)