Diversity of Mat-Forming Fungi in Relation to Soil Properties, Disturbance, and Forest Ecotype at Crater Lake National Park, Oregon, USA
Department of Forest Ecosystems and Society, Oregon State University, 321 Richardson Hall, Corvallis, OR 97331, USA
*
Author to whom correspondence should be addressed.
Received: 14 March 2012 / Revised: 4 April 2012 / Accepted: 9 April 2012 / Published: 24 April 2012
Abstract
In forest ecosystems, fungal mats are functionally important in nutrient and water uptake in litter and wood decomposition processes, in carbon resource allocation, soil weathering and in cycling of soil resources. Fungal mats can occur abundantly in forests and are widely distributed globally. We sampled ponderosa pine/white fir and mountain hemlock/noble fir communities at Crater Lake National Park for mat-forming soil fungi. Fungus collections were identified by DNA sequencing. Thirty-eight mat-forming genotypes were identified; members of the five most common genera (
Gautieria
,
Lepiota,
Piloderma, Ramaria,
and
Rhizopogon
) comprised 67% of all collections. The mycorrhizal genera
Alpova
and
Lactarius
are newly identified as ectomycorrhizal mat-forming taxa, as are the saprotrophic genera
Flavoscypha, Gastropila
,
Lepiota
and
Xenasmatella
. Twelve typical mat forms are illustrated, representing both ectomycorrhizal and saprotrophic fungi that were found. Abundance of fungal mats was correlated with higher soil carbon to nitrogen ratios, fine woody debris and needle litter mass in both forest ecotypes. Definitions of fungal mats are discussed, along with some of the challenges in defining what comprises a fungal "mat".
View Full-Text
►

▼

Figures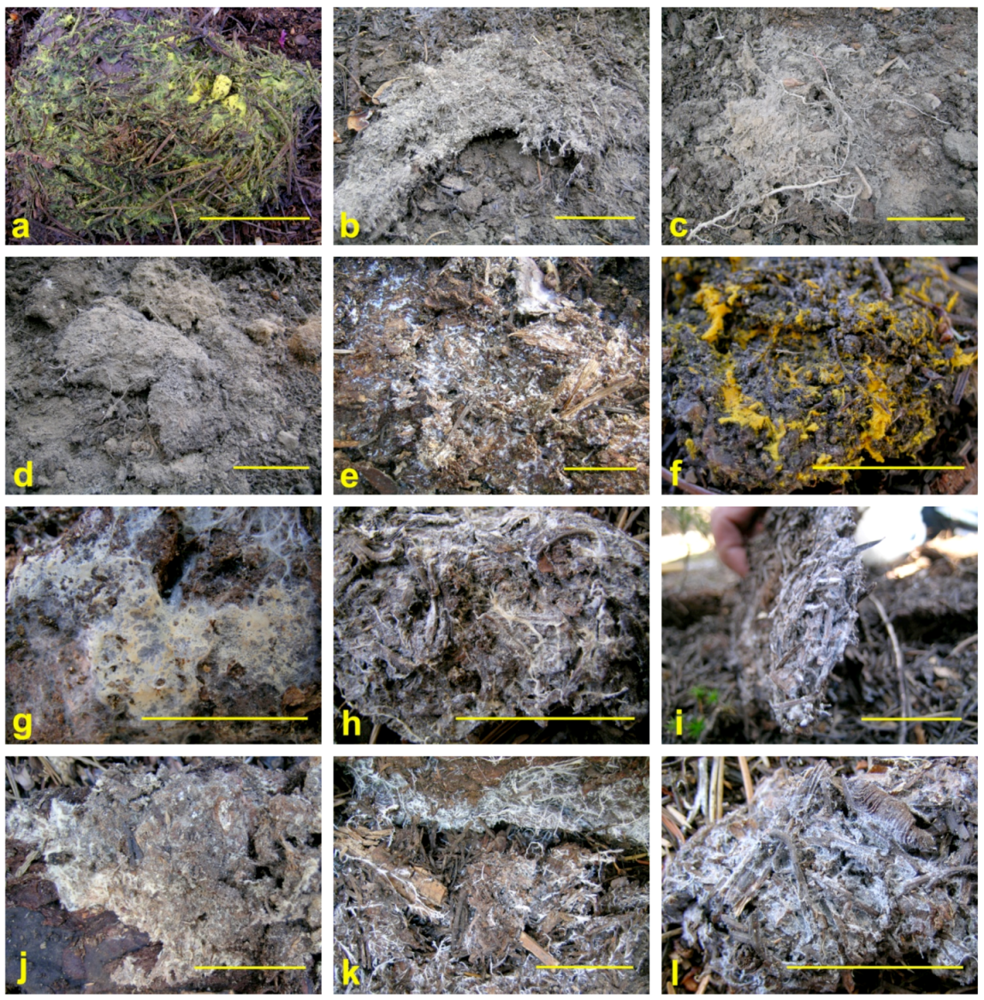 Figure 1
Share & Cite This Article
MDPI and ACS Style
Trappe, M.J.; Cromack, K., Jr.; Caldwell, B.A.; Griffiths, R.P.; Trappe, J.M. Diversity of Mat-Forming Fungi in Relation to Soil Properties, Disturbance, and Forest Ecotype at Crater Lake National Park, Oregon, USA. Diversity 2012, 4, 196-223.
Comments
[Return to top]