Relative Influence of Prior Life Stages and Habitat Variables on Dragonfly (Odonata: Gomphidae) Densities among Lake Sites
Unity College, 90 Quaker Hill Rd, Unity, ME 04988, USA
Received: 10 February 2011 / Revised: 20 March 2011 / Accepted: 24 March 2011 / Published: 14 April 2011
Abstract
Many aquatic species have discrete life stages, making it important to understand relative influences of the different habitats occupied within those populations. Although population demographics in one stage can carry over to spatially separated life stages, most studies of habitat associations have been restricted to a single life stage. Among Gomphidae dragonflies (Odonata: Anisoptera), recruitment via adult oviposition establishes initial population sizes of the aquatic larvae. However, spatial variability in larval survivorship could obscure the relationship between adult and larval densities. This study uses surveys conducted during 2005 and 2006 of Gomphidae larval, emergence, and adult stages from 22 lake sites in northern Wisconsin, USA, to investigate (1) whether the Gomphidae density of each life stage correlated spatially with that of the preceding life stage and (2) what habitat factors help explain variation in densities at each life stage. Results indicated that adult densities from the previous season helped predict densities of early-instar larvae. This finding suggests that oviposition site selection controlled the local larval distribution more than larval survivorship or movement. Late-instar larval densities helped predict densities of emerging Gomphidae later the same season, suggesting that variation in survivorship of final-instar larvae among sites is small relative to the variation in larval recruitment. This study demonstrates that locations with higher densities of odonates in the water also have higher densities of odonates on land. In addition to the densities of Gomphidae in previous life stages, water clarity helped predict larval densities, and riparian wetland vegetation helped predict emergent dragonfly densities.
View Full-Text
►

▼

Figures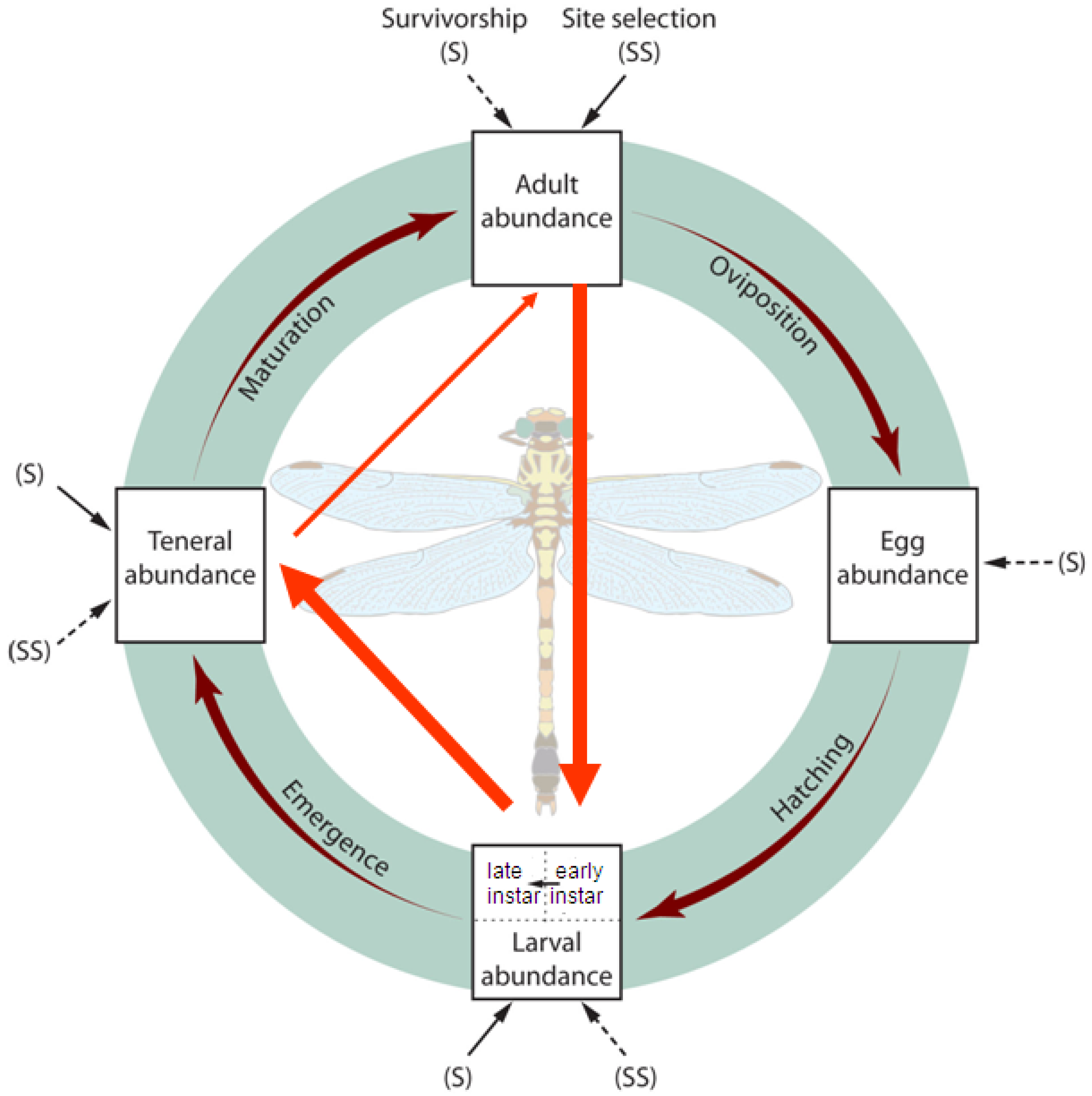 Share & Cite This Article
MDPI and ACS Style
Remsburg, A. Relative Influence of Prior Life Stages and Habitat Variables on Dragonfly (Odonata: Gomphidae) Densities among Lake Sites. Diversity 2011, 3, 200-216.
Comments
[Return to top]