Centuries-Old DNA from an Extinct Population of Aesculapian Snake (Zamenis longissimus) Offers New Phylogeographic Insight
1
Centre for GeoGenetics, Natural History Museum of Denmark, University of Copenhagen, Øster Voldgade 5–7, 1350 Copenhagen K, Denmark
2
The Royal Danish Academy of Fine Arts, Schools of Architecture, Design and Conservation, Esplanaden 34, 1263 Copenhagen K, Denmark
3
Natural History Museum of Aarhus, Wilhelm Meyers Allé 10, 8000 Aarhus C, Denmark
*
Author to whom correspondence should be addressed.
Received: 9 February 2018 / Revised: 5 March 2018 / Accepted: 7 March 2018 / Published: 10 March 2018
(This article belongs to the Special Issue
Ancient DNA
)
Abstract
The Aesculapian snake (
Zamenis longissimus
) is distributed in Central and Southern Europe, the Balkans, Anatolia, and Iran, but had a wider mid-Holocene distribution into Northern Europe. To investigate the genetic affinity of a Danish population that went extinct in historical times, we analysed three ethanol-preserved individuals dating back to 1810 using a silica-in-solution ancient DNA extraction method, combined with next-generation sequencing. Bioinformatic mapping of the reads against the published genome of a related colubrid snake revealed that two of the three specimens contained endogenous snake DNA (up to 8.6% of the reads), and this was evident for tooth, bone, and soft tissue samples. The DNA was highly degraded, observed by very short average sequence lengths (<50 bp) and 11–15% C to T deamination damage at the first 5′ position. This is an effect of specimen age, combined with suboptimal, and possibly damaging, molecular preservation conditions. Phylogeographic analyses of a 1638 bp mtDNA sequence securely placed the two Danish Aesculapian snakes in the Eastern (Balkan glacial refugium) clade within this species, and revealed one previously-undescribed haplotype. These results provide new information on the past distribution and postglacial re-colonization patterns of this species.
View Full-Text
►

▼

Figures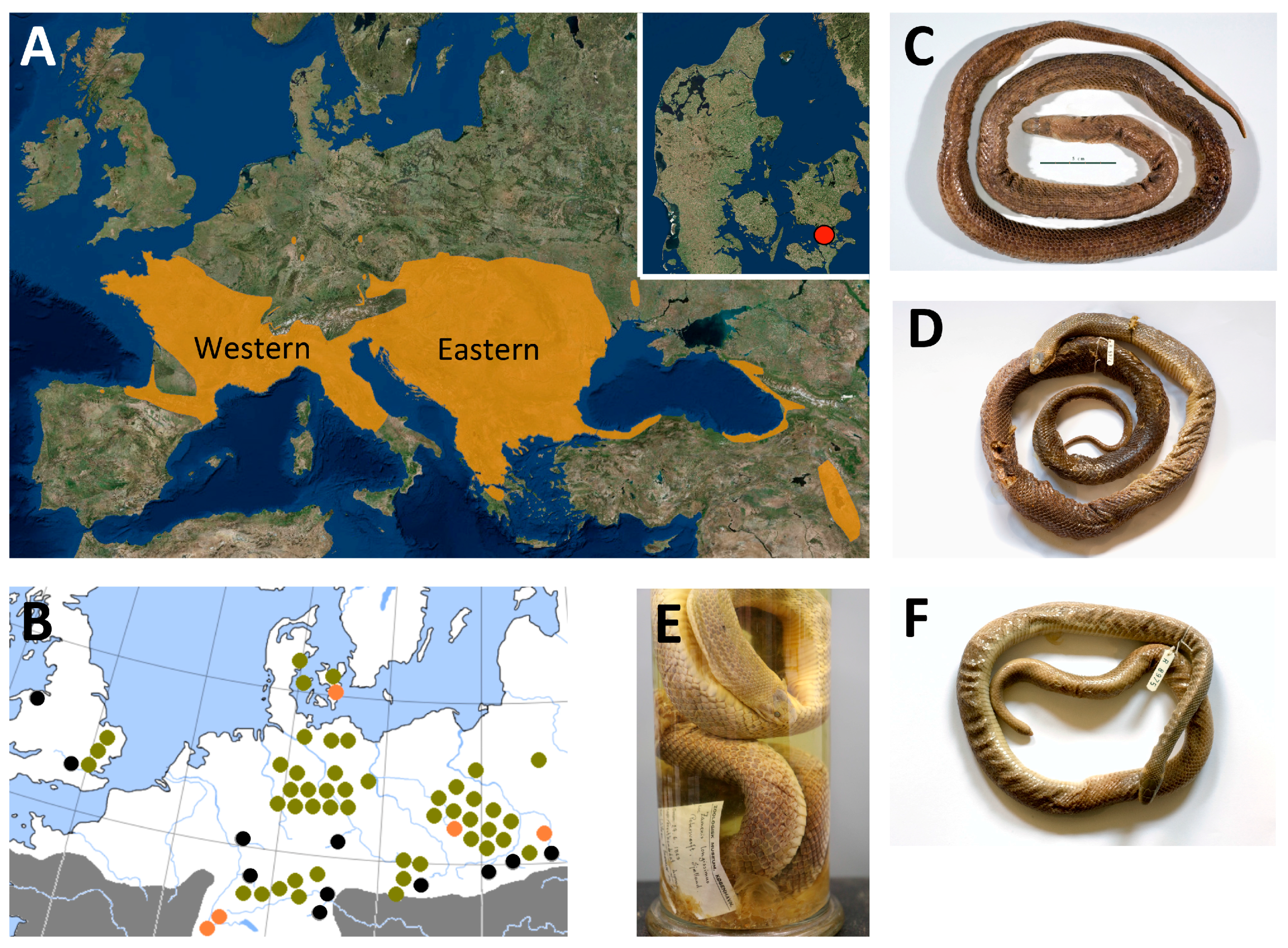 Figure 1
This is an open access article distributed under the
Creative Commons Attribution License
which permits unrestricted use, distribution, and reproduction in any medium, provided the original work is properly cited. (CC BY 4.0).
Share & Cite This Article
MDPI and ACS Style
Allentoft, M.E.; Rasmussen, A.R.; Kristensen, H.V. Centuries-Old DNA from an Extinct Population of Aesculapian Snake (Zamenis longissimus) Offers New Phylogeographic Insight. Diversity 2018, 10, 14.
Note that from the first issue of 2016, MDPI journals use article numbers instead of page numbers. See further details here.
Comments
[Return to top]