IL-12 and IL-18 Induction and Subsequent NKT Activation Effects of the Japanese Botanical Medicine Juzentaihoto
1
Department of Internal Medicine, Tokyo Metropolitan Bokutoh Hospital, Tokyo, Japan
2
Department of Oral Anatomy, Showa University, Tokyo, Japan
3
Department of Cell Biology, Hiroshima University, Hiroshima, Japan
4
Division of Rheumatic Diseases, Tokyo Metropolitan Bokutoh Hospital, Tokyo, Japan
*
Author to whom correspondence should be addressed.
Received: 17 April 2008 / Revised: 24 May 2008 / Accepted: 12 June 2008 / Published: 8 July 2008
Abstract
In this study, we first measured some cytokine concentrations in the serum of patients treated with Juzentaihoto (JTT). Of the cytokines measured interleukin (IL) -18 was the most prominently up-regulated cytokine in the serum of patients under long term JTT administration. We next evaluated the effects of JTT in mice, focusing especially on natural killer T (NKT) cell induction. Mice fed JTT were compared to control group ones. After sacrifice, the liver was fixed, embedded and stained. Transmission electron microscope (TEM) observations were performed. Although the mice receiving the herbal medicine had same appearance, their livers were infiltrated with massive mononuclear cells, some of which were aggregated to form clusters. Immunohistochemical staining revealed that there was abundant cytokine expression of IL-12 and IL-18 in the liver of JTT treated mice. To clarify what the key molecules that induce immunological restoration with JTT might be, we next examined in vitro lymphocyte cultures. Mononuclear cells isolated and prepared from healthy volunteers were cultured with and without JTT. Within 24 hours, JTT induced the IL-12 and IL-18 production and later (72 hours) induction of interferon (IFN)-gamma. Oral administration of JTT may induce the expression of IL-12 in the early stage, and IL-18 in the chronic stage, followed by NKT induction. Their activation, following immunological restoration could contribute to anti-tumor effects.
View Full-Text
►

▼

Figures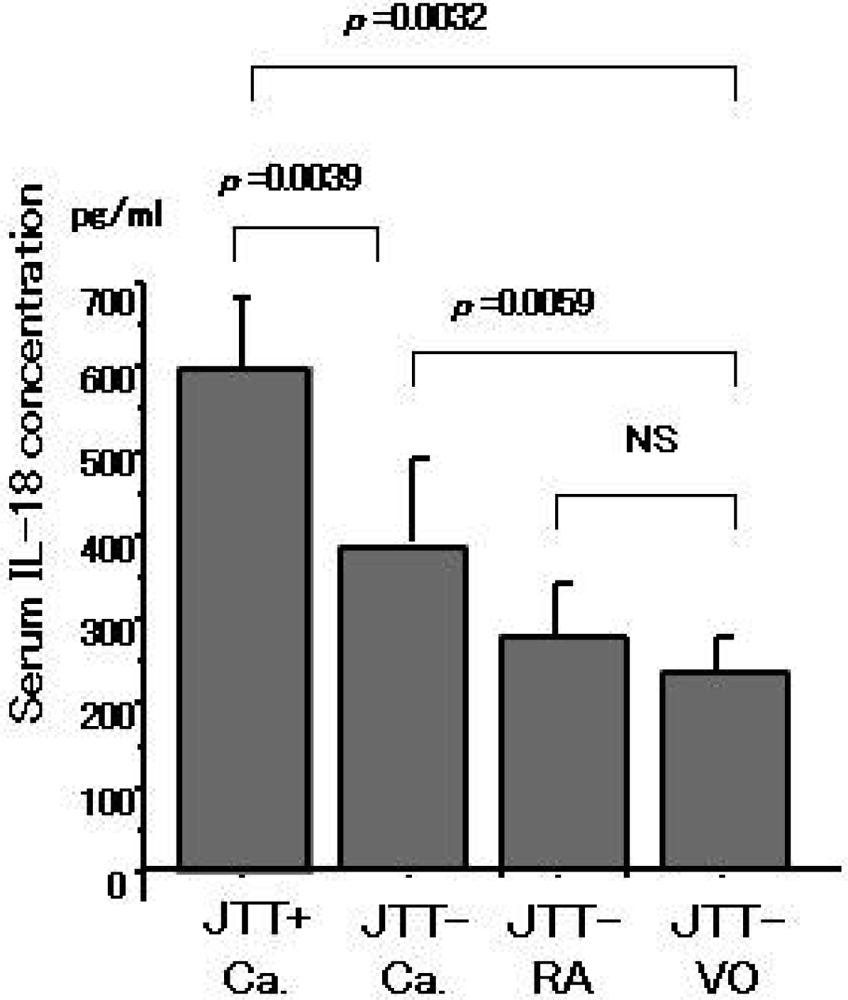 Share & Cite This Article
MDPI and ACS Style
Fujiki, K.; Nakamura, M.; Matsuda, T.; Isogai, M.; Ikeda, M.; Yamamoto, Y.; Kitamura, M.; Sazaki, N.; Yakushiji, F.; Suzuki, S.; Tomiyama, J.; Uchida, T.; Taniguchi, K. IL-12 and IL-18 Induction and Subsequent NKT Activation Effects of the Japanese Botanical Medicine Juzentaihoto. Int. J. Mol. Sci. 2008, 9, 1142-1155.
Related Articles
Comments
[Return to top]