Analogies Between Digital Radio and Chemical Orthogonality as a Method for Enhanced Analysis of Molecular Recognition Events
1
Zen Sensing, LLC. Atlanta, GA, 30030, USA
2
School of Electrical and Computer Engineering, Georgia Institute of Technology, Atlanta, GA 30332, USA
3
Oak Ridge Center for Advanced Studies, P.O. Box 2008, Building 5100, MS-6173 Oak Ridge, TN 37831-6173,USA
4
416 Maetan-3dong, Yeongtong-gu, Suwon-si, Gyeonggi-do, 443-742, Korea
*
Author to whom correspondence should be addressed.
Received: 11 January 2008 / Accepted: 24 January 2008 / Published: 8 February 2008
Abstract
Acoustic wave biosensors are a real-time, label-free biosensor technology, which have been exploited for the detection of proteins and cells. One of the conventional biosensor approaches involves the immobilization of a monolayer of antibodies onto the surface of the acoustic wave device for the detection of a specific analyte. The method described within includes at least two immobilizations of two different antibodies onto the surfaces of two separate acoustic wave devices for the detection of several analogous analytes. The chemical specificity of the molecular recognition event is achieved by virtue of the extremely high (nM to pM) binding affinity between the antibody and its antigen. In a standard ELISA (Enzyme-Linked ImmunoSorbent Assay) test, there are multiple steps and the end result is a measure of what is bound so tightly that it does not wash away easily. The fact that this "gold standard" is very much not real time, masks the dance that is the molecular recognition event. X-Ray Crystallographer, Ian Wilson, demonstrated more than a decade ago that antibodies undergo conformational change during a binding event[1, 2]. Further, it is known in the arena of immunochemistry that some antibodies exhibit significant cross-reactivity and this is widely termed antibody promiscuity. A third piece of the puzzle that we will exploit in our system of acoustic wave biosensors is the notion of chemical orthogonality. These three biochemical constructs, the dance, antibody promiscuity and chemical orthogonality will be combined in this paper with the notions of Int. J. Mol. Sci. 2008, 9 155 in-phase (I) and quadrature (Q) signals from digital radio to manifest an approach to molecular recognition that allows a level of discrimination and analysis unobtainable without the aggregate. As an example we present experimental data on the detection of TNT, RDX, C4, ammonium nitrate and musk oil from a system of antibody-coated acoustic wave sensors.
View Full-Text
►

▼

Figures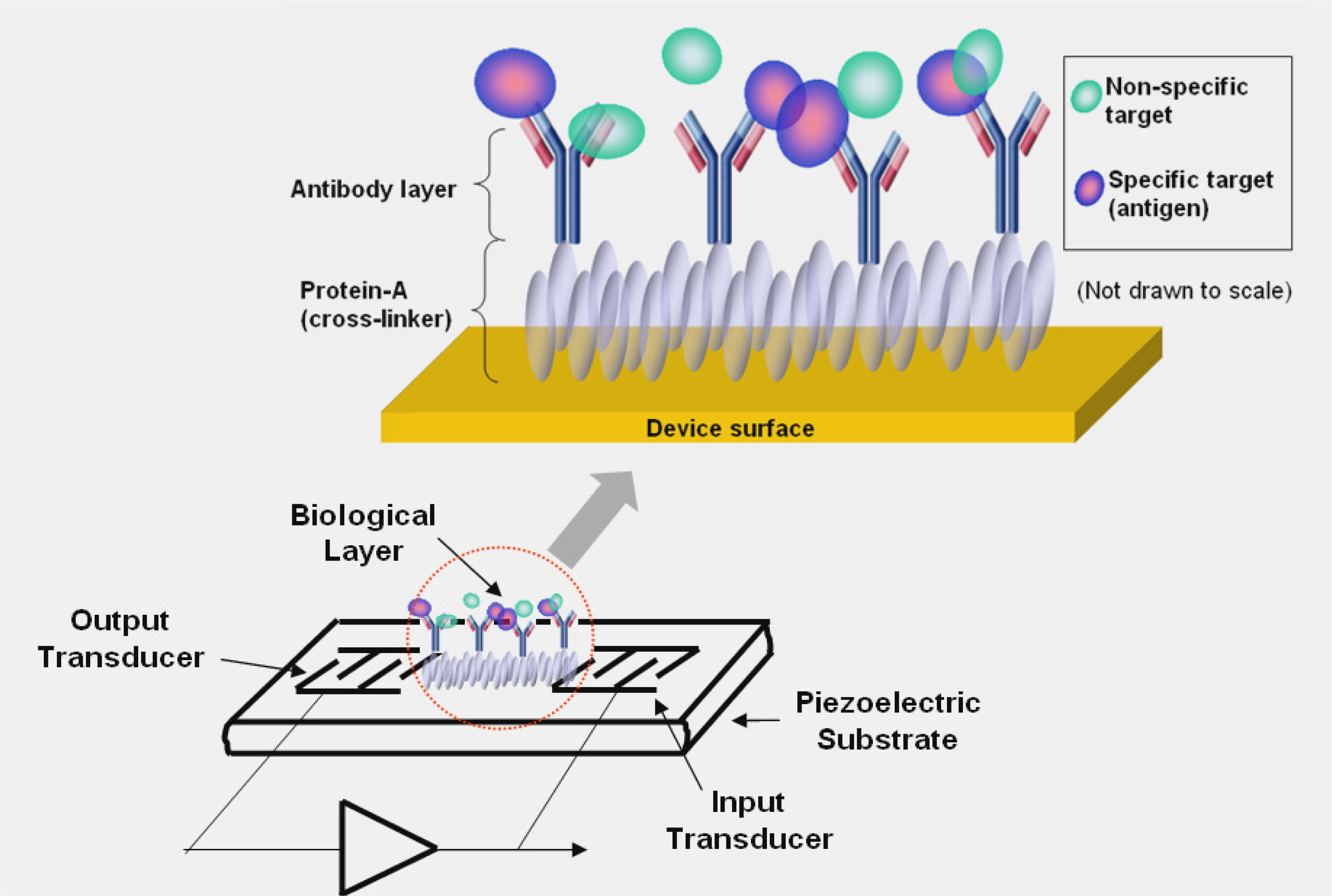 Share & Cite This Article
MDPI and ACS Style
Edmonson, P.J.; Hunt, W.D.; Stubbs, D.D.; Lee, S.-H. Analogies Between Digital Radio and Chemical Orthogonality as a Method for Enhanced Analysis of Molecular Recognition Events. Int. J. Mol. Sci. 2008, 9, 154-168.
Related Articles
Comments
[Return to top]