Analysis of Mechanisms of T-2 Toxin Toxicity Using Yeast DNA Microarrays
1
National Food Research Institute, 2-1-12 Kannondai, Tsukuba-shi, Ibaraki 305-8642, Japan
2
Health Technology Research Center, National Institute of Advanced Industrial Science and Technology, Osaka, Japan
*
Author to whom correspondence should be addressed.
Received: 23 October 2008 / Revised: 8 December 2008 / Accepted: 10 December 2008 / Published: 11 December 2008
Abstract
T-2 toxin is a mycotoxin that belongs to a group of type A tricothecenes found in agricultural products. The cytotoxicity of T-2 toxin was characterized by analysis of the yeast transcriptome upon challenge with T-2 toxin. Interestingly, T-2 toxin-induced yeast gene expression profiles were found to be similar to profiles obtained following cycloheximide treatment. Moreover, T-2 toxin treatment was found to activate facilitators, gluconeogenesis and cell arrest related genes such as mitogen-activated protein kinase genes (FUS3). T-2 toxin attacks the membrane and as a result the membrane transport system was disturbed. A large number of genes are induced to restore the toxicity caused by T-2 toxin. However, the data did not suggest that DNA damage by alkylation (Mag1, a gene 3-methyl-adenine DNA glycosylase, 0.46-fold down regulated), no induction of DNA repair mechanisms such as recombination (RAD26, RAD52 and etc.) and excision repair (RAD7, RAD14, RAD16, RAD23 and etc.). These results suggested that the toxicity of the T-2 toxin was due to the disturbance of the cell membrane of the yeast cell and that T-2 toxin caused mild mutagenesis.
View Full-Text
►

▼

Figures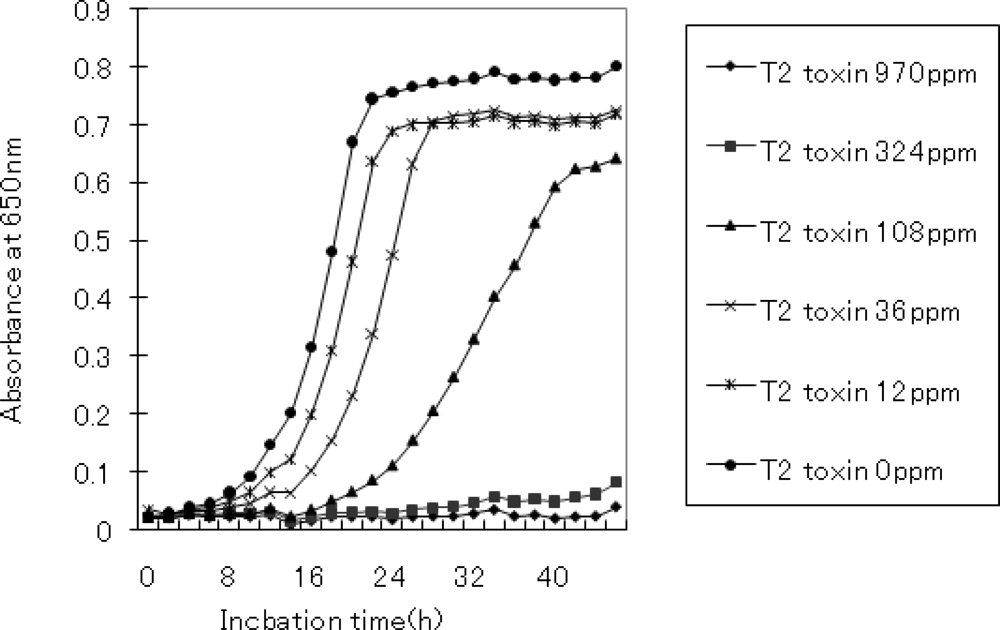 Share & Cite This Article
MDPI and ACS Style
Iwahashi, Y.; Kitagawa, E.; Iwahashi, H. Analysis of Mechanisms of T-2 Toxin Toxicity Using Yeast DNA Microarrays. Int. J. Mol. Sci. 2008, 9, 2585-2600.
Related Articles
Comments
[Return to top]