Simulation of Doxorubicin Delivery via Glucosamine(ethylene glycol) Carrier
1
Chemical Engineering Department, Faculty of Chemical Engineering Kasetsart University, 50 Phaholyothin Road, Bangkok 10900, Thailand
2
National Center of Excellence for Petroleum, Petrochemicals and Advanced Materials, Kasetsart University, Bangkok, 10900, Thailand
*
Author to whom correspondence should be addressed.
Received: 20 August 2008 / Revised: 2 October 2008 / Accepted: 13 November 2008 / Published: 21 November 2008
Abstract
This article focuses on the molecular modeling of the release of doxorubicin from capsules composed of glucosamine(ethylene glycol) oligomers. Doxorubicin forms micelle structures with glucosamine(ethylene glycol), and the drug release mechanism can be studied through the modeling of oligomeric bond breaking under acidic, neutral, or basic conditions. Under these conditions, the activation energies were calculated to be 145.51, 135.78, and 287.60 kcal/mol, respectively, at the B3LYP/6-31G//PM3 level. Based on these values, doxorubicin can be released into acidic and neutral solutions but not into basic solution. Ethylene glycol chain length in glucosamine(ethylene glycol) also effects drug release. As the length of ethylene glycol increases, the amount of drug released increases under acidic conditions, but decreases under neutral and basic conditions. When the drug is released from glucosamine(ethylene glycol) oligomers, the drug molecule and glucosamine(ethylene glycol) molecules form a micelle structure. Studies found that, as the length of the ethylene glycol chains increases, the micelle structure is more easily formed. The ethylene glycol group can deliver doxorubicin to cancer cells in micelle form.
View Full-Text
►

▼

Figures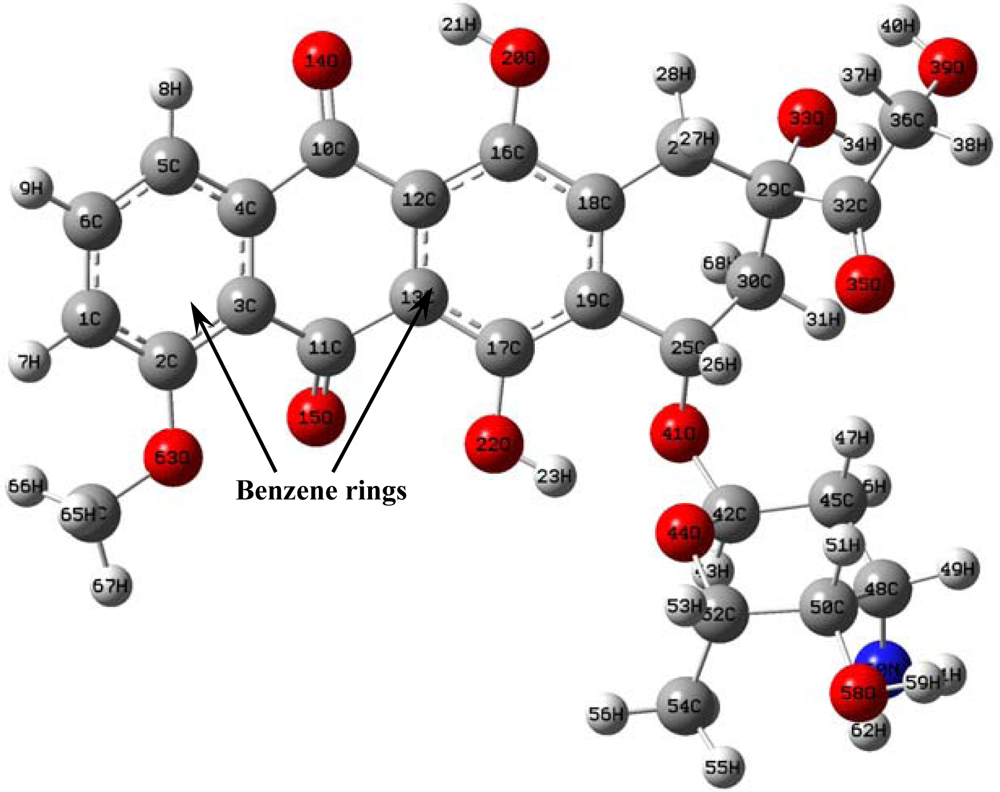 Share & Cite This Article
MDPI and ACS Style
Pirawattana, T.; Srinophakun, T. Simulation of Doxorubicin Delivery via Glucosamine(ethylene glycol) Carrier. Int. J. Mol. Sci. 2008, 9, 2290-2305.
Related Articles
Comments
[Return to top]