Relationships between Xanthohumol and Polyphenol Content in Hop Leaves and Hop Cones with Regard to Water Supply and Cultivar
1
Slovenian Institute for Hop Research and Brewing, Žalskega tabora 2, SI-3310 Žalec, Slovenia
2
Chair of Chemisty, Department of Food Science and Technology,, Biotechnical Faculty, University of Ljubljana, Jamnikarjeva 101, SI-1111 Ljubljana, Slovenia
*
Author to whom correspondence should be addressed.
Received: 30 May 2007 / Revised: 20 August 2007 / Accepted: 9 September 2007 / Published: 12 September 2007
Abstract
The effect of water supply – especially of drought stress – on the content ofsome secondary metabolites in hops (Humulus lupulus L.) was studied. The experimenttook place in 2006. Some relevant data from 2005 were included for comparison. Leavesand cones of nine hop cultivars grown under field conditions as well as in a pot experimentunder three water regimes were analyzed. The cultivars ranged from those most grown inSlovenia to promising crossbreed being tested. Leaves were sampled from July 18, 2006 toAugust 18, 2006, while cones were picked in the time of technological maturity. Standardanalytical methods were applied to determine the contents of xanthohumol, polyphenolsand α-acids in hop leaves and hop cones. The contents of the secondary metabolites inquestion depended more on the cultivar under investigation than on the water supply, atleast as far the growing conditions for a relatively normal development of the plant weremet.
View Full-Text
►

▼

Figures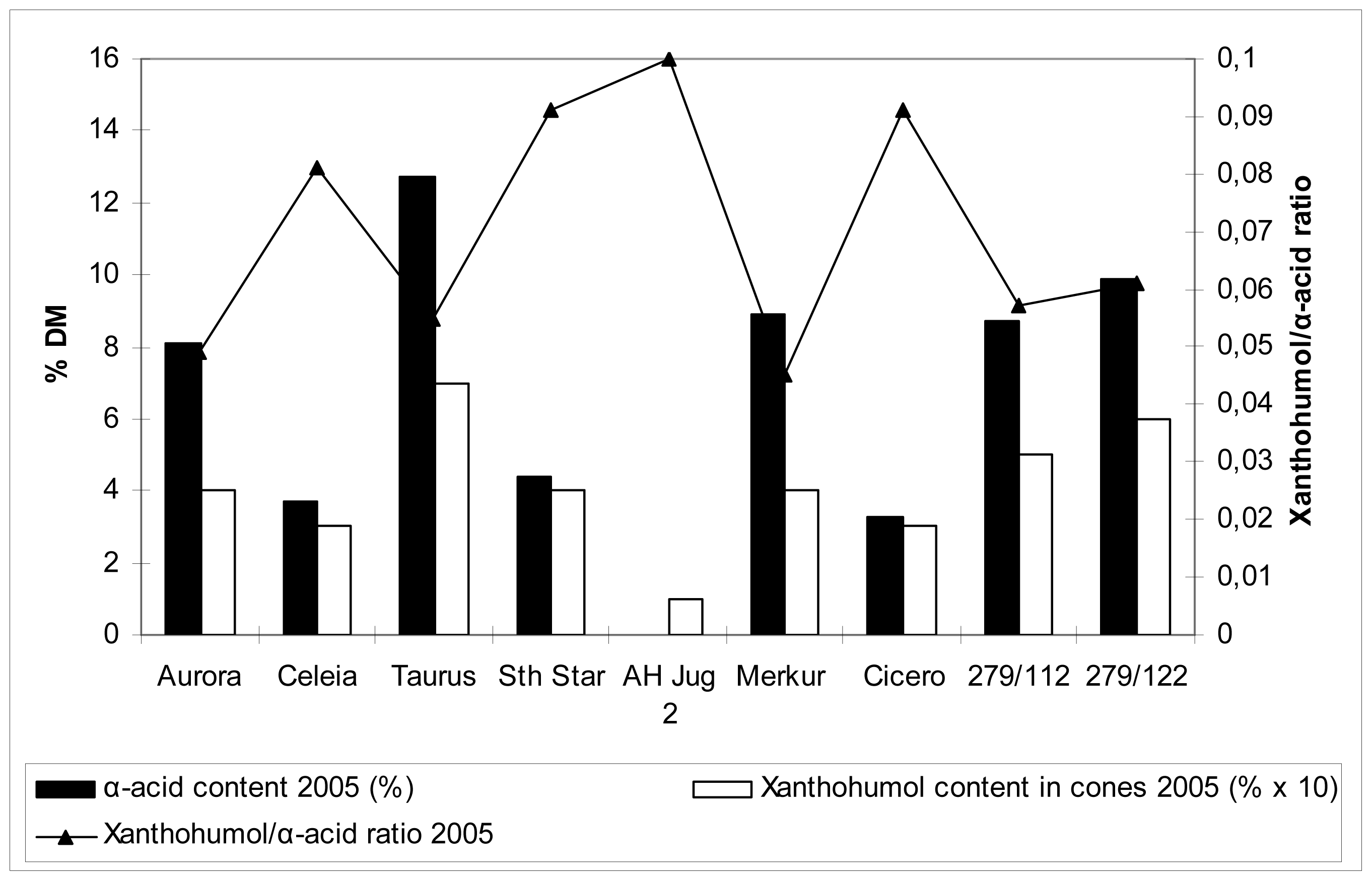 Share & Cite This Article
MDPI and ACS Style
Ceh, B.; Kac, M.; Košir, I.J.; Abram, V. Relationships between Xanthohumol and Polyphenol Content in Hop Leaves and Hop Cones with Regard to Water Supply and Cultivar. Int. J. Mol. Sci. 2007, 8, 989-1000.
Related Articles
Comments
[Return to top]