Application of Osthol Induces a Resistance Response Against Powdery Mildew in Pumpkin Leave
1
Department of Plant Protection of Nanjing Agricultural University, Nanjing210095, China
2
Food Safety institute, Jiangsu Academy of Agricultural Sciences, Nanjing 210014, China
3
Institute of Biotechnology, Jiangsu Academy of Agricultural Sciences, Nanjing 210014, China
*
Author to whom correspondence should be addressed.
Received: 30 May 2007 / Revised: 20 August 2007 / Accepted: 6 September 2007 / Published: 14 September 2007
Abstract
Plants can defend themselves against fungal infection by natural means inducedby biotic and abiotic elicitors. Osthol is a natural compound extracted from dried fruits ofCnidii Monnieri Fructus. In this study, it has been shown to not only be a fungicide withacceptable curative properties (control efficacy of 68.72), but it also showed a significantprophylactic effect (with control efficacy of 77.36) against pumpkin powdery mildew at aconcentration of 100 μg·mL
-1
. In pumpkin leaves with/or without inoculation ofSphaerotheca fuliginea, osthol treatment induced the accumulation of chitinase andperoxidase and enhanced the transcription of chitinase gene in non-inoculated leaves. Thepotentiation of phenylalanine amonia-lyase activity in leaves by osthol application andfollowing inoculation was absent in that with inoculation or osthol treatment, indicatingthat induced PAL in osthol-pretreated plants was inoculation-mediated. In conclusion, thisnatural compound could induce resistance response in the plant against powdery mildew.
View Full-Text
►

▼

Figures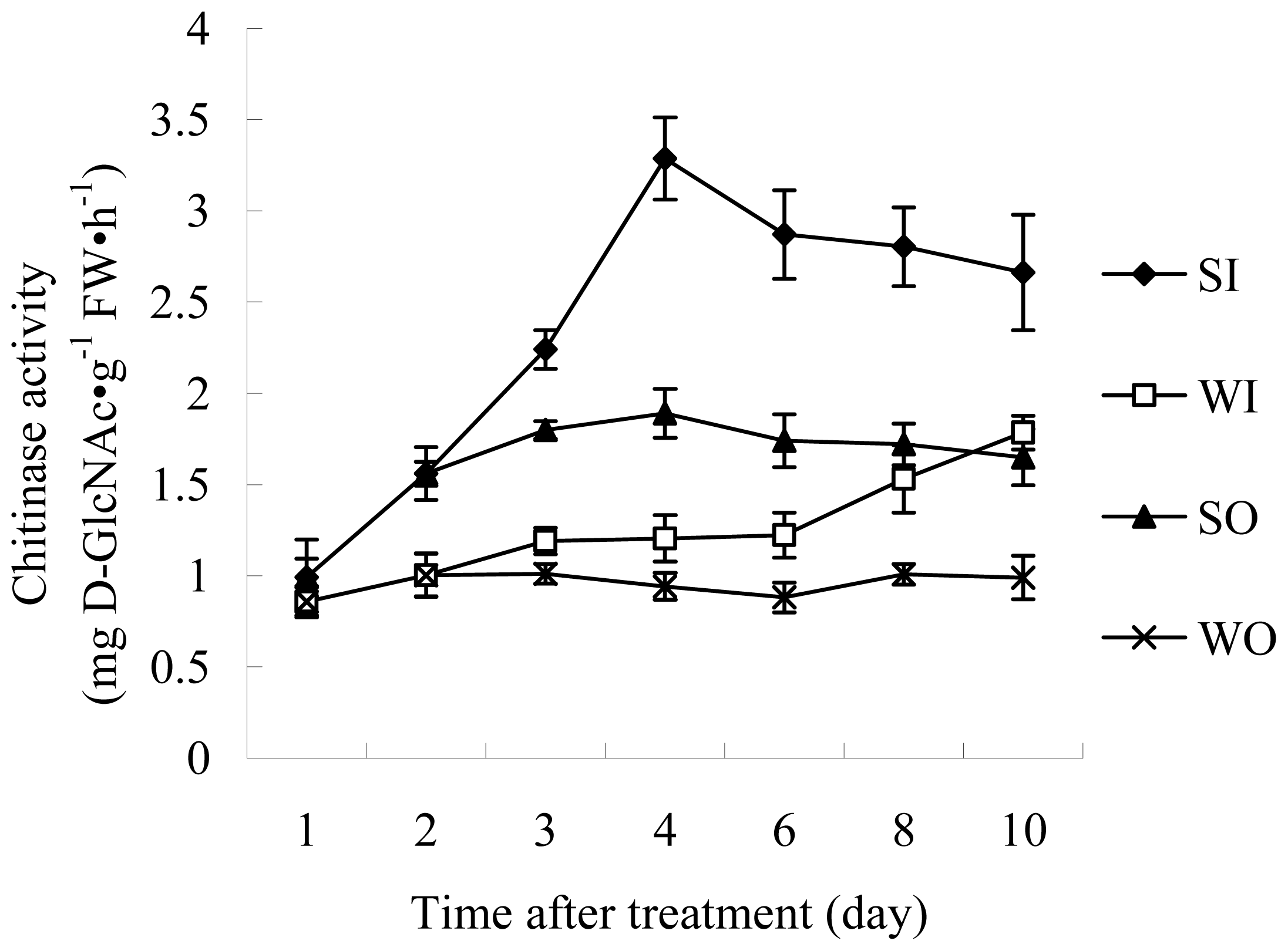 Share & Cite This Article
MDPI and ACS Style
Shi, Z.; Wang, F.; Zhou, W.; Zhang, P.; Fan, Y.J. Application of Osthol Induces a Resistance Response Against Powdery Mildew in Pumpkin Leave. Int. J. Mol. Sci. 2007, 8, 1001-1012.
Related Articles
Comments
[Return to top]