Antiplatelet Effect and Selective Binding to Cyclooxygenase (COX) by Molecular Docking Analysis of Flavonoids and Lignans
1
Department of Physical Medicine and Rehabilitation, Yuan's General Hospital, Kaohsiung 802, Taiwan
2
School of Pharmacy, Kaohsiung Medical University, Kaohsiung 807, Taiwan
3
Department of Biotechnology, Chia-Nan University of Pharmacy and Science, Tainan Hsien 717, Taiwan
4
School of Technology for Medical Science, Kaohsiung Medical University, Kaohsiung 807, Taiwan
5
Department of Biological Science and Technology, China Medical University, Taichung 404, Taiwan
6
Department of Biochemistry, China Medical University, Taichung 404, Taiwan
7
Department of Education and Research, Taichung Veterans General Hospital, Taiwan 407, Taiwan
*
Author to whom correspondence should be addressed.
Received: 30 July 2007 / Revised: 15 August 2006 / Accepted: 15 August 2007 / Published: 22 August 2007
Abstract
The known flavonoids ginkgetin (1), taiwanhomoflavone A (2),taiwanhomoflavone B (3), and taiwanhomoflavone C (4) and eight known lignans:justicidin B (9), justicidin C (10), justicidin D (11), chinensinaphthol methyl ether (12),procumphthalide A (13), procumbenoside A (15), and ciliatosides A (16) and B (17) wereisolated from Cephalotaxus wilsoniana and Justicia species, respectively. The antiplateleteffects of the above constituents on human platelet-rich plasma (PRP) were evaluated. Ofthe compounds tested on human PRP, compounds 1, 4, 9, and 11 showed inhibition ofsecondary aggregation induced by adrenaline. Compound 1 had an inhibitory effect oncyclooxygenase-1 (COX-1). Molecular docking studies revealed that 1 and the related compounds apigenin (5), cycloheterophyllin (6), broussoflavone F (7), and quercetin (8) were docked near the gate of active site of COX-1. It indicated that the antiplatelet effect of 1, 4, 9, and 11 is partially owed to suppression of COX-1 activity and reduced thromboxane formation. Flavonoids, 1, 5, 6, 7, and 8 may block the gate of the active site of COX-1 and interfere the conversion of arachidonic acid to prostaglandin (PG) H
2
in the COX-1 active site.
View Full-Text
►

▼

Figures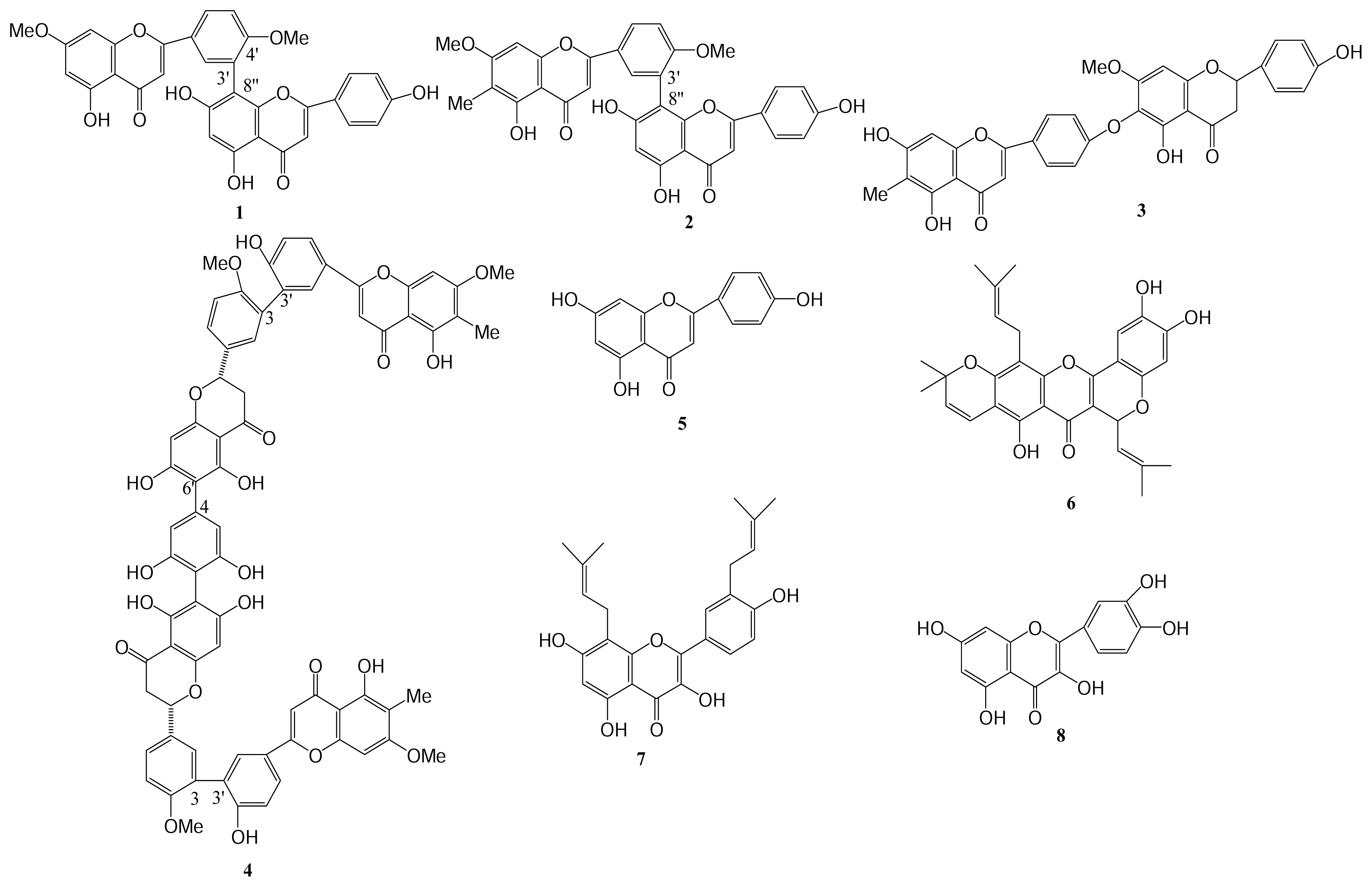 Share & Cite This Article
MDPI and ACS Style
Wu, C.-M.; Wu, S.-C.; Chung, W.-J.; Lin, H.-C.; Chen, K.-T.; Chen, Y.-C.; Hsu, M.-F.; Yang, J.-M.; Wang, J.-P.; Lin, C.-N. Antiplatelet Effect and Selective Binding to Cyclooxygenase (COX) by Molecular Docking Analysis of Flavonoids and Lignans. Int. J. Mol. Sci. 2007, 8, 830-841.
Related Articles
Comments
[Return to top]