Antiproliferative Activity of β-Hydroxy-β-Arylalkanoic Acids
1
Faculty of Pharmacy, University of Belgrade, Vojvode Stepe 450, 11000 Belgrade, Serbia
2
Institute for Oncology and Radiology of Serbia, Pasterova 14, 11000 Belgrade, Serbia
3
Department of Chemistry, Institute of Chemistry, Technology and Metallurgy, Njegoševa 12, 11000 Belgrade, Serbia
4
Faculty of Chemistry, University of Belgrade, P.O. Box 158, 11001 Belgrade, Serbia
*
Author to whom correspondence should be addressed.
Received: 13 February 2007 / Accepted: 5 March 2007 / Published: 13 March 2007
Abstract
Article describes the synthesis of fifteen β-hydroxy-β-arylalkanoic acids byReformatsky reaction using the 1-ethoxyethyl-2-bromoalkanoates, aromatic or cycloalkylketones or aromatic aldehydes. The short survey of previously reported synthetic proceduresfor title compounds, is given. The majority of obtained compounds exert antiproliferativeactivity in vitro toward human: HeLa, Fem-X cells, K562, and LS174 cells, having IC
50
values from 62.20 to 205 μM. The most active compound is 3-OH-2,2-di-Me-3-(4-biphenylyl)-butanoic acid, having the IC
50
value 62.20 μM toward HeLa cells. Sevenexamined compounds did not affect proliferation of healthy human blood peripheralmononuclear cells (PBMC and PBMC PHA), IC
50
> 300 μM. The preliminary QSARresults show that estimated lipophilicity of compounds influences their antiproliferativeactivity in the first place. The ability of dehydration, and the spatial arrangement ofhydrophobic portion, HBD and HBA in molecules are has almost equal importance aslipophilicity.
View Full-Text
►

▼

Figures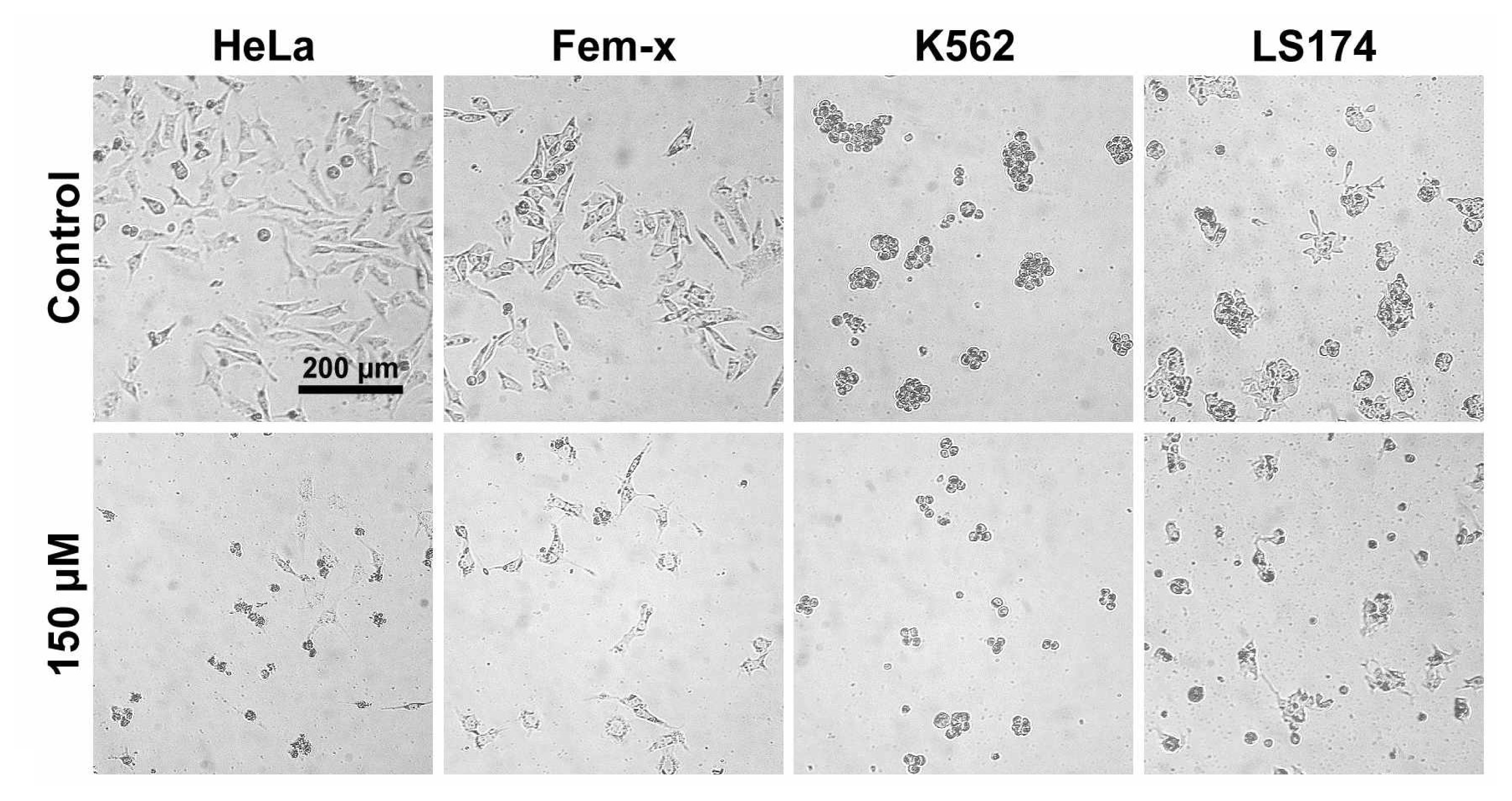 Share & Cite This Article
MDPI and ACS Style
Dilber, S.P.; Žižak, Ž.S.; Stanojković, T.P.; Juranić, Z.D.; Drakulić, B.J.; Juranić, I.O. Antiproliferative Activity of β-Hydroxy-β-Arylalkanoic Acids. Int. J. Mol. Sci. 2007, 8, 214-228.
Related Articles
Comments
[Return to top]