Cell Adhesion Regulates Expression of the Androgen Receptor and Coregulators in Different Prostate Cancer Cells
1
Department of Thoracic Surgery, Shanghai Cancer Hospital, Fudan University, Shanghai 200032, P.R.China
2
Institute for Nutritional Sciences, SIBS, Chinese Academy of Sciences, Shanghai 200031, P.R.China
*
Author to whom correspondence should be addressed.
Received: 6 December 2006 / Accepted: 19 February 2007 / Published: 28 February 2007
Abstract
Prostate cancer cells adhere to a tumor basement membrane, while secretoryepithelial cells reside in a suprabasal cell compartment. Since tumor cells are derived fromsuprabasal epithelial cells, they experience de-novo substratum adhesion in the context ofoncogenesis. We therefore analyzed whether cell-matrix adhesion could affect the proteinexpression and activity of the AR. In this study, AR protein expression declined uponsuspension of BPH-1-AR cells, but not in PC-3-AR cells shown by Western blot. In a timecourse study, BPH-1 cell lost AR expression within 6 hours, and the synthetic androgen,R1881 reduced the loss of AR expression. We further explored the mechanism of AR loss insuspended BPH-1 cells. BPH-1-AR cells underwent apoptosis (anoikis) when suspended for2 - 5 hours. Suspension did not induce significant apoptosis or decreasing of AR expressionin PC-3 cells. Inhibition of apoptosis in suspended BPH-1-AR cells, either by expression ofBcl-2 or Bcl-xl or by treatment with Z-VAD, a caspase inhibitor, prevented loss of ARprotein. In contrast, the calpain protease inhibitor , ALLN, accelerated the loss of AR proteinexpression. Additionally, cell-matrix adhesion changed the expression of coregulators of ARin the mRNA level of prostate cancer cells. Our results demonstrate that AR proteinexpression was reduced through activation of cell death pathways, and thus indirectly through cell suspension in BPH-AR cells. The activity of AR can also be regulated by adhesion in PC-3-AR and LNCaP cells through affecting the coregulators level.
View Full-Text
►

▼

Figures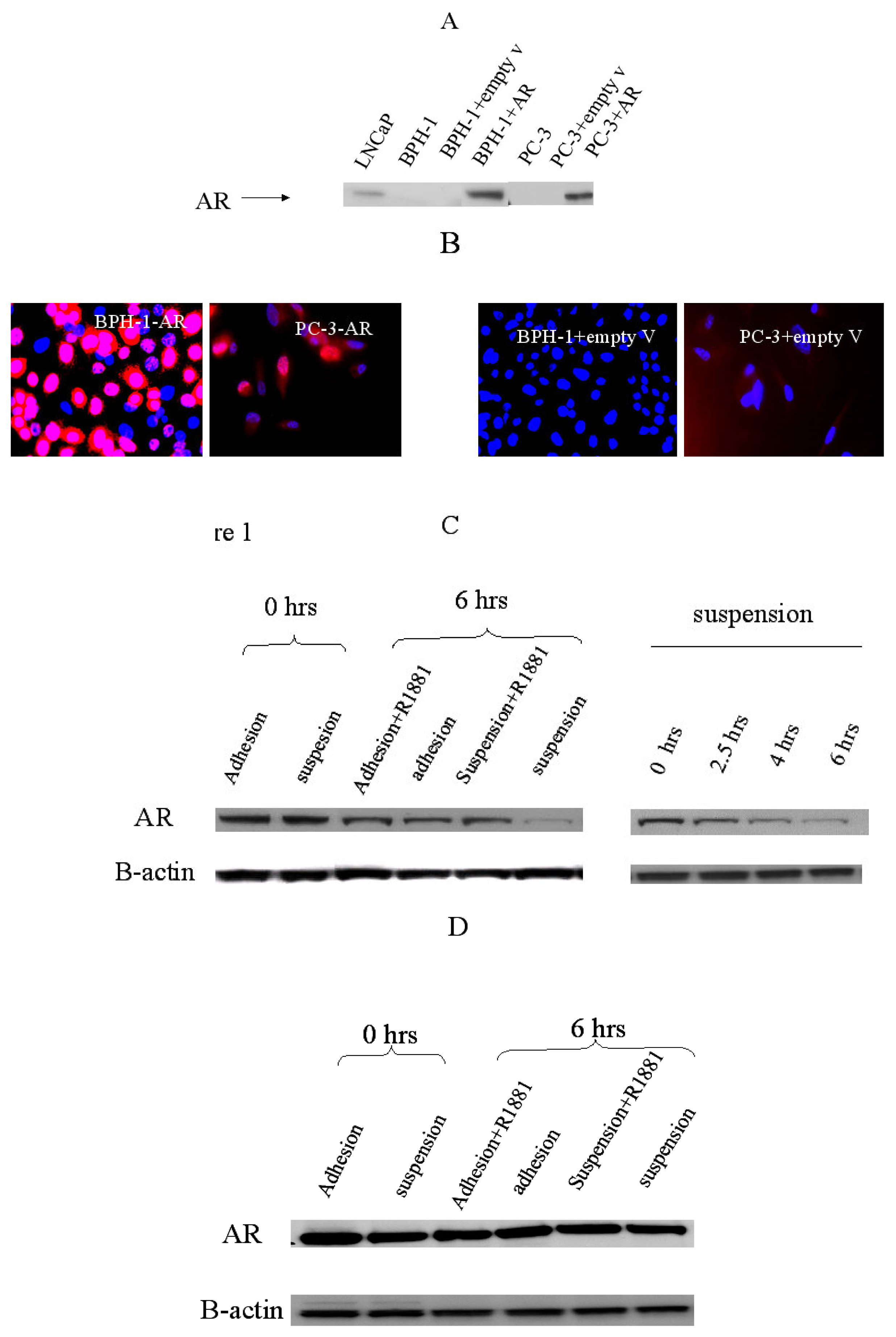 Share & Cite This Article
MDPI and ACS Style
Zhang, J.; Xiang, J.-Q.; Zhang, Y.-W.; Chen, Y.-Y.; Zhou, X.-Y.; Liu, Y.; Li, S. Cell Adhesion Regulates Expression of the Androgen Receptor and Coregulators in Different Prostate Cancer Cells. Int. J. Mol. Sci. 2007, 8, 156-165.
Related Articles
Comments
[Return to top]