Electronic Mechanisms of Intra and Intermolecular J Couplings in Systems with C-H···O Interactions
Departamento de Física, Facultad de Ciencias Exactas y Naturales, Universidad de Buenos Aires, Ciudad Universitaria Pab. 1, (1428) Buenos Aires, Argentina
+
Member of Carrera del Investigador, CONICET.
#
Molsoft LLC, 3366 N Torrey Pines Ct., Ste 300, La Jolla, CA 92037, USA.
*
Author to whom correspondence should be addressed.
Received: 15 October 2002 / Accepted: 19 November 2002 / Published: 4 April 2003
Abstract
Correlation effects on the change of
1
J(CH) couplings in model systems I:NCH...H
2
O and II:CH
4
...H
2
O as a function of the H...O distance are discussed. RPA and SOPPA results follow a similar trend in system II. In system I RPA values decrease monotonously as the H...O distance decreases, while SOPPA ones exhibit flat maximum near equilibrium. Such different behavior is ascribed to the π-transmitted component. Intermolecular couplings at the equilibrium geometry of I are analyzed by means of the CLOPPA approach. The larger absolute value of
2h
J(CO) compared to
1h
J(HO) is found to arise from contributions involving a vacant LMO localized in the C-H...O moiety.
View Full-Text
►

▼

Figures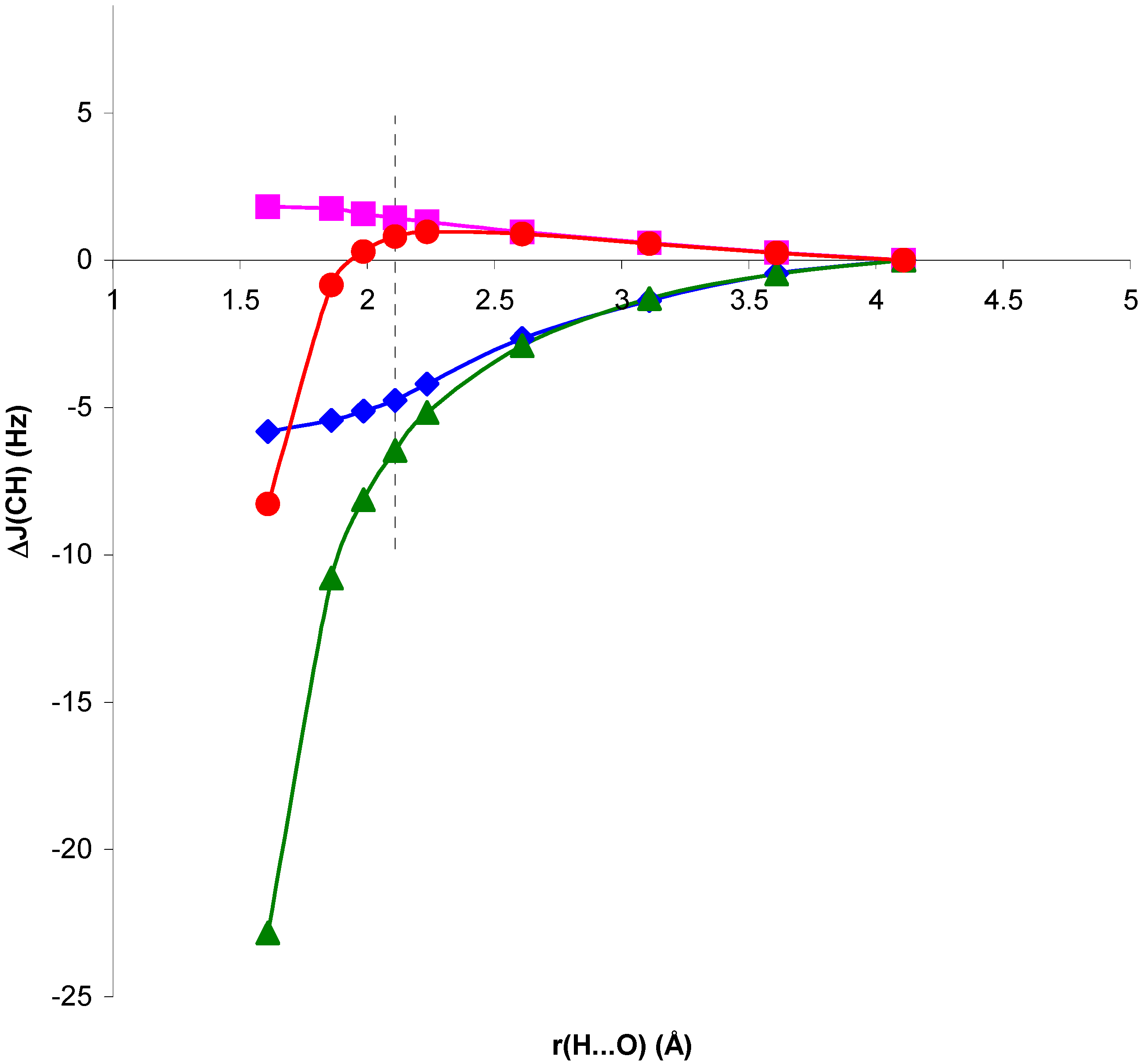 Figure 1
Share & Cite This Article
MDPI and ACS Style
Giribet, C.G.; Ruiz de Azua, M.C.; Vizioli, C.V.; Cavasotto, C.N. Electronic Mechanisms of Intra and Intermolecular J Couplings in Systems with C-H···O Interactions. Int. J. Mol. Sci. 2003, 4, 203-217.
Related Articles
Comments
[Return to top]