Potential Functions of Al2 by the Relativistic Fock-Space Coupled Cluster Method
1
School of Chemistry, Tel Aviv University, 69978 Tel Aviv, Israel
2
Department of Theoretical Chemistry, Faculty of Sciences, Vrije Universiteit Amsterdam, De Boelelaan 1083, NL-1081 HV Amsterdam, The Netherlands
*
Author to whom correspondence should be addressed.
Received: 4 December 2001 / Accepted: 4 February 2002 / Published: 31 May 2002
Abstract
Potential functions of the ground and low excited states of Al
2
are calculated by the relativistic Fock-space coupled cluster method in the framework of the projected Dirac-Coulomb Hamiltonian. A moderate-size basis [16s11p3d3f/6s6p3d2f] is used.
3
Π
u
is confirmed as the ground state of the system. Its spin orbit splittings are reproduced well, with the Λ = 1, 2 states lying 32.5 and 66.1 cm
−1
, respectively, above the Λ = 0 minimum (experimental values are 30.4 and 63.4 cm
−1
). The bond is somewhat too weak, with D
e
0.14 eV below experiment, R
e
too high by 0.08 ˚A, and ω
e
21 cm
−1
too low. It is speculated that the better agreement obtained in earlier calculations may be due to neglect of basis set superposition errors. The description of bonding in the molecule may be improved by the use of a better basis and the inclusion of more correlation by the intermediate Hamiltonian coupled cluster method, which makes it possible to handle larger P spaces and extend the potential functions to the whole range of internuclear separations.
View Full-Text
►

▼

Figures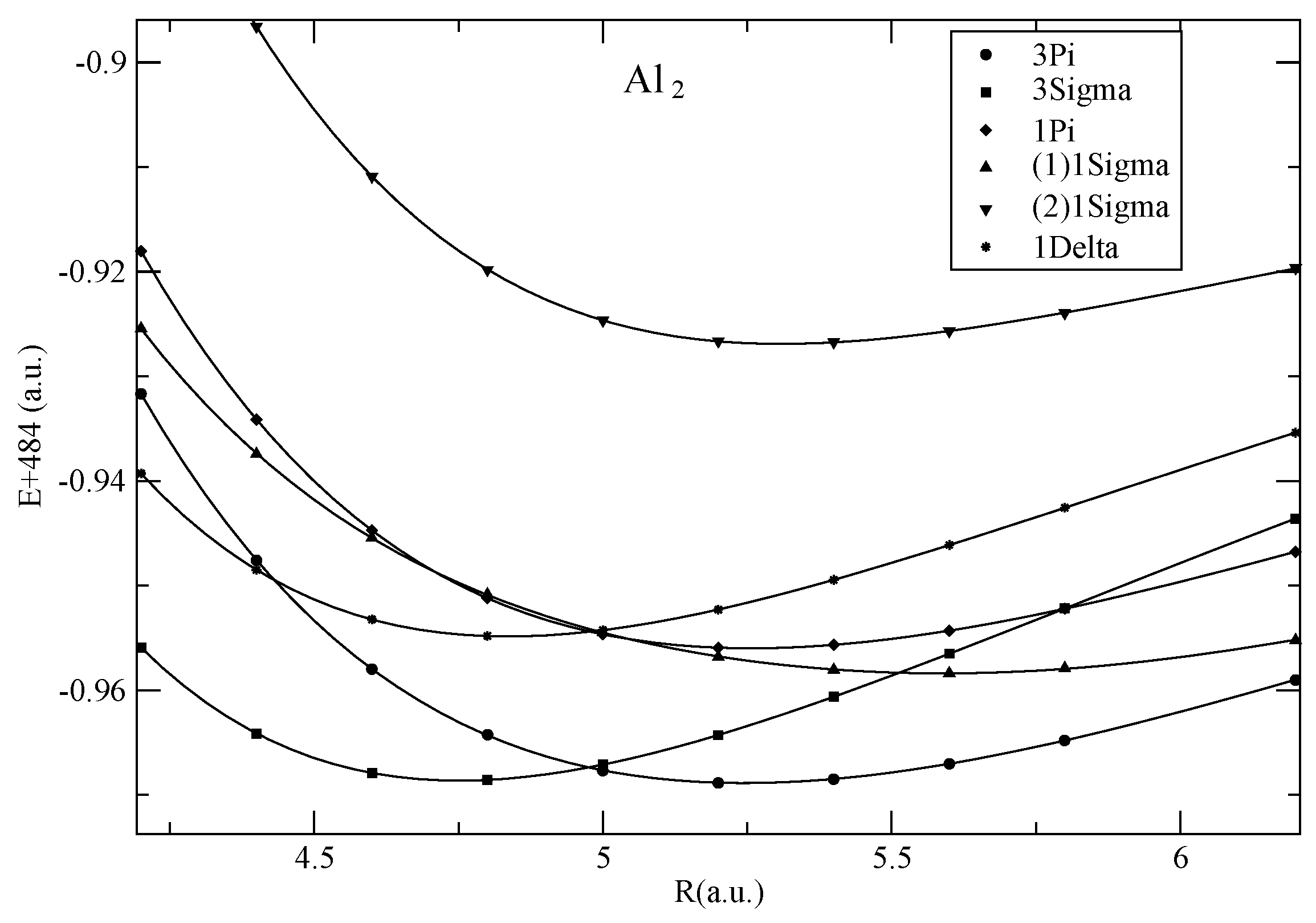 Figure 1
Share & Cite This Article
MDPI and ACS Style
Landau, A.; Eliav, E.; Visscher, L.; Kaldor, U. Potential Functions of Al2 by the Relativistic Fock-Space Coupled Cluster Method. Int. J. Mol. Sci. 2002, 3, 498-507.
Related Articles
Comments
[Return to top]