Calsenilin, a Presenilin Interactor, Regulates RhoA Signaling and Neurite Outgrowth
1
Ilsong Institute of Life Science, Hallym University, Anyang, Gyeonggi-do 14066, Korea
2
Department of Biomedical Gerontology, Graduate School of Hallym University, Chuncheon, Gangwon-do 24252, Korea
3
Department of Biochemistry, College of Medicine, Hallym University, Chuncheon, Gangwon-do 24252, Korea
4
Genetics and Aging Research Unit, Mass General Institute for Neurodegenerative Disease, Department of Neurology, Massachusetts General Hospital, Harvard Medical School, Charlestown, MA 02129, USA
5
Department of Psychiatry, Icahn School of Medicine at Mount Sinai, New York, NY 10029, USA
6
Department of Microbiology, College of Medicine, Hallym University, Chuncheon, Gangwon-do 24252, Korea
*
Author to whom correspondence should be addressed.
Received: 12 March 2018 / Revised: 6 April 2018 / Accepted: 9 April 2018 / Published: 13 April 2018
Abstract
Calsenilin modulates A-type potassium channels, regulates presenilin-mediated γ-secretase activity, and represses prodynorphin and
c-fos
genes expression. RhoA is involved in various cellular functions including proliferation, differentiation, migration, transcription, and regulation of the actin cytoskeleton. Although recent studies demonstrate that calsenilin can directly interact with RhoA and that RhoA inactivation is essential for neuritogenesis, it is uncertain whether there is a link between calsenilin and RhoA-regulated neuritogenesis. Here, we investigated the role of calsenilin in RhoA-regulated neuritogenesis using in vitro and in vivo systems. We found that calsenilin induced RhoA inactivation, which accompanied RhoA phosphorylation and the reduced phosphorylation levels of LIM kinase (LIMK) and cofilin. Interestingly, PC12 cells overexpressing either full-length (FL) or the caspase 3-derived C-terminal fragment (CTF) of calsenilin significantly inactivated RhoA through its interaction with RhoA and p190 Rho GTPase-activating protein (p190RhoGAP). In addition, cells expressing FL and the CTF of calsenilin had increased neurite outgrowth compared to cells expressing the N-terminal fragment (NTF) of calsenilin or vector alone. Moreover, Tat-C3 and Y27632 treatment significantly increased the percentage of neurite-bearing cells, neurite length, and the number of neurites in cells. Finally, calsenilin deficiency in the brains of calsenilin-knockout mice significantly interfered with RhoA inactivation. These findings suggest that calsenilin contributes to neuritogenesis through RhoA inactivation.
View Full-Text
►

▼

Figures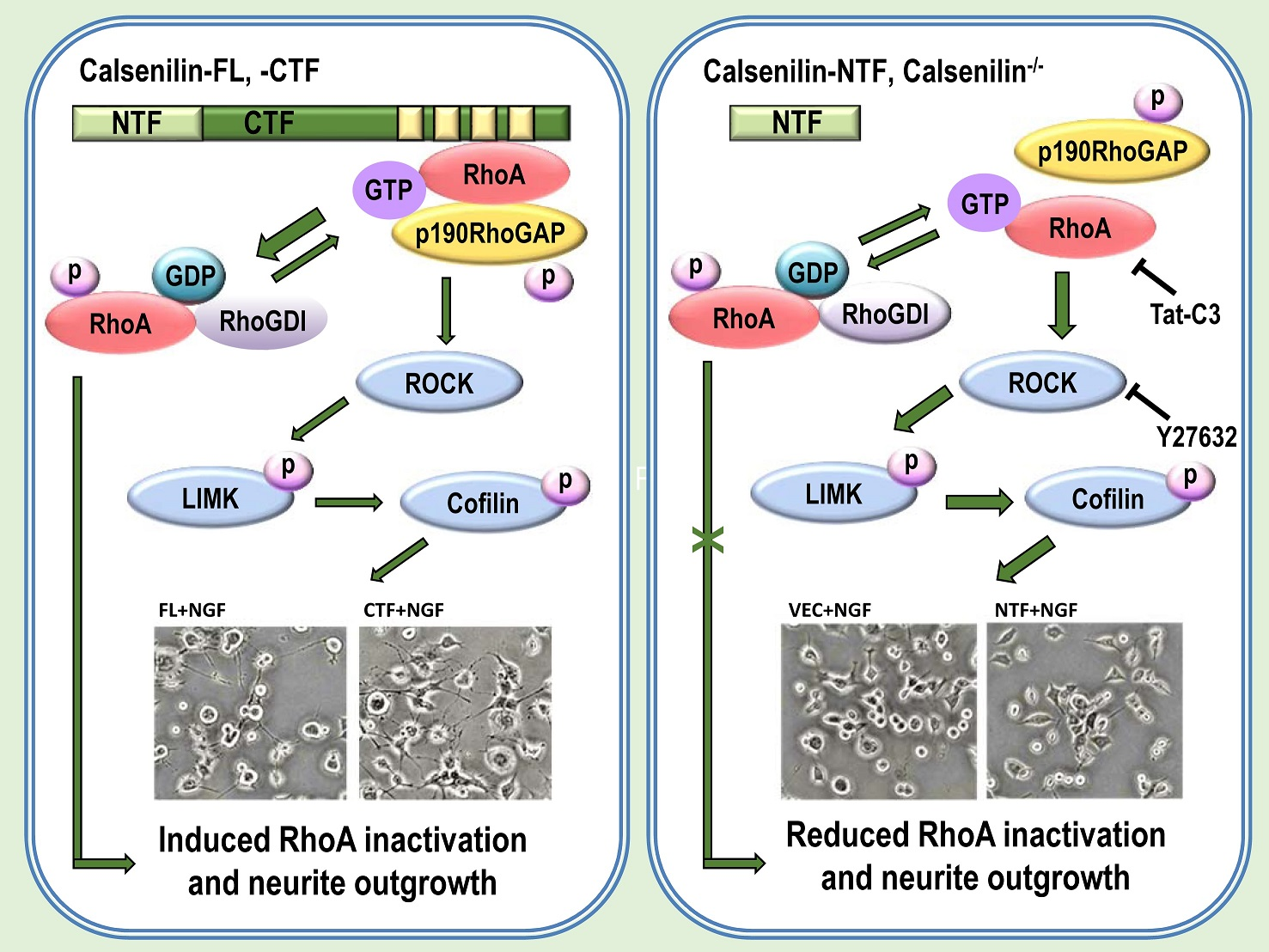 This is an open access article distributed under the
Creative Commons Attribution License
which permits unrestricted use, distribution, and reproduction in any medium, provided the original work is properly cited. (CC BY 4.0).
Share & Cite This Article
MDPI and ACS Style
Kim, H.-J.; Lee, W.-H.; Kim, M.-J.; Shin, S.; Jang, B.; Park, J.-B.; Wasco, W.; Buxbaum, J.D.; Kim, Y.-S.; Choi, E.-K. Calsenilin, a Presenilin Interactor, Regulates RhoA Signaling and Neurite Outgrowth. Int. J. Mol. Sci. 2018, 19, 1196.
Note that from the first issue of 2016, MDPI journals use article numbers instead of page numbers. See further details here.
Related Articles
Comments
[Return to top]