Glycine-Binding Site Stimulants of NMDA Receptors Alleviate Extrapyramidal Motor Disorders by Activating the Nigrostriatal Dopaminergic Pathway
Laboratory of Pharmacology, Osaka University of Pharmaceutical Sciences, 4-20-1 Nasahara, Takatsuki, Osaka 569-1094, Japan
*
Author to whom correspondence should be addressed.
Received: 1 June 2017 / Revised: 23 June 2017 / Accepted: 29 June 2017 / Published: 3 July 2017
Abstract
Dysfunction of the
N
-methyl-
d
-aspartate (NMDA) receptor has been implicated in the pathogenesis of schizophrenia. Although agonists for the glycine-binding sites of NMDA receptors have potential as new medication for schizophrenia, their modulation of antipsychotic-induced extrapyramidal side effects (EPS) has not yet been clarified. We herein evaluated the effects of glycine-binding site stimulants of NMDA receptors on antipsychotic-induced EPS in mice and rats.
d
-cycloserine (DCS) and
d
-serine significantly improved haloperidol (HAL)-induced bradykinesia in mice, whereas glycine showed no effects. Sodium benzoate, a
d
-amino acid oxidase inhibitor, also attenuated HAL-induced bradykinesia. Improvements in HAL-induced bradykinesia by DCS were antagonized by the NMDA antagonist dizocilpine or nitric oxide synthase inhibitor L-N
G
-Nitro-
l
-arginine methyl ester. In addition, DCS significantly reduced HAL-induced Fos expression in the dorsolateral striatum without affecting that in the nucleus accumbens. Furthermore, a microinjection of DCS into the substantia nigra pars compacta significantly inhibited HAL-induced EPS concomitant with elevations in dopamine release in the striatum. The present results demonstrated for the first time that stimulating the glycine-binding sites of NMDA receptors alleviates antipsychotic-induced EPS by activating the nigrostriatal dopaminergic pathway, suggesting that glycine-binding site stimulants are beneficial not only for efficacy, but also for side-effect management.
View Full-Text
►

▼

Figures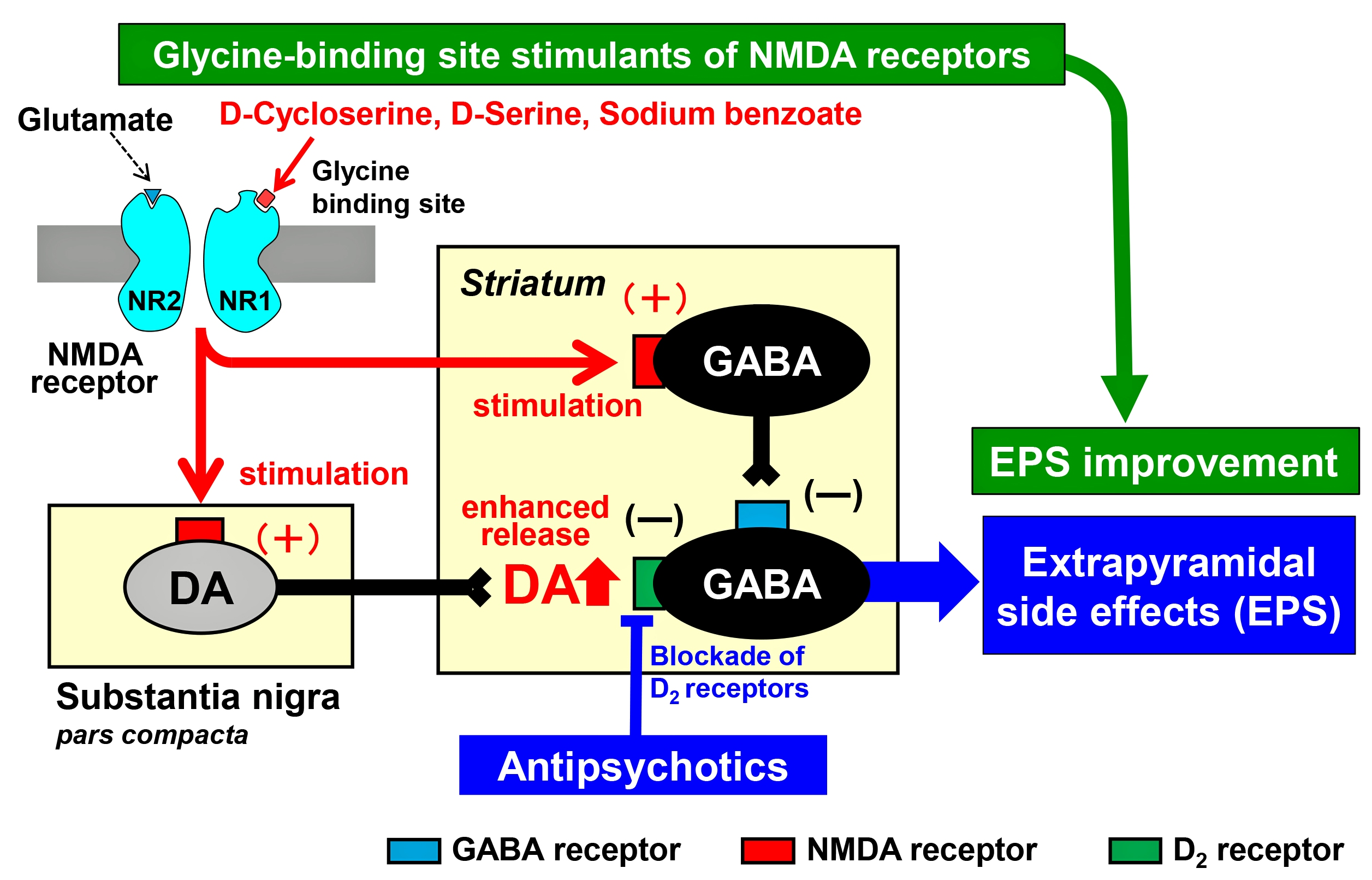 This is an open access article distributed under the
Creative Commons Attribution License
which permits unrestricted use, distribution, and reproduction in any medium, provided the original work is properly cited. (CC BY 4.0).
Share & Cite This Article
MDPI and ACS Style
Shimizu, S.; Sogabe, S.; Yanagisako, R.; Inada, A.; Yamanaka, M.; Iha, H.A.; Ohno, Y. Glycine-Binding Site Stimulants of NMDA Receptors Alleviate Extrapyramidal Motor Disorders by Activating the Nigrostriatal Dopaminergic Pathway. Int. J. Mol. Sci. 2017, 18, 1416.
Note that from the first issue of 2016, MDPI journals use article numbers instead of page numbers. See further details here.
Related Articles
Comments
[Return to top]