Multiple Isoforms of ANRIL in Melanoma Cells: Structural Complexity Suggests Variations in Processing
1
Auckland Cancer Society Research Centre, University of Auckland, Faculty of Medical and Health Sciences, University of Auckland, 85 Park Rd. Grafton, 1023 Auckland, New Zealand
2
Department of Molecular Medicine and Pathology, Faculty of Medical and Health Sciences, University of Auckland, 85 Park Rd. Grafton, 1023 Auckland, New Zealand
3
Institute of Biotechnology, P.O. Box 56 (Viikinkaari 5), University of Helsinki, FI-00014 Helsinki, Finland
*
Authors to whom correspondence should be addressed.
Received: 27 May 2017 / Revised: 21 June 2017 / Accepted: 22 June 2017 / Published: 27 June 2017
Abstract
The long non-coding RNA
ANRIL
, antisense to the
CDKN2B
locus, is transcribed from a gene that encompasses multiple disease-associated polymorphisms. Despite the identification of multiple isoforms of
ANRIL
, expression of certain transcripts has been found to be tissue-specific and the characterisation of
ANRIL
transcripts remains incomplete. Several functions have been associated with
ANRIL.
In our judgement, studies on
ANRIL
functionality are premature pending a more complete appreciation of the profusion of isoforms. We found differential expression of
ANRIL
exons, which indicates that multiple isoforms exist in melanoma cells. In addition to linear isoforms, we identified circular forms of
ANRIL
(
circANRIL
). Further characterisation of
circANRIL
in two patient-derived metastatic melanoma cell lines (NZM7 and NZM37) revealed the existence of a rich assortment of circular isoforms. Moreover, in the two melanoma cell lines investigated, the complements of
circANRIL
isoforms were almost completely different. Novel exons were also discovered. We also found the family of linear
ANRIL
was enriched in the nucleus, whilst the circular isoforms were enriched in the cytoplasm and they differed markedly in stability. With respect to the variable processing of
circANRIL
species, bioinformatic analysis indicated that intronic
Arthrobacter luteus
(Alu) restriction endonuclease inverted repeats and exon skipping were not involved in selection of back-spliced exon junctions. Based on our findings, we hypothesise that "
ANRIL
" has wholly distinct dual sets of functions in melanoma. This reveals the dynamic nature of the locus and constitutes a basis for investigating the functions of
ANRIL
in melanoma.
View Full-Text
►

▼

Figures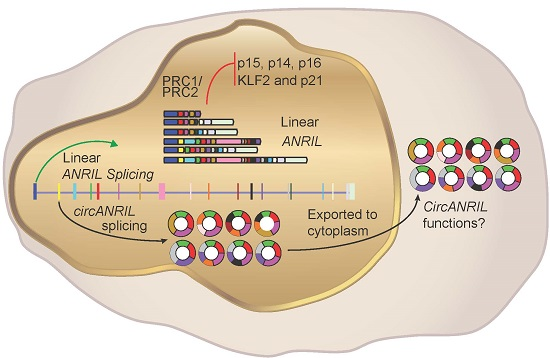 This is an open access article distributed under the
Creative Commons Attribution License
which permits unrestricted use, distribution, and reproduction in any medium, provided the original work is properly cited. (CC BY 4.0).
Share & Cite This Article
MDPI and ACS Style
Sarkar, D.; Oghabian, A.; Bodiyabadu, P.K.; Joseph, W.R.; Leung, E.Y.; Finlay, G.J.; Baguley, B.C.; Askarian-Amiri, M.E. Multiple Isoforms of ANRIL in Melanoma Cells: Structural Complexity Suggests Variations in Processing. Int. J. Mol. Sci. 2017, 18, 1378.
Note that from the first issue of 2016, MDPI journals use article numbers instead of page numbers. See further details here.
Related Articles
Comments
[Return to top]