Gallic Acid Inhibited Matrix Invasion and AP-1/ETS-1-Mediated MMP-1 Transcription in Human Nasopharyngeal Carcinoma Cells
1
Graduate Institute of Clinical Medical Sciences, College of Medicine, Chang Gung University, Tao-Yuan City 333-02, Taiwan
2
Department of Physical Medicine and Rehabilitation, Chang Gung Memorial Hospital, Tao-Yuan City 333-02, Taiwan
3
Research Center for Traditional Chinese Medicine, Department of Medical Research, China Medical University Hospital, Taichung 404-02, Taiwan
4
Department of Chinese Medicine, China Medical University Hospital, Taichung 404-02, Taiwan
5
School of Chinese Medicine, China Medical University, Taichung 404-02, Taiwan
*
Author to whom correspondence should be addressed.
Received: 4 June 2017 / Revised: 16 June 2017 / Accepted: 20 June 2017 / Published: 24 June 2017
Abstract
Gallic acid is a trihydroxybenzoic acid found in natural herbal plants. Gallic acid has been reported to inhibit the migration and invasive capability of various cancers. Little is known about the underlying mechanisms of invasion responsible for cancer metastasis via gallic acid. The present study was intended to investigate the anti-invasive effect of gallic acid on human nasopharyngeal carcinoma cells (NPC-BM1) and its related mechanism. Gallic acid inhibited the invasion of NPC-BM1 cells dose- and time-dependently without significant cytotoxic effect. Affymetrix oligonucleotide microarray analysis revealed matrix metalloproteinase-1 (MMP-1) as the most down-regulated gene in NPC-BM1 cells by gallic acid. The cytosolic and secreted MMP-1 levels were both found to be inhibited by gallic acid as demonstrated by western blot analysis and ELISA respectively. The mRNA expression and transcription of MMP-1 gene was also down-regulated as determined by RT/real-time PCR and promoter activity assay. The expression of two major transcription binding factors in the MMP-1 promoter, AP-1 and ETS-1, were demonstrated to be reduced by gallic acid in NPC-BM1 cells. The effect of gallic acid was associated with the inhibition of p38 MAPK signaling pathway. In addition, gallic acid enhanced the gene expression of tissue inhibitor of matrix metalloproteinase-1 (TIMP-1) which further suppressed the MMP-1 activity. These findings may be useful to develop a novel chemotherapeutic agent to inhibit the metastasis of nasopharyngeal cancer.
View Full-Text
►

▼

Figures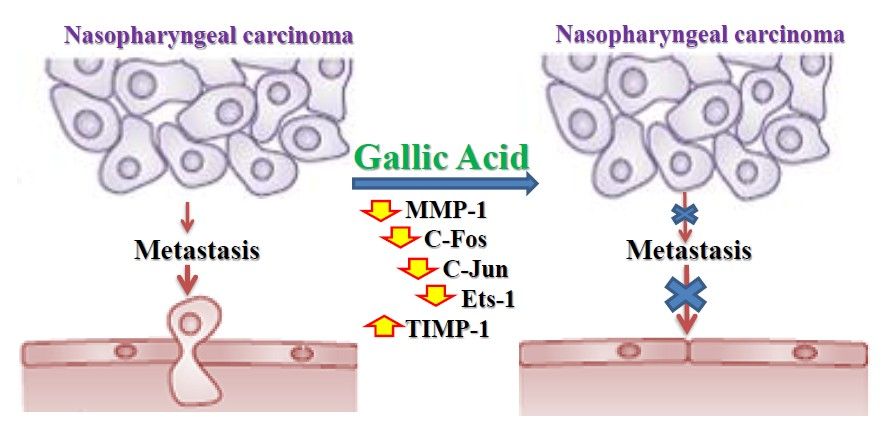 This is an open access article distributed under the
Creative Commons Attribution License
which permits unrestricted use, distribution, and reproduction in any medium, provided the original work is properly cited. (CC BY 4.0).
Share & Cite This Article
MDPI and ACS Style
Pang, J.-H.; Yen, J.-H.; Wu, H.-T.; Huang, S.-T. Gallic Acid Inhibited Matrix Invasion and AP-1/ETS-1-Mediated MMP-1 Transcription in Human Nasopharyngeal Carcinoma Cells. Int. J. Mol. Sci. 2017, 18, 1354.
Note that from the first issue of 2016, MDPI journals use article numbers instead of page numbers. See further details here.
Related Articles
Comments
[Return to top]