B-Myb Is Up-Regulated and Promotes Cell Growth and Motility in Non-Small Cell Lung Cancer
1
Department of Biochemistry and Molecular Biology, Chongqing Medical University, 1# Yixueyuan Road, Yuzhong District, Chongqing 400016, China
2
Molecular Medicine and Cancer Research Center, Chongqing Medical University, Chongqing 400016, China
*
Authors to whom correspondence should be addressed.
Academic Editor: William Chi-shing Cho
Received: 9 March 2017 / Revised: 26 March 2017 / Accepted: 5 April 2017 / Published: 27 May 2017
Abstract
B-Myb is a transcription factor that is overexpressed and plays an oncogenic role in several types of human cancers. However, its potential implication in lung cancer remains elusive. In the present study, we have for the first time investigated the expression profile of B-Myb and its functional impact in lung cancer. Expression analysis by quantificational real-time polymerase chain reaction (qRT-PCR) and immunohistochemistry demonstrated that B-Myb expression is aberrantly overexpressed in non-small cell lung cancer (NSCLC), and positively correlated with pathologic grade and clinical stage of NSCLC. A gain-of-function study revealed that overexpression of B-Myb significantly increases lung cancer cell growth, colony formation, migration, and invasion. Conversely, a loss-of-function study showed that knockdown of B-Myb decreases cell growth, migration, and invasion. B-Myb overexpression also promoted tumor growth in vivo in a NSCLC xenograft nude mouse model. A molecular mechanistic study by RNA-sequencing (RNA-seq) analysis showed that B-Myb overexpression causes up-regulation of various downstream genes (e.g.,
COL11A1
,
COL6A1
,
FN1
,
MMP2
,
NID1
,
FLT4
,
INSR
, and
CCNA1
) and activation of multiple critical pathways (e.g., extracellular signal-regulated kinases (ERK) and phosphorylated-protein kinase B (Akt) signaling pathways) involved in cell proliferation, tumorigenesis, and metastasis. Collectively, our results indicate a tumor-promoting role for B-Myb in NSCLC and thus imply its potential as a target for the diagnosis and/or treatment of NSCLC.
View Full-Text
►

▼

Figures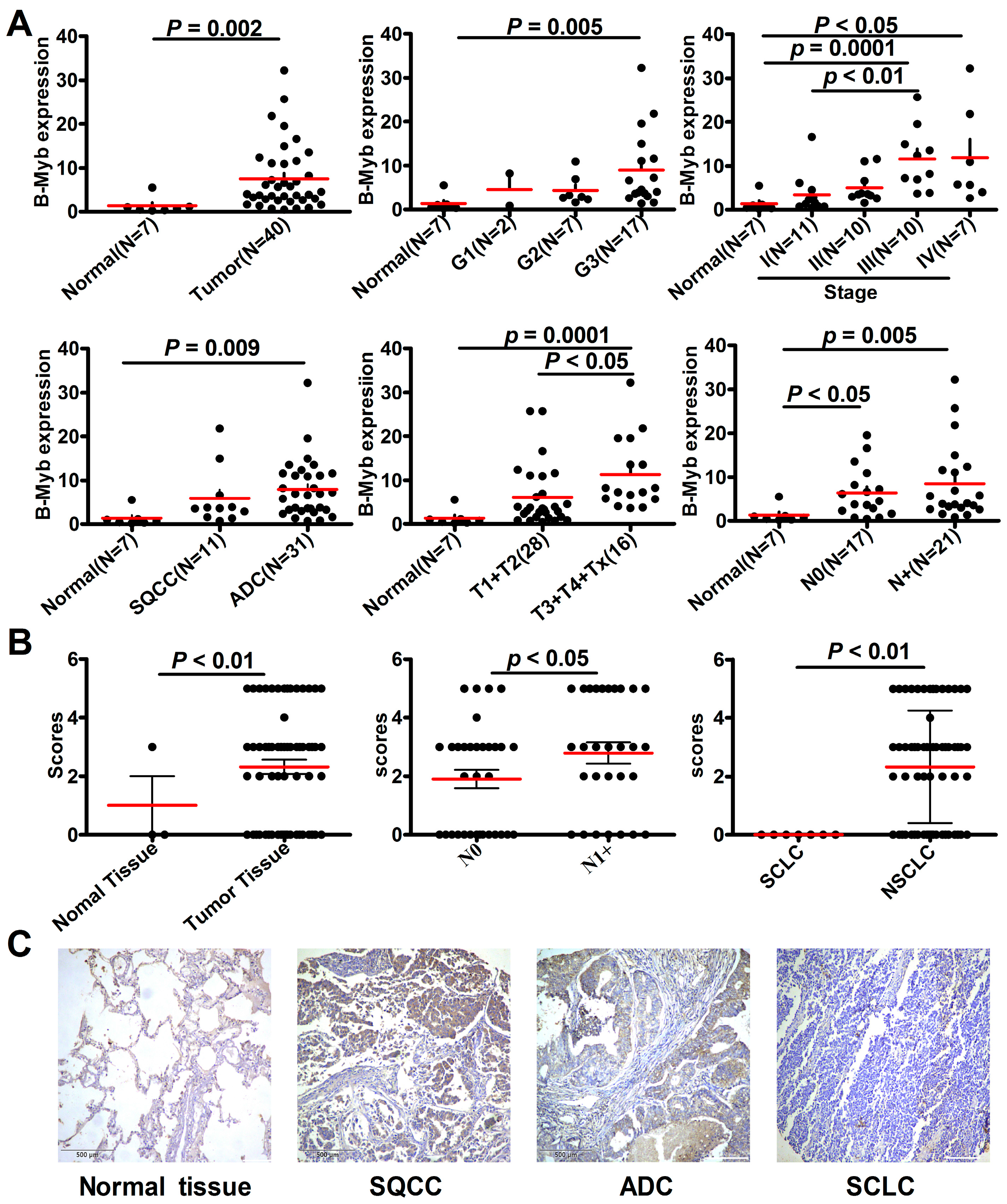 Figure 1
This is an open access article distributed under the
Creative Commons Attribution License
which permits unrestricted use, distribution, and reproduction in any medium, provided the original work is properly cited. (CC BY 4.0).
Share & Cite This Article
MDPI and ACS Style
Jin, Y.; Zhu, H.; Cai, W.; Fan, X.; Wang, Y.; Niu, Y.; Song, F.; Bu, Y. B-Myb Is Up-Regulated and Promotes Cell Growth and Motility in Non-Small Cell Lung Cancer. Int. J. Mol. Sci. 2017, 18, 860.
Note that from the first issue of 2016, MDPI journals use article numbers instead of page numbers. See further details here.
Related Articles
Comments
[Return to top]