A Panel of MicroRNAs as Diagnostic Biomarkers for the Identification of Prostate Cancer
1
Department of Biochemistry and Molecular Biology, VCU Medical Center and the Massey Cancer Center, Virginia Commonwealth University, Richmond, VA 23298-0614, USA
2
Molecular Diagnostic Laboratory, Department of Pathology, VCU Health System, Virginia Commonwealth University, Richmond, VA 23298-0248, USA
3
Division of Urology, VCU Medical Center and the Massey Cancer Center, Virginia Commonwealth University, Richmond, VA 23298-0037, USA
†
These authors contributed equally to this work.
*
Author to whom correspondence should be addressed.
Received: 4 April 2017 / Revised: 12 June 2017 / Accepted: 13 June 2017 / Published: 16 June 2017
Abstract
Prostate cancer is the most common non-cutaneous cancer among men; yet, current diagnostic methods are insufficient, and more reliable diagnostic markers need to be developed. One answer that can bridge this gap may lie in microRNAs. These small RNA molecules impact protein expression at the translational level, regulating important cellular pathways, the dysregulation of which can exert tumorigenic effects contributing to cancer. In this study, high throughput sequencing of small RNAs extracted from blood from 28 prostate cancer patients at initial stages of diagnosis and prior to treatment was used to identify microRNAs that could be utilized as diagnostic biomarkers for prostate cancer compared to 12 healthy controls. In addition, a group of four microRNAs (miR-1468-3p, miR-146a-5p, miR-1538 and miR-197-3p) was identified as normalization standards for subsequent qRT-PCR confirmation. qRT-PCR analysis corroborated microRNA sequencing results for the seven top dysregulated microRNAs. The abundance of four microRNAs (miR-127-3p, miR-204-5p, miR-329-3p and miR-487b-3p) was upregulated in blood, whereas the levels of three microRNAs (miR-32-5p, miR-20a-5p and miR-454-3p) were downregulated. Data analysis of the receiver operating curves for these selected microRNAs exhibited a better correlation with prostate cancer than PSA (prostate-specific antigen), the current gold standard for prostate cancer detection. In summary, a panel of seven microRNAs is proposed, many of which have prostate-specific targets, which may represent a significant improvement over current testing methods.
View Full-Text
►

▼

Figures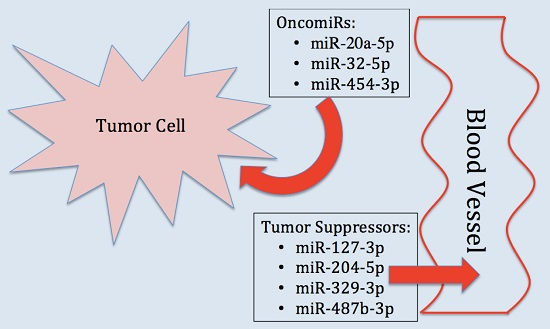 This is an open access article distributed under the
Creative Commons Attribution License
which permits unrestricted use, distribution, and reproduction in any medium, provided the original work is properly cited. (CC BY 4.0).
Share & Cite This Article
MDPI and ACS Style
Daniel, R.; Wu, Q.; Williams, V.; Clark, G.; Guruli, G.; Zehner, Z. A Panel of MicroRNAs as Diagnostic Biomarkers for the Identification of Prostate Cancer. Int. J. Mol. Sci. 2017, 18, 1281.
Note that from the first issue of 2016, MDPI journals use article numbers instead of page numbers. See further details here.
Related Articles
Comments
[Return to top]