Micro-RNAs as Potential Predictors of Response to Breast Cancer Systemic Therapy: Future Clinical Implications
1
Laboratorio de Genómica, Instituto Nacional de Cancerología (INCan), Av. San Fernando 22, Col. Sección XVI, C.P. 14080 Tlalpan, Ciudad de México, Mexico
2
CATEDRA-CONACyT, Av. De los Insurgente Sur 1582, Col. Crédito Constructor., C.P. 03940 Benito Juárez, Ciudad de México, Mexico
3
Departamento de Cirugia de Tumores mamarios, Instituto Nacional de Cancerología (INCan), Av. San Fernando 22, Col. Sección XVI, C.P. 14080 Tlalpan, Ciudad de México, Mexico
4
Servicio de Anatomia Patologica, Instituto Nacional de Cancerología (INCan), Av. San Fernando 22, Col. Sección XVI, C.P. 14080 Tlalpan, Ciudad de México, Mexico
5
Unidad de Biomedicina, FES-IZTACALA, Universidad Nacional Autónoma de Mexico (UNAM), Av. De Los Barrios 1, Col. Los Reyes Iztacala, C.P. 54090 Tlalnepantla, México, Mexico
*
Author to whom correspondence should be addressed.
Academic Editor: Martin Pichler
Received: 21 April 2017 / Revised: 24 May 2017 / Accepted: 27 May 2017 / Published: 2 June 2017
Abstract
Despite advances in diagnosis and new treatments such as targeted therapies, breast cancer (BC) is still the most prevalent tumor in women worldwide and the leading cause of death. The principal obstacle for successful BC treatment is the acquired or de novo resistance of the tumors to the systemic therapy (chemotherapy, endocrine, and targeted therapies) that patients receive. In the era of personalized treatment, several studies have focused on the search for biomarkers capable of predicting the response to this therapy; microRNAs (miRNAs) stand out among these markers due to their broad spectrum or potential clinical applications. miRNAs are conserved small non-coding RNAs that act as negative regulators of gene expression playing an important role in several cellular processes, such as cell proliferation, autophagy, genomic stability, and apoptosis. We reviewed recent data that describe the role of miRNAs as potential predictors of response to systemic treatments in BC. Furthermore, upon analyzing the collected published information, we noticed that the overexpression of miR-155, miR-222, miR-125b, and miR-21 predicts the resistance to the most common systemic treatments; nonetheless, the function of these particular miRNAs must be carefully studied and further analyses are still necessary to increase knowledge about their role and future potential clinical uses in BC.
View Full-Text
►

▼

Figures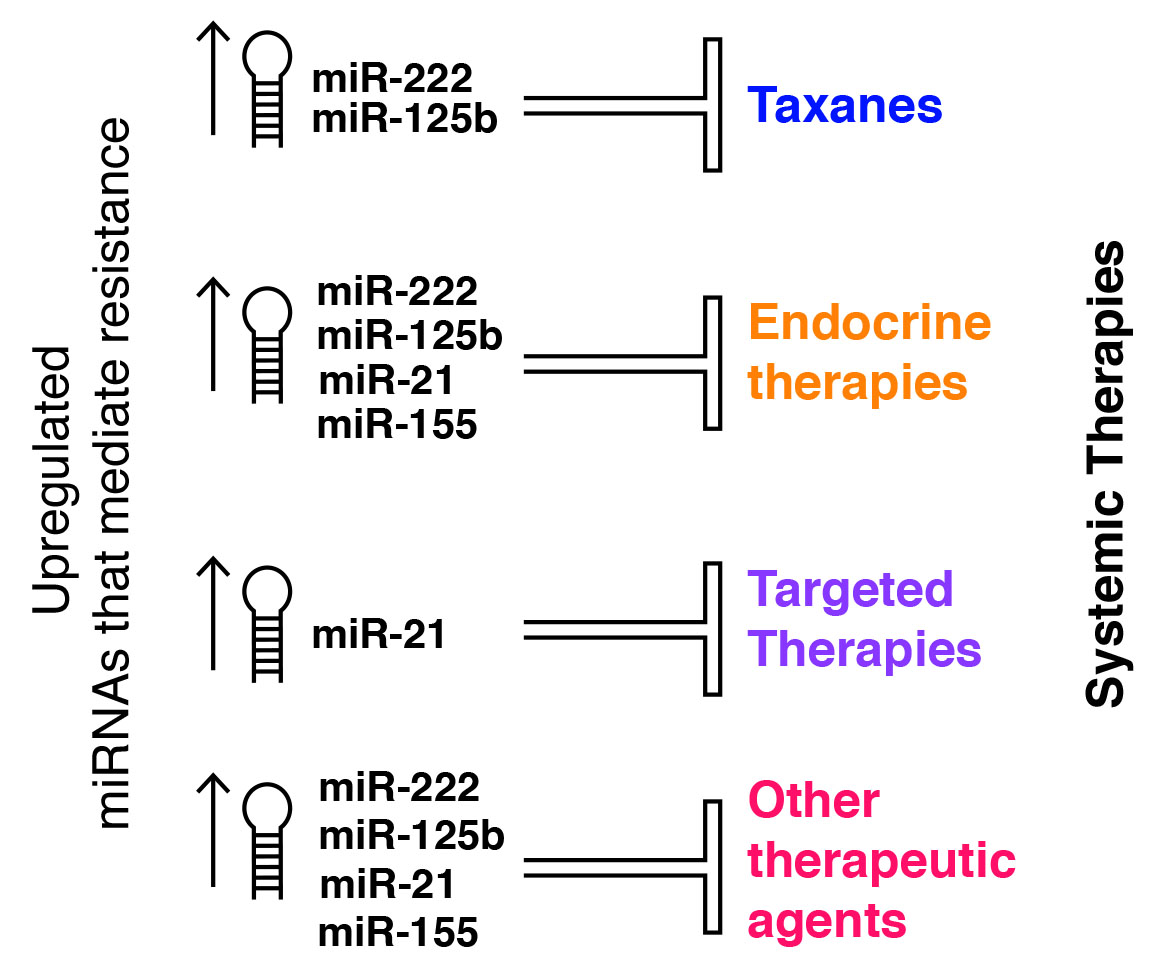 This is an open access article distributed under the
Creative Commons Attribution License
which permits unrestricted use, distribution, and reproduction in any medium, provided the original work is properly cited. (CC BY 4.0).
Share & Cite This Article
MDPI and ACS Style
Campos-Parra, A.D.; Mitznahuatl, G.C.; Pedroza-Torres, A.; Romo, R.V.; Reyes, F.I.P.; López-Urrutia, E.; Pérez-Plasencia, C. Micro-RNAs as Potential Predictors of Response to Breast Cancer Systemic Therapy: Future Clinical Implications. Int. J. Mol. Sci. 2017, 18, 1182.
Note that from the first issue of 2016, MDPI journals use article numbers instead of page numbers. See further details here.
Related Articles
Comments
[Return to top]