Prostaglandin E2-Induced COX-2 Expressions via EP2 and EP4 Signaling Pathways in Human LoVo Colon Cancer Cells
1
Division of Colorectal Surgery, Mackay Memorial Hospital, Freshwater 25160, Taiwan
2
Mackay Medicine, Nursing and Management College, Taipei 10449, Taiwan
3
Department of pathology, Changhua Christian Hospital, Changhua 500, Taiwan
4
Medical Technology, Jen-The Junior College of Medicine, Nursing and Management, Miaoli 35664, Taiwan
5
Department of Nursing, Mei Ho University, Pingguang Road, Pingtung 912, Taiwan
6
Graduate Institute of Basic Medical Science, China Medical University, Taichung 40402, Taiwan
7
Tsao-Tun Psychiatric Center, Department of Health, Executive Yuan, Taipei 10058, Taiwan
8
Orthopaedic Department, Armed Forces General Hospital, Taichung 404, Taiwan
9
Department of Surgery, School of Medicine, College of Medicine, Taipei Medical University, Taipei 110, Taiwan
10
Department of Biotechnology, Bharathiar University, Coimbatore-641 046, India
11
Graduate Institute of Chinese Medical Science, China Medical University, Taichung 40402, Taiwan
12
Department of Health and Nutrition Biotechnology, Asia University, Taichung 41354, Taiwan
*
Author to whom correspondence should be addressed.
Academic Editor: Terrence Piva
Received: 3 March 2017 / Revised: 12 May 2017 / Accepted: 15 May 2017 / Published: 25 May 2017
Abstract
Metastasis is the most dangerous risk faced by patients with hereditary non-polyposis colon cancer (HNPCC). The expression of matrix metalloproteinases (MMPs) has been observed in several types of human cancers and regulates the efficacy of many therapies. Here, we show that treatment with various concentrations of prostaglandin E2 (PGE2; 0, 1, 5 or 10 μM) promotes the migration ability of the human LoVo colon cancer cell line. As demonstrated by mRNA and protein expression analyses, EP2 and EP4 are the major PGE2 receptors expressed on the LoVo cell membrane. The Phosphatidylinositol-4,5-bisphosphate 3-kinase (PI3K)/Akt cell survival pathway was upregulated by EP2 and EP4 activation. Following the activation of the PI3K/Akt pathway, β-catenin translocated into the nucleus and triggered COX2 transcription via LEF-1 and TCF-4 and its subsequent translation. COX2 expression correlated with the elevation in the migration ability of LoVo cells. The experimental evidence shows a possible mechanism by which PGE2 induces cancer cell migration and further suggests PGE2 to be a potential therapeutic target in colon cancer metastasis. On inhibition of PGE2, in order to determine the downstream pathway, the levels of PI3K/Akt pathway were suppressed and the β-catenin expression was also modulated. Inhibition of EP2 and EP4 shows that PGE2 induces protein expression of COX-2 through EP2 and EP4 receptors in LoVo colon cancer cells.
View Full-Text
►

▼

Figures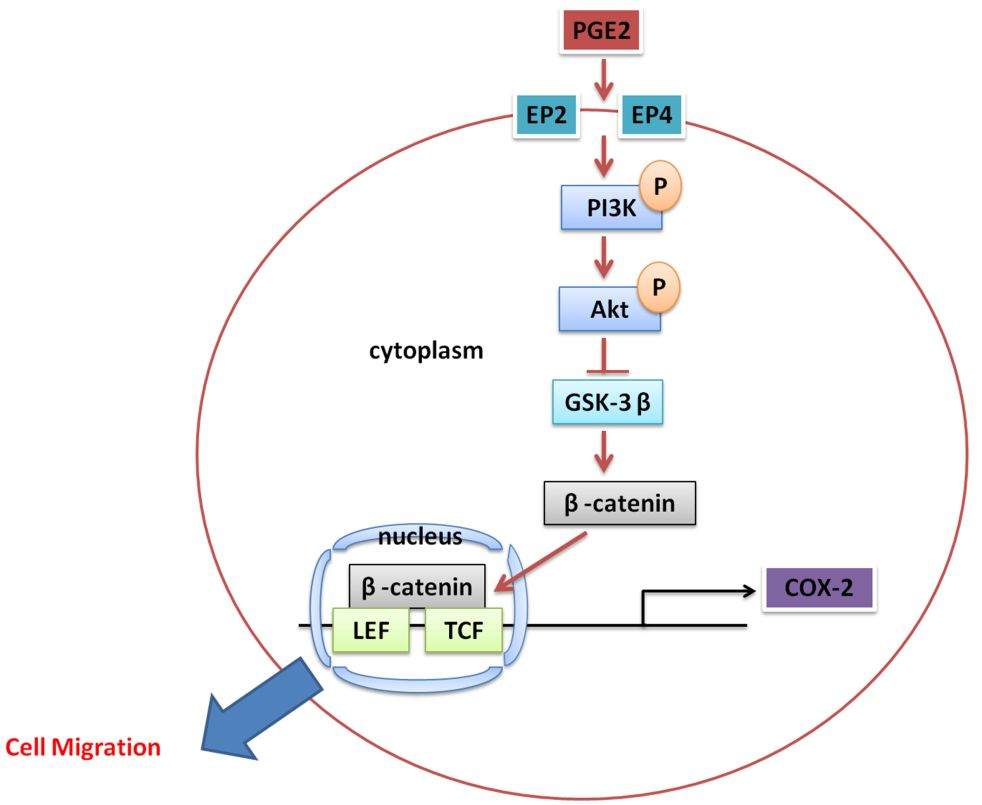 This is an open access article distributed under the
Creative Commons Attribution License
which permits unrestricted use, distribution, and reproduction in any medium, provided the original work is properly cited. (CC BY 4.0).
Share & Cite This Article
MDPI and ACS Style
Hsu, H.-H.; Lin, Y.-M.; Shen, C.-Y.; Shibu, M.A.; Li, S.-Y.; Chang, S.-H.; Lin, C.-C.; Chen, R.-J.; Viswanadha, V.P.; Shih, H.-N.; Huang, C.-Y. Prostaglandin E2-Induced COX-2 Expressions via EP2 and EP4 Signaling Pathways in Human LoVo Colon Cancer Cells. Int. J. Mol. Sci. 2017, 18, 1132.
Note that from the first issue of 2016, MDPI journals use article numbers instead of page numbers. See further details here.
Related Articles
Comments
[Return to top]