Chlorpromazine Increases the Expression of Polysialic Acid (PolySia) in Human Neuroblastoma Cells and Mouse Prefrontal Cortex
1
Bioscience and Biotechnology Center, Nagoya University, Nagoya 464-8601, Japan
2
Graduate School of Bioagricultural Sciences, Nagoya University, Nagoya 464-8601, Japan
†
These authors contributed equally to this work.
*
Author to whom correspondence should be addressed.
Academic Editors: Joe Tiralongo and Patricia Berninsone
Received: 22 April 2017 / Revised: 17 May 2017 / Accepted: 18 May 2017 / Published: 24 May 2017
Abstract
The neural cell adhesion molecule (NCAM) is modified by polysialic acid (polySia or PSA) in embryonic brains. In adult brains, polySia modification of NCAM is only observed in restricted areas where neural plasticity, remodeling of neural connections, or neural generation is ongoing although the amount of NCAM remains unchanged. Impairments of the polySia-expression and several single nucleotide polymorphisms (SNPs) of the polysialyltransferase (polyST) ST8SIA2 gene are reported to be associated with schizophrenia and bipolar disorder. Chlorpromazine (CPZ) is well-known as an agent for treating schizophrenia, and our hypothesis is that CPZ may affect the polySia expression or the gene expression of polySTs or NCAM. To test this hypothesis, we analyzed the effects of CPZ on the expression of polySia-NCAM on human neuroblastoma cell line, IMR-32 cells, by immunochemical and chemical methods. Interestingly, the cell surface expression of polySia, especially those with lower chain lengths, was significantly increased on the CPZ-treated cells, while mRNAs for polySTs and NCAM, and the amounts of total polySia-NCAM remained unchanged. The addition of brefeldin A, an inhibitor of endocytosis, suppressed the CPZ-induced cell surface polySia expression. In addition, polySia-NCAM was also observed in the vesicle compartment inside the cell. All these data suggest that the level of cell surface expression of polySia in IMR-32 is highly regulated and that CPZ changes the rate of the recycling of polySia-NCAM, leading to the up-regulation of polySia-NCAM on the cell surface. We also analyzed the effect of CPZ on polySia-expression in various brain regions in adult mice and found that CPZ only influenced the total amounts of polySia-NCAM in prefrontal cortex. These results suggest a brain-region-specific effect of CPZ on the expression of total polySia in mouse brain. Collectively, anti-schizophrenia agent CPZ consistently up-regulates the expression polySia at both cellular and animal levels.
View Full-Text
►

▼

Figures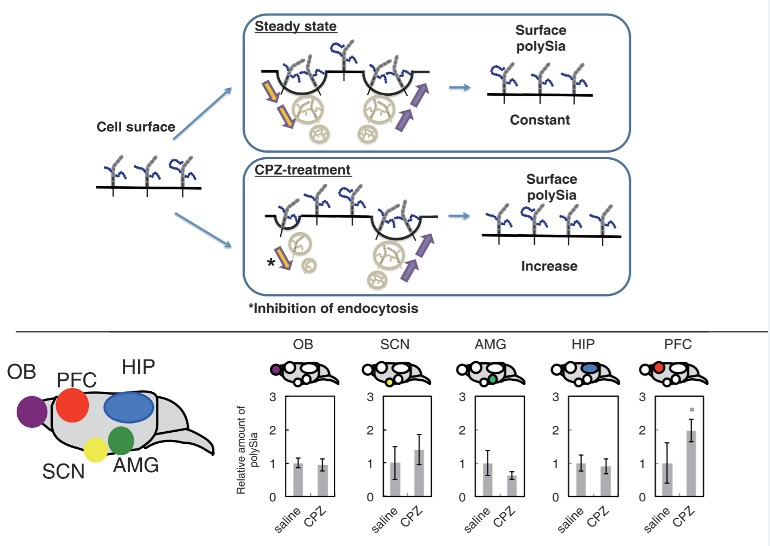 This is an open access article distributed under the
Creative Commons Attribution License
which permits unrestricted use, distribution, and reproduction in any medium, provided the original work is properly cited. (CC BY 4.0).
Share & Cite This Article
MDPI and ACS Style
Abe, C.; Nishimura, S.; Mori, A.; Niimi, Y.; Yang, Y.; Hane, M.; Kitajima, K.; Sato, C. Chlorpromazine Increases the Expression of Polysialic Acid (PolySia) in Human Neuroblastoma Cells and Mouse Prefrontal Cortex. Int. J. Mol. Sci. 2017, 18, 1123.
Note that from the first issue of 2016, MDPI journals use article numbers instead of page numbers. See further details here.
Related Articles
Comments
[Return to top]