Molecular Ghrelin System in the Pancreatic Acinar Cells: The Role of the Polypeptide, Caerulein and Sensory Nerves
1
Department of Medical Physiology, Faculty of Health Sciences, Jagiellonian University Medical College, 12 Michałowskiego St., 31-126 Krakow, Poland
2
Department of Physiology, Faculty of Medicine, Jagiellonian University Medical College, 16 Grzegórzecka St., 31-531 Krakow, Poland
3
Department of Emergency Medical Care, Faculty of Health Sciences, Jagiellonian University Medical College, 12 Michałowskiego St., 31-126 Krakow, Poland
4
Department of Diagnostics, Chair of Clinical Biochemistry, Faculty of Medicine Jagiellonian University Medical College, 15 A Kopernika St., 31-501 Krakow, Poland
5
2nd Department of Surgery, Faculty of Medicine, Jagiellonian University Medical College, 21 Kopernika St., 31-501 Krakow, Poland
6
Department of Pharmacology, Faculty of Medicine, Jagiellonian University Medical College, 16 Grzegórzecka St., 31-531 Krakow, Poland
7
Department of Cardiovascular Surgery and Transplantology, Faculty of Medicine, Jagiellonian University, JP II Hospital, 80 Prądnicka St., 31-202 Krakow, Poland
*
Author to whom correspondence should be addressed.
Academic Editor: Srikumar Chellappan
Received: 28 February 2017 / Revised: 9 April 2017 / Accepted: 19 April 2017 / Published: 2 May 2017
Abstract
Ghrelin (GHRL) is an endogenous ligand for the growth hormone secretagogue receptor (GHS-R). Experimental studies showed that GHRL protects the stomach and pancreas against acute damage, but the effect of GHRL on pancreatic acinar cells was still undetermined. Aim: To investigate the effect of GHRL and caerulein on the functional ghrelin system in pancreatic acinar cells taking into account the role of sensory nerves (SN). Methods: Experiments were carried out on isolated pancreatic acinar cells and AR42J cells. Before acinar cells isolation, GHRL was administered intraperitoneally at a dose of 50 µg/kg to rats with intact SN or with capsaicin deactivation of SN (CDSN). After isolation, pancreatic acinar cells were incubated in caerulein-free or caerulein containing solution. AR42J cells were incubated under basal conditions and stimulated with caerulein, GHRL or a combination of the above. Results: Incubation of isolated acinar cells with caerulein inhibited GHS-R and GHRL expression at the level of mRNA and protein in those cells. Either in rats with intact SN or with CDSN, administration of GHRL before isolation of acinar cells increased expression of GHRL and GHS-R in those cells and reversed the caerulein-induced reduction in expression of those parameters. Similar upregulation of GHS-R and GHRL was observed after administration of GHRL in AR42J cells. Conclusions: GHRL stimulates its own expression and expression of its receptor in isolated pancreatic acinar cells and AR42J cells on the positive feedback pathway. This mechanism seems to participate in the pancreatoprotective effect of GHRL in the course of acute pancreatitis.
View Full-Text
►

▼

Figures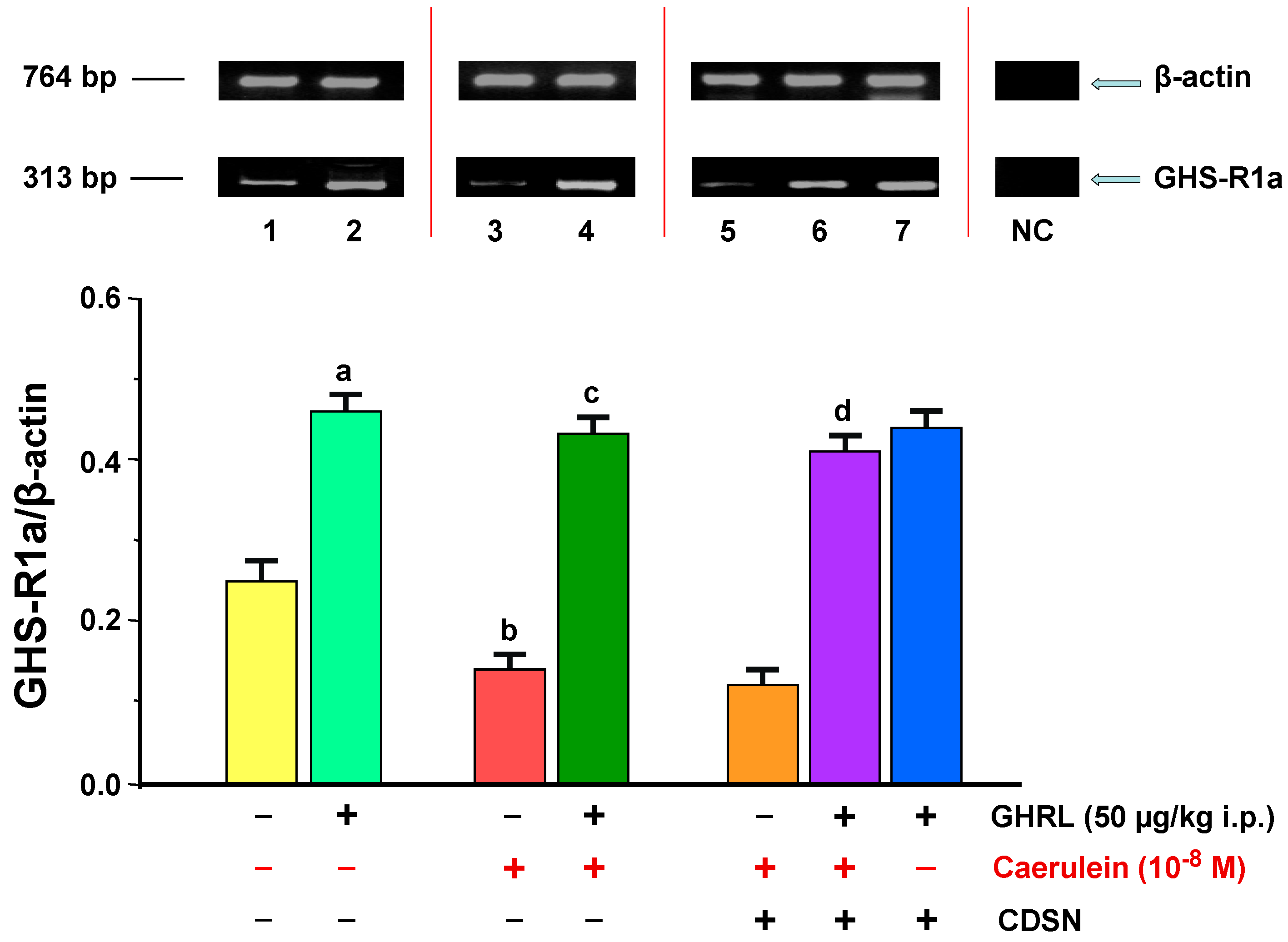 Figure 1
This is an open access article distributed under the
Creative Commons Attribution License
which permits unrestricted use, distribution, and reproduction in any medium, provided the original work is properly cited. (CC BY 4.0).
Share & Cite This Article
MDPI and ACS Style
Bonior, J.; Ceranowicz, P.; Gajdosz, R.; Kuśnierz-Cabala, B.; Pierzchalski, P.; Warzecha, Z.; Dembiński, A.; Pędziwiatr, M.; Kot, M.; Leja-Szpak, A.; Nawrot-Porąbka, K.; Link-Lenczowski, P.; Olszanecki, R.; Bartuś, K.; Jaworek, J. Molecular Ghrelin System in the Pancreatic Acinar Cells: The Role of the Polypeptide, Caerulein and Sensory Nerves. Int. J. Mol. Sci. 2017, 18, 929.
Note that from the first issue of 2016, MDPI journals use article numbers instead of page numbers. See further details here.
Related Articles
Comments
[Return to top]